In today's dynamic digital era, where online platforms have woven themselves into the fabric of our lives, everyone is on the lookout for innovative ways to elevate their online presence. The quest for a thriving digital footprint has led individuals and businesses alike to explore various strategies, including the option of buying IG followers from platforms such as Rushmax.
Whether you're an aspiring influencer ready to skyrocket your online presence or a business hungry for expanded reach and increased brand visibility, there's no denying the importance of social media growth and engagement. And while the temptation to buy Instagram followers from services like Rushmax may seem enticing at first glance, the question that lingers is: Is this shortcut really the key to success? What do Rushmax reviews reveal?
Let's unravel the truth behind this controversial tactic and explore a more authentic and effective approach to achieving your social media goals.
This article aims to provide an in-depth review of Rushmax and shed light on why AiGrow, a popular Instagram growth service, is the superior alternative in the market.
What Is Rushmax?
Before diving into the nitty-gritty details, let's start with a brief overview of Rushmax.com. Established in 2010, Rush Max is an online platform that offers Instagram likes, followers, and views to satisfy the needs of those looking for social proof!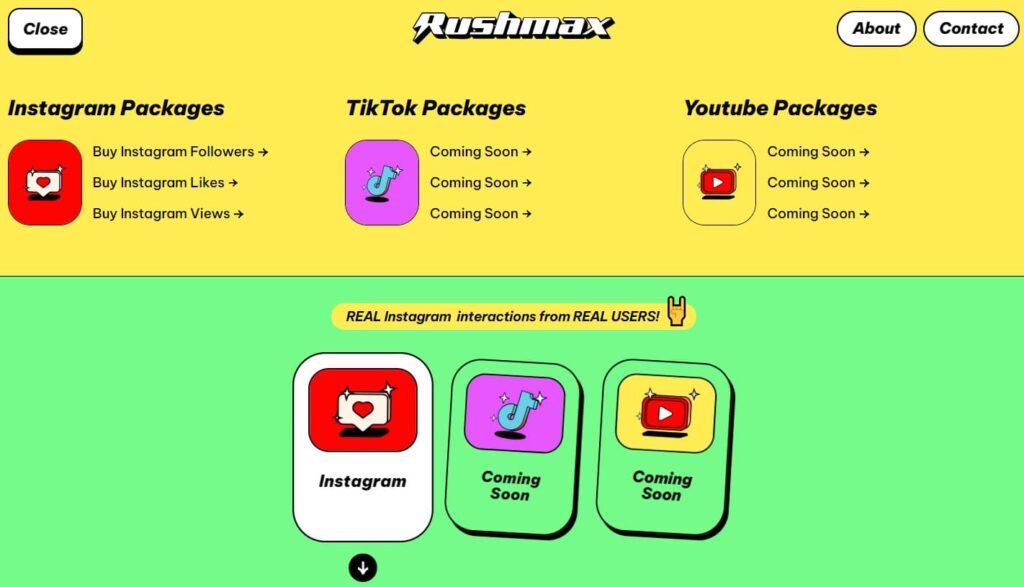 In other words, Rushmax is a social media automation tool that promises to help users grow their Instagram followers quickly and effortlessly. With its automatic likes, followers, and views features, Rushmax aims to increase engagement and get more followers to your Instagram account.
Buying followers for Instagram may seem like a tempting shortcut to boosting your follower count quickly, but it is generally not a good idea. Purchased followers are typically low-quality and ghost accounts created by malicious bots. They do not genuinely engage with your content, resulting in hollow interactions and no real value for your account.
Although Rushmax provides users with convenience and automation, it's essential to acknowledge that certain limitations need to be considered. Now, let's embark on a journey of exploration into the world of Rushmax.com, where we will delve into its features, benefits, drawbacks, and everything in between.
Rushmax Features
When it comes to online platforms, versatility is a key factor that determines their success. But unfortunately, rushmax.com doesn't offer diverse services tailored to meet the needs of influencers and businesses alike.
For example, Rushmax is an Instagram automation service that doesn't offer an Instagram manager but enhances your Instagram numbers!
Let's take a closer look at the features provided by Rushmax:
Rushmax Instagram Likes
Using Rushmax Instagram service, you can buy and get likes on Instagram for your posts. The platform automatically likes posts from targeted accounts based on specific criteria. This feature aims to grab the attention of potential followers, but Instagram may suspend you because it surely uses bots!
Rushmax Instagram Followers
Now, let's discuss the pros and cons of buying Instagram followers Rushmax. This Instagram growth service uses an automated mechanism to deliver followers. You may purchase 500 followers for $7.99. It's crucial to remember that Rushmax's techniques depend on automation and might not deliver real or high-quality followers. It's possible that the followers you gain through this approach came from fake or subpar accounts made by bots.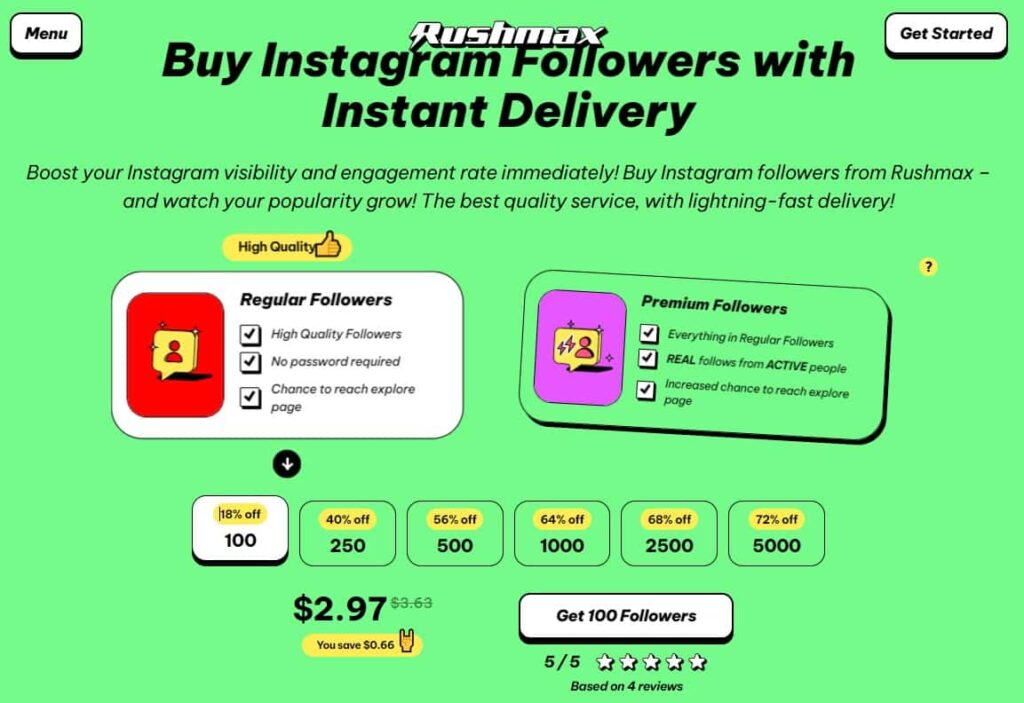 These followers often lack genuine interest in your content and may not contribute to meaningful engagement or conversions. Remember that growing your followers organically through authentic interactions remains the preferred approach for long-term success on Instagram.
Rush Max IG Views
Rushmax provides automated views as part of its service. However, it's worth noting that Instagram views are typically associated with video content, and the concept of delivering automated views may not align with Instagram's guidelines and terms of service.
If you are looking to increase the visibility of your Instagram videos, it's recommended to focus on creating compelling content, utilizing relevant IG hashtags, and promoting your videos through organic means like Instagram promotion, ads, or micro-influencers on Instagram.
As you can see, this service offers consumers these limited solutions, which may jeopardize your reputation. Let's examine the negative effects that this might have.
Rushmax Drawbacks and Benefits
While Rushmax offers convenience and automation for Instagram growth, it's essential to consider its potential disadvantages. Here are a few drawbacks to keep in mind:
Risk of Inauthentic Engagement
Due to the automated nature of Rushmax, there is a risk of generating inauthentic engagement on your Instagram account. Likes, followers, and views may come across as robotic and lacking genuine interaction, potentially diminishing the trust and credibility of your brand.
Violation of Instagram Guidelines
Using automation tools like Rushmax can potentially violate Instagram's terms of service. Instagram has strict guidelines against artificial engagement, and if detected, your account may face penalties such as shadowbanning or even suspension.
Lack of Targeted Audience
Using Rushmax, you can buy Instagram followers, likes, and views without targeting them. This could result in attracting followers who are not genuinely interested in your content, leading to low engagement rates and limited long-term value.
Limited Personalization
Rushmax is not a comprehensive Instagram management service, and its automation features may lack the personal touch that comes with genuine human engagement. Automated interactions can feel generic and impersonal, making it challenging to build meaningful connections with your audience.
Despite a few users being satisfied with Rushmax's user-friendly interface and seamless navigation, it is crucial to highlight that there are not many compelling benefits to using their services. While some may argue that Rushmax.com stands out with competitive pricing, it is essential to consider the limitations of its offerings.
Considering these disadvantages, it's important to weigh the pros and cons of Rushmax and explore alternative options that offer a more authentic and sustainable approach to social media growth.
The website's services are limited, and the overall value provided may not justify the cost. Therefore, it is evident that Rushmax.com, overall, is not a strong option when compared to other alternatives available in the market. If you disagree, let's take a look at Rushmax reviews.
Rushmax Reviews
Upon conducting an extensive search for Rushmax reviews on Trustpilot and various other websites, it has come to our attention that numerous users have expressed their dissatisfaction with the platform. Rushmax's Trustpilot score is 2.9, indicating a poor rating on the website.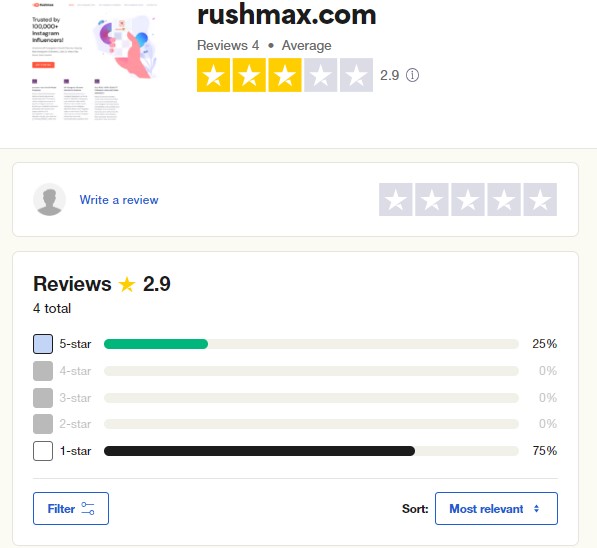 Some individuals have encountered delays or challenges in obtaining prompt customer support from rushmax.com. Amongst the feedback provided by other users, a recurring complaint is an unfortunate experience of losing followers within a few days. These individuals express deep disappointment, emphasizing that the service fails to justify its cost.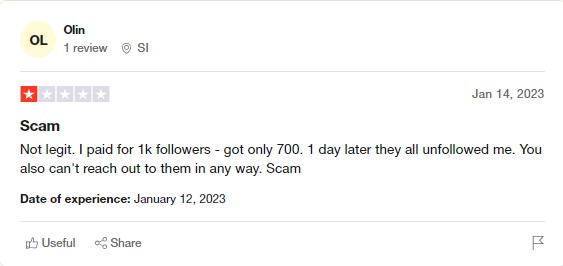 Furthermore, there have been instances where users have voiced their frustration regarding the restricted availability of it in specific regions. Currently, the platform predominantly caters to customers in America. It is vital to bear this in mind and make appropriate plans accordingly.
Because Rushmax is an external service, its availability and functionality are subject to change. If there are any disruptions or problems with the service, it may have an impact on your Instagram growth strategy and necessitate the search for alternative options.
So, explore a better alternative instead of wasting time and money on this platform.
The Best Rushmax Alternative; AiGrow
With countless websites and services available, finding a trustworthy and enjoyable online experience can be challenging. However, there are gems hidden in the vast online landscape that offer unique and exciting opportunities. One such platform that has been making waves is AiGrow.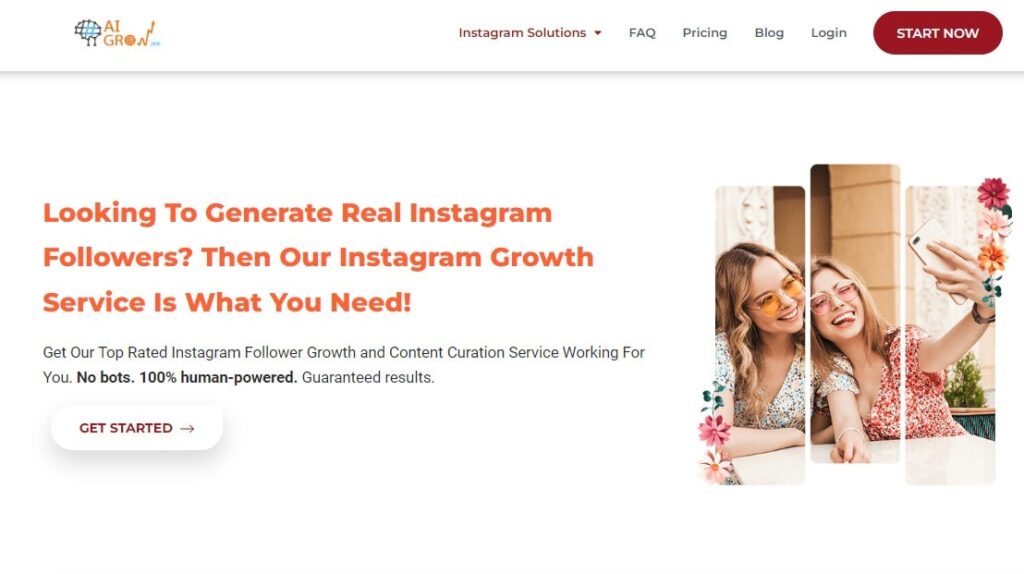 Using intelligence (AI) solutions and a human-based team, Aigrow empowers individuals and businesses to stay ahead in the rapidly evolving digital landscape.
AiGrow is a comprehensive social media management platform that goes beyond simple solutions for Instagram. It provides users with a wide range of tools and features to enhance their social media growth strategy. AiGrow allows users to manage all their accounts from a single dashboard.
Features of AiGrow
For businesses, establishing a strong online presence is crucial in today's digital landscape. AiGrow offers an array of digital marketing tools and services that can help businesses enhance their online visibility and create impactful branding opportunities. From dedicating Instagram manager to holding campaigns, AiGrow provides the necessary resources to amplify your online presence.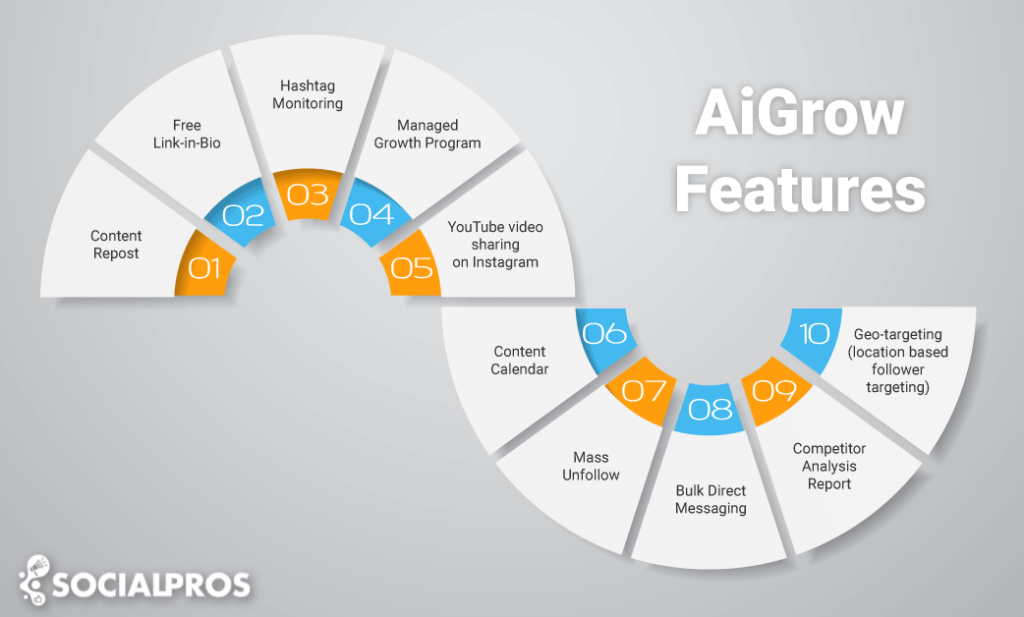 AiGrow boasts a rich set of features that make it stand out among its competitors. Some of the notable features include:
Aigrow's Dedicated Manager: AiGrow's dedicated account manager is a personal social media expert who takes on the responsibility of managing and growing your online presence. When you sign up for Aigrow, you will be assigned a dedicated manager who will work closely with you to understand your goals, target audience, and desired outcomes. This manager will then formulate a tailored strategy to optimize your social media presence on Instagram.
Post Scheduling: With AiGrow, you can schedule your IG posts in advance, ensuring a consistent and engaging presence across platforms.
Content Curation: AiGrow allows you to discover relevant and high-quality content to share with your audience, saving you time and effort in content creation.
Hashtag Monitoring: AiGrow helps you identify the most effective hashtags for your posts, maximizing their reach and engagement potential.
Rushmax vs. AiGrow
When comparing Rushmax and AiGrow, it becomes evident that AiGrow offers a more robust and versatile solution for social media growth. While Rushmax focuses primarily on purchased Instagram followers, likes, and views, AiGrow provides users with greater flexibility and the ability to target a larger audience.
| Features | AiGrow | Rushmax |
| --- | --- | --- |
| Organic growth plans | ✅ | ❌ |
| Buy Instagram likes | ❌ | ✅ |
| Buy Instagram followers | ❌ | ✅ |
| Buy Instagram views | ❌ | ✅ |
| Dedicated account manager | ✅ | ❌ |
| Targeting tools | ✅ | ❌ |
| Content scheduler | ✅ | ❌ |
| Multiple links in the bio tool | ✅ | ❌ |
| 24 hour customer service | ✅ | ❌ |
| Trustpilot score | 4.5 | 2.9 |
Rushmax, similar to Twicsy and Buzzoid, falls into the category of platforms that offer the option to purchase Instagram followers. These services provide a quick and seemingly convenient solution for individuals or businesses looking to boost their follower count on the popular social media platform. However, it is important to note that while these services may provide a temporary increase in followers, the quality and authenticity of those followers are often questionable.
On our website, you can find various evaluations of other Services like this:
Conclusion
According to Rushmax reviews, the platform has various restrictions and learning curves, and the disadvantages much outweigh the positives. Finally, while Rushmax may offer some level of automation for Instagram growth, AiGrow emerges as the ideal solution for social media management and growth.
With its multi-platform support, advanced targeting options, personalized engagement features, and comprehensive analytics, AiGrow offers a holistic approach to social media growth that surpasses what Rushmax can provide. Whether you're an influencer, a small business owner, or a brand, AiGrow empowers you to maximize your social media potential and achieve your growth goals.
FAQs
1. What payment options are available on rushmax.com?
rushmax.com supports various payment options, including credit cards, debit cards, and online payment platforms such as PayPal. The platform ensures secure and convenient payment processing for its users.
2. Is AiGrow a better alternative for Rushmax?
While both tools offer social media growth capabilities, AiGrow stands out with its comprehensive features and personalized engagement options, making it the preferred choice for many users.