Sidesmedia is a social media service for those who need to get help expanding their social media followers. They claim they provide easy access to a massive audience who might be interested in engaging with your brand.
The question is, how reliable is this firm? Is Sidesmedia legit? We'll examine SidesMedia reviews to tell you whether we approve it, what problems we ran across, what other services we like more, and why. Also, we will introduce other social media growth service that surpasses Sides Media.
Get right down to it, shall we?
Why Should I Use A Social Media Growth Service?
Using a social media growth service can offer several benefits for individuals and businesses. Here are a few reasons to consider using such a service:
Increased Visibility
Social media growth services can help increase your online visibility by attracting more followers, likes, and engagement on your social media profiles. This increased visibility can lead to more exposure for your brand, products, or services.
Time-Saving
Managing social media accounts can be time-consuming, especially if you want to grow your followers. A growth service can handle content creation for social media, scheduling, and engagement tasks, allowing you to focus on other aspects of your business or personal life.
Targeted Audience
Social media growth services often use advanced targeting techniques to attract followers genuinely interested in your niche or industry. This can result in a more engaged and relevant audience, increasing the chances of turning Instagram followers into customers or loyal fans.
Organic Growth
While some growth services may resort to questionable tactics, reputable services like AiGrow focus on organic growth strategies. They employ content optimisation, hashtag research, and engagement with relevant users to attract followers who are more likely to engage with your content.
Analytics and Insights
Many social media growth services like AiGrow provide customer behaviour analytics. These reports can help you understand your audience better, identify trends, and optimise your content strategy for better results.
Expertise and Industry Knowledge
Social media growth services often have a team of experts who stay up-to-date with the latest trends, algorithms, and strategies. They can provide valuable insights and advice to help you navigate the ever-changing social media landscape.
What Is SidesMedia
SidesMedia is a Social Media Growth Service that uses an original growth engine to increase your profile's followers, video views and likes.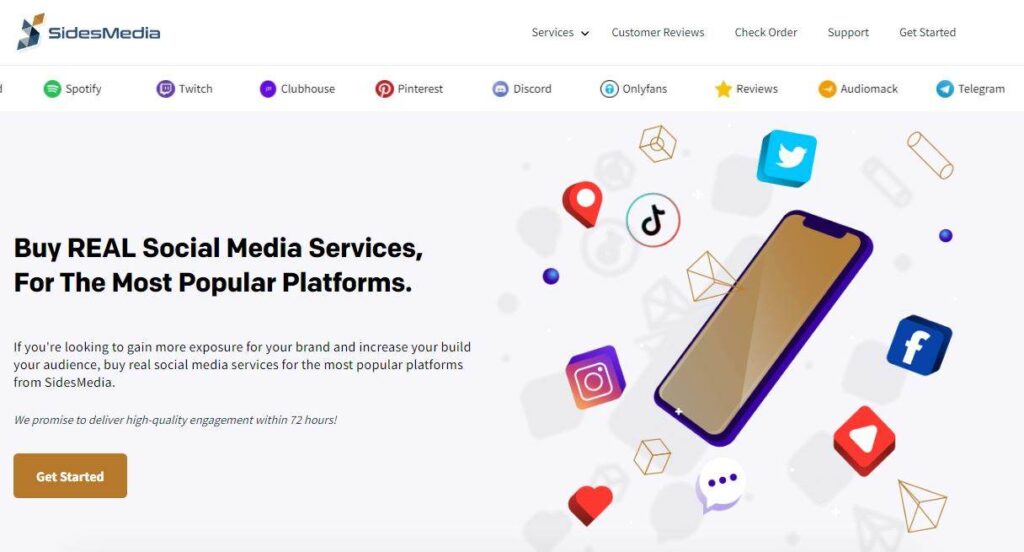 Every time you place an order, they claim to provide you with:
Strong engagements
Increased activity throughout the first three days after purchasing
There will be no fake accounts among your followers. ( Some users deny this fact)
A totally safe and secure experience. ( Some review says that they didn't get the result)
Support for customers around-the-clock
According to SidesMedia, adopting their services will increase your Instagram followers, interaction rate, and user retention by a factor of ten. They claim they would provide plans for expanding your presence on any of the major social networks.
Read More: Why Instagram Suspended My Account? 5 Effective Ways to Get Your Account Back
How Does Sides Media Work
Followers, likes, views, comments, saves, and shares are just some of the services available on the Sides Media website. They claim to provide all their services naturally, without using automated systems or bots.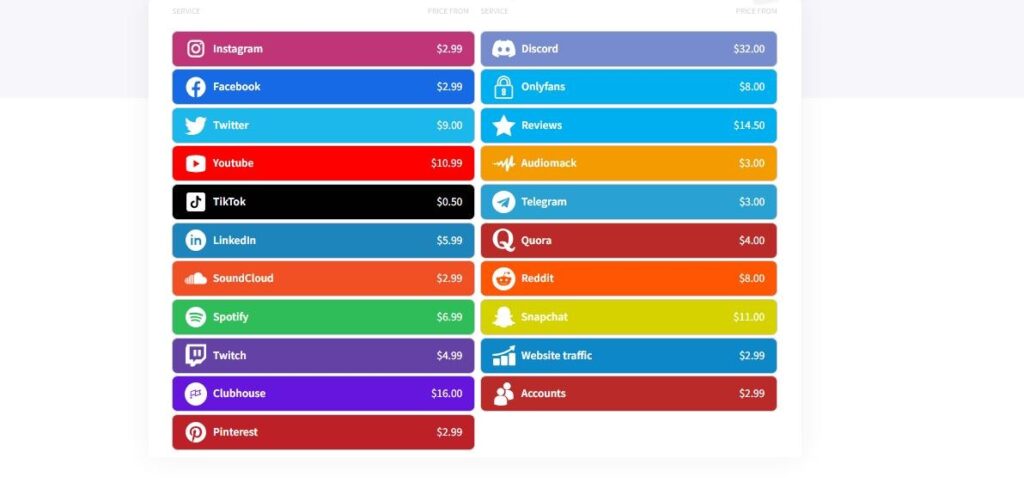 However, some users said that they received some fake followers.
Features of Sidesmedia
Sidesmedia provides support for twenty-one distinct networks. Some examples from a lengthy list are as follows:
Instagram followers, Instagram story likes, Instagram Reel likes, saves, impressions, views, and shares.
Video and live stream views, likes, shares, follows, and comments on TikTok.
YouTube metrics include total views, total watch time, subscriber count, number of live views, likes, and comments.
Views on videos, likes, retweets, and followers on Twitter.
Followers on Facebook, video views, friend requests, post shares, website likes, live viewers, and comment likes.
Likes, shares, comments, connections, and views on Linkedin posts.
Views, followers, monthly viewers, and live viewers for a Twitch channel.
Likes, comments, repins, repins of boards you follow, and saves on Pinterest.
Upvotes, comments, and Reddit subscribers.
Sides Media Review; Pricing
When it comes to social media, SidesMedia offers a wide variety of products at various pricing points. A few examples are as follows:
Clubhouse followers and youtube views: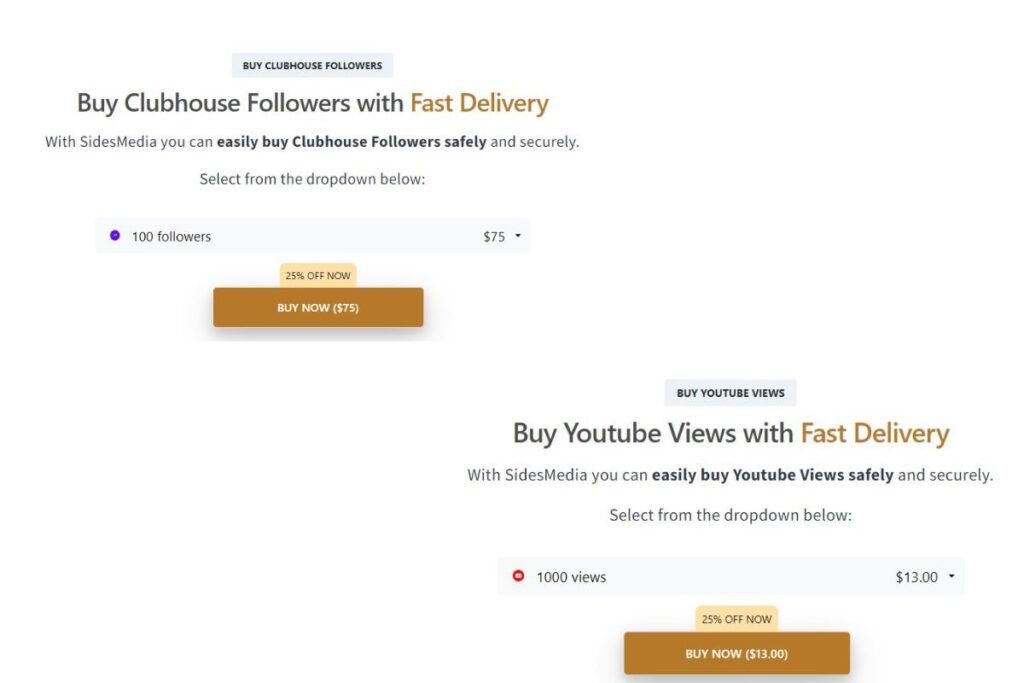 Soundcloud plays and Instagram followers: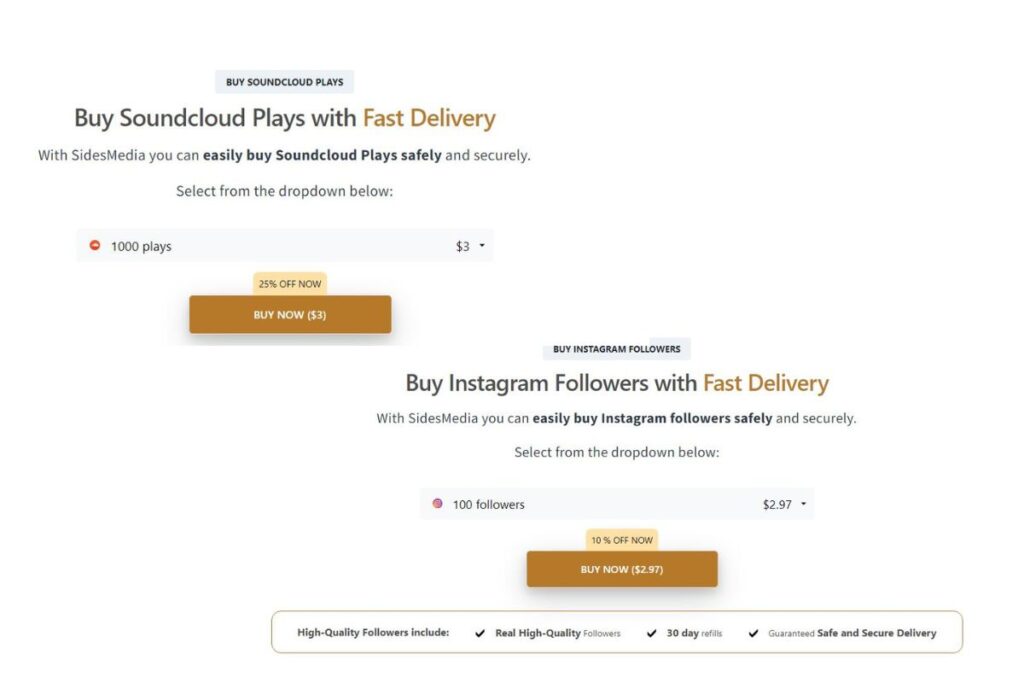 Spotify plays and Tiktok Likes: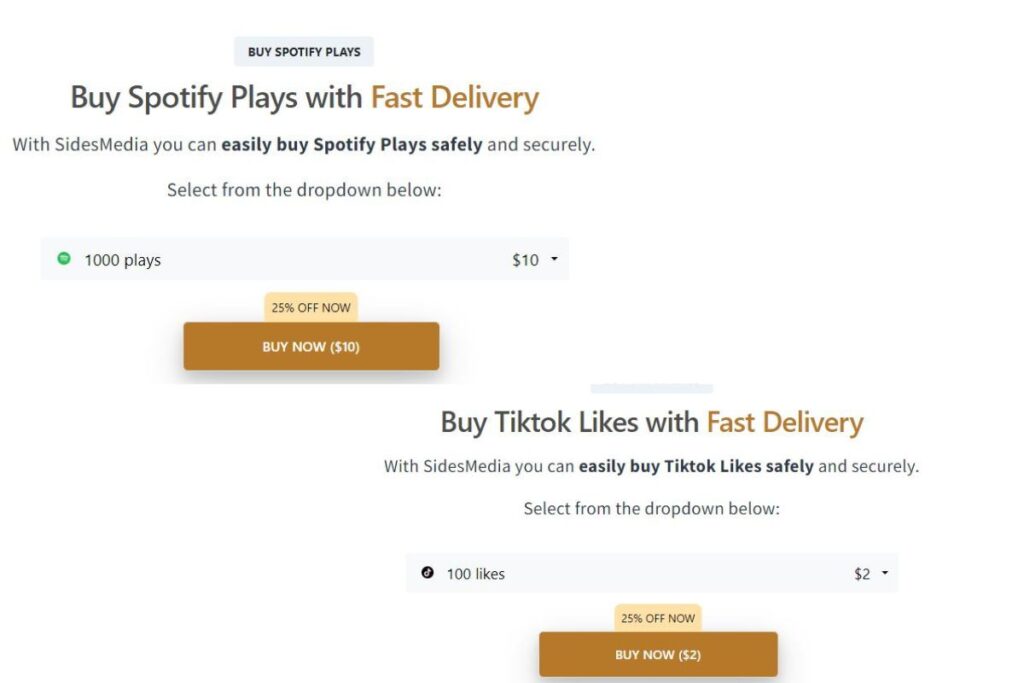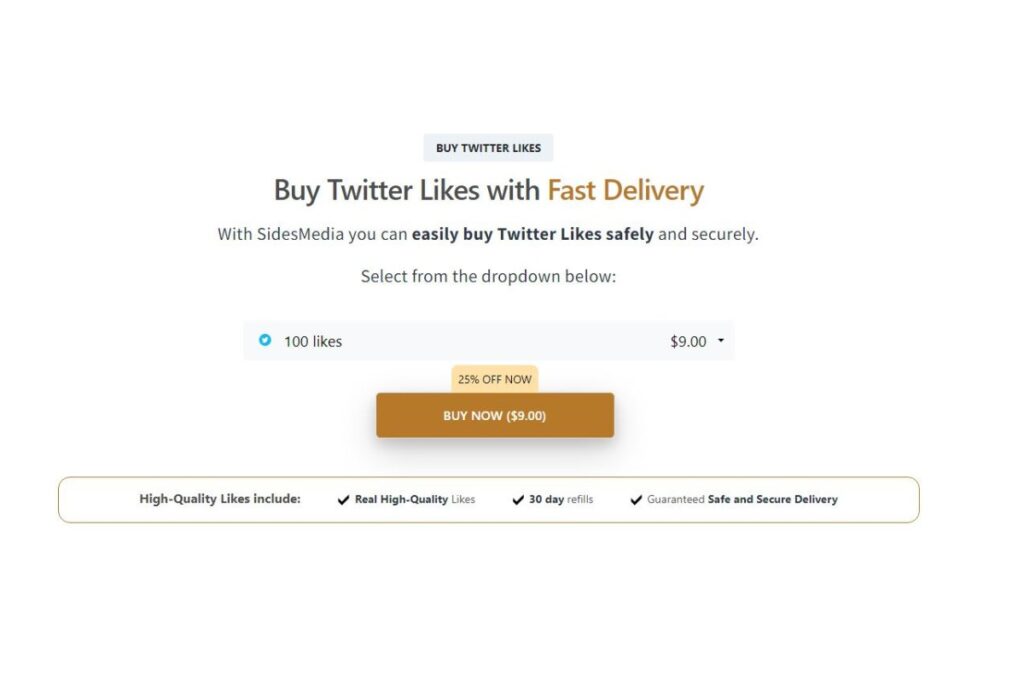 While we cannot verify the specific pricing claims made by Sidesmedia, it's always important to exercise caution when evaluating the claims of any service provider. When considering the pricing of any service, it's essential to look beyond just the cost and consider factors such as the quality of service, reputation, customer reviews, and the features offered.
However, if you're looking for a cost-effective solution, AiGrow offers competitive pricing options that provide excellent value for your investment. AiGrow's pricing plans cater to different needs and budgets, ensuring you can find a plan that suits your requirements. With AiGrow, you can access various powerful features and tools to grow your Instagram following organically, all at a reasonable price point.
Boost My Instagram Engagement Now
Sidesmedia Review; Pros and Cons
| | |
| --- | --- |
| Sidesmedia Review; Pros | Sidesmedia Review; Cons |
| ✅Superior engagement | ❌No free trial is availablePoor Trustpilot\Reddit Ratings |
| ✅Visually appealing website | ❌There is no organic growth |
| | ❌Lack of information |
| | ❌Unreliable company |
| | ❌May Result in Account Suspension. |
| | ❌Breaking the rules on social media |
Sidesmedia is an Instagram growth service that claims to offer various features and services to help users grow their Instagram presence. However, it's important to thoroughly research and consider the pros and cons of Sidesmedia before making a decision.
However, AiGrow offers numerous advantages that set it apart from other Instagram growth services like Sidesmedia.
AiGrow focuses on organic growth strategies, engaging with real users genuinely interested in your content.

Is Sides Media Legit?
There are a few reasons why we don't suggest SidesMedia, and they are as follows:
No Free Trial or Plan
The fact that they don't provide a free trial or plan is one of the main reasons we don't advise using SidesMedia. Several companies provide a free trial period to convince prospective clients that their service is worthwhile. Since SidesMedia does not provide this, we cannot confirm that their service is legitimate and not fraudulent.
On the other hand, AiGrow offers a 65% discount on Growth services to experience the power of Instagram's growth services. With our discount, you can explore the features and benefits of AiGrow, and have the chance to get back your money in case of dissatisfaction.
Want to Get a Guaranteed Trial? All you Need Is to Sign up AiGrow.
Negative Ratings
SidesMedia also has several negative ratings on review sites, which is another reason we do not suggest using them.

It is crucial to read customer evaluations before purchasing from any online provider.

And it's especially important to rely on trustworthy platforms like Trustpilot and Reddit. Several people have complained about SidesMedia. However, many negative reviews raise red flags, even if there are also many positive ones.

Given the seemingly high likelihood of your dissatisfaction with your purchase, we have difficulty recommending this service. Simply said, we advise selecting a service with superior ratings to expand your social media profiles, like AiGrow.
Want to grow your Instagram followers faster? Click here.
Disappointing Online Followers
'Social proof' for your account is a service that Sidesmedia claim to offer. However, what they provide is not actual people. No one who follows you on Sidesmedia will like your posts or engage with them in any way that would help your profile appear in Explore or Newsfeeds.
As Instagram and other social networking sites often purge false followers, you can be confident that they won't last long. Another major issue is the service's inability to provide detailed analytics on your progress across different networks.
With AiGrow, you gain access to detailed analytics that provide valuable insights into your progress across different social media networks. We understand the importance of data-driven decision-making, and our comprehensive analytics dashboard empowers you to track and measure your performance effectively.
Their Bots Might Post Offensive Comments
When getting comments on Instagram for free, bots read the hashtag of the post rather than the picture or description. It's worth mentioning that relying solely on bots for commenting can have limitations. Bots may not always be able to fully understand the context or relevance of a post, leading to generic or irrelevant comments.
On the other hand, AiGrow understands the importance of maintaining a respectful and inclusive online presence, and we take great care to ensure that our services align with these values.
Our team of dedicated account managers follows strict guidelines to ensure that all engagement on your Instagram account is genuine, positive, and in line with your brand values. We do not engage in practices that could result in offensive or inappropriate comments.
Go from zero and build your following with AiGrow!
Fake Engagements
Making up fake Instagram engagements is bad for business. If you give off the idea that you have a lot of followers, you could ignore that your account is going downhill.
Over time, your Instagram engagement may decrease if you continue to buy likes and comments from questionable sources like Sidesmedia.
AiGrow takes a manual approach to engagement, with our dedicated account managers engaging with real users who are genuinely interested in your content. We prioritise building meaningful connections and fostering genuine interactions, ensuring your engagement is authentic and valuable.
Get your mind off your Instagram growth worries

Breaking the Rules on Social Media
Instagram and other social media sites have warned users about the dangers of using automated systems to increase their fan base. Sidesmedia uses automation to assist users in growing their Instagram presence.
On the other hand, AiGrow operates within the boundaries set by Instagram, ensuring that its services comply with Instagram's terms of service. We do not engage in activities that could violate these rules, such as using bots or automation that may result in fake engagement or spamming.
Our team of account managers follows ethical practices to manage your Instagram account organically, engaging with real users and attracting genuine followers.
Start your Instagram growth journey here.
May Result in Account Suspension
You will risk being permanently removed from Instagram if you post more than the allowed number of times each day. Bots may undoubtedly do tasks people cannot complete, such as liking or commenting on Instagram posts more often than permitted.
In the event of a shadowban on Instagram, you can still post and interact with your current audience, but you will not be visible in search results for new users.
Are you looking for a hands-on approach to growing your Instagram account? Look no further. AiGrow offers a dedicated team of account managers who will work tirelessly to help you achieve your Instagram goals.

Alternatives to Side Media; AiGrow Social Growth Engine
As we do not recommend using SidesMedia, here are some great alternatives to check out instead:
AiGrow; Manually-Growth System
AiGrow is your all-in-one solution for Instagram growth, likes, and views! 🚀
Are you tired of services that rely on bots and automation? Look no further. AiGrow takes a different approach by providing you with a personal account manager who will manually handle your Instagram growth, likes, and views.
With AiGrow, you get a dedicated account manager who will work closely with you to understand your goals, target audience, and content strategy. They will manually engage with users, ensuring a genuine and authentic approach to growing your Instagram following.
Don't settle for mediocre Instagram growth and engagement. Choose AiGrow and experience the power of a comprehensive solution that delivers real results.
Visit our website or contact us today to learn how AiGrow can help you grow your Instagram following, increase likes, and boost views.
Get started now and unlock the full potential of your Instagram account!
AiGrow Services
Here's what AiGrow offers:
Instagram Growth: Our advanced manually-powered approach analyses your target audience, engages with relevant users and attracts organic followers. Say goodbye to fake followers and hello to a genuine, engaged community.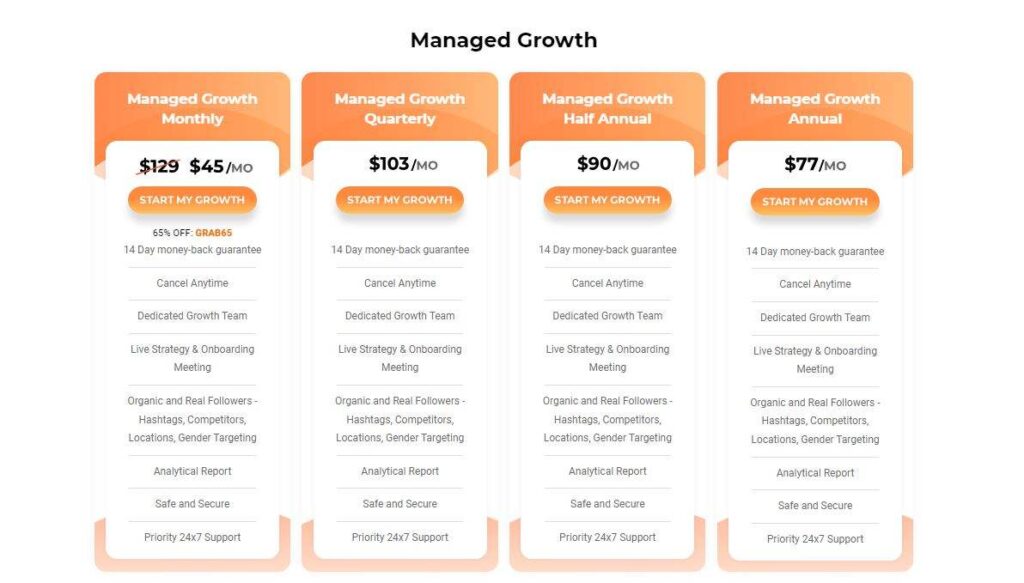 2. Instagram Likes: Boost your posts' visibility and credibility with our high-quality Instagram likes. Whether you want to increase engagement or enhance your social proof, AiGrow delivers real likes from real users.
3. Instagram Views: Increase the reach and impact of your Instagram videos with our views service. Boost your video's popularity and attract more organic views, helping you gain traction and exposure.
4. Personalized Approach: AiGrow understands that every Instagram account is unique. We offer personalised strategies and tailored solutions to meet your specific goals and target audience.
5. Easy-to-Use Platform: Our user-friendly platform makes managing your Instagram growth, likes, and views simple. You can access all the tools and features you need to succeed with just a few clicks.
6. Dedicated Support: Our team of experts is here to support you every step of the way. Whether you have questions, need assistance, or want advice on optimising your Instagram strategy, we're here to help.
AiGrow Features
AiGrow's low prices and straightforward business approach make them accessible to any up-and-coming influencer or company.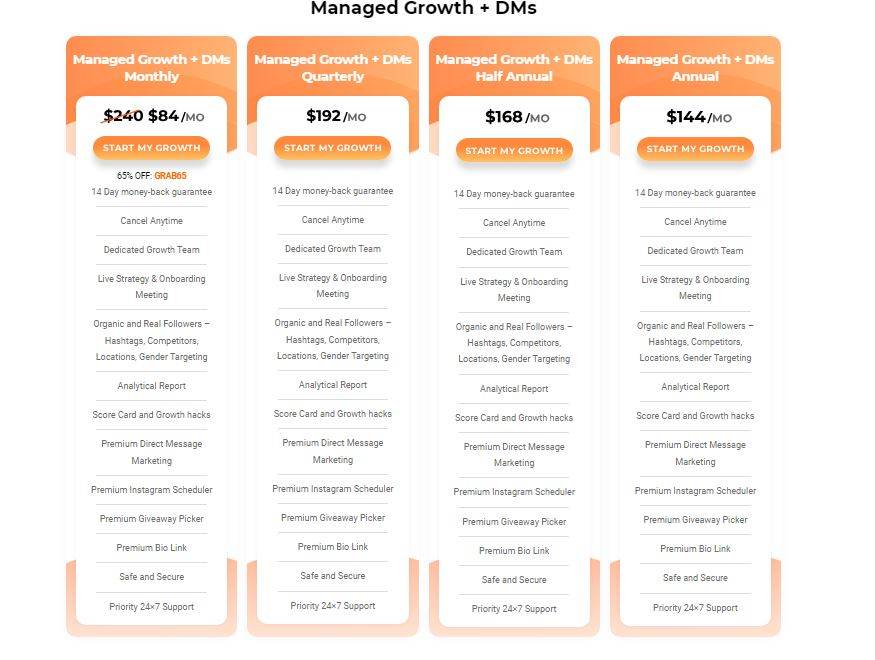 With every package, AiGrow promises:
Money-Back Guarantee
100% Safe Purchase
Organic Growth
Thousands of people are using their service to expand their social media following, and they guarantee that every transaction will be completely secure.

We have personally used AIGrow with no issues, and they have received wonderful ratings on review sites like Trustpilot and SiteJabber.
What Scams To Avoid When You Buy Instagram Followers?
When buying Instagram followers, being cautious and aware of potential scams is important. Here are some common scams to watch out for
Fake or Low-Quality Followers
Some services may promise a large number of followers at a low price, but these followers are often fake or low-quality accounts. They may have no profile pictures, limited activity, and irrelevant or spammy content. These followers won't engage with your posts and can harm your credibility.
With AiGrow, you can expect high-quality followers genuinely interested in your content. We prioritise organic growth strategies that attract real users, ensuring that your follower base consists of engaged individuals more likely to interact with your posts and support your brand.
Grow your Instagram account and save time with AiGrow
Bots and Automated Services
Be wary of services that use bots or automated software to generate unlimited followers on Instagram. These followers are typically inactive accounts controlled by automated systems. Instagram's algorithms are designed to detect and penalise accounts that use such tactics, which can result in your account being suspended or banned.
Unlike services that rely on automated bots, AiGrow's account managers personally interact with users, leaving thoughtful comments, liking relevant posts, and following potential followers. This human touch builds genuine connections and attracts real, engaged followers who are genuinely interested in your content.
Do you want to boost your Instagram reach? Click here.
Stolen or Compromised Accounts
In some cases, services may sell followers by using stolen or compromised accounts. This unethical practice harms the original account owners and can put your account at risk. Supporting legitimate and ethical practices is important when growing your Instagram following.
With AiGrow, you can trust that our services are designed to comply with Instagram's guidelines and terms of service. We do not engage in activities that could violate these rules, such as using bots, fake engagement, or spammy tactics.
Let's grow your Instagram page together.
Lack of Privacy and Security
When purchasing followers, you may be required to provide personal information or access to your Instagram account. Ensure your chosen service has proper security measures to protect your data and privacy.
When you use AiGrow, you can trust that your personal information and account details are handled carefully. We employ industry-standard encryption protocols to secure your data and prevent unauthorised access. Our systems are regularly monitored and audited to maintain high security.
Boost my Instagram engagement now.
Sides Media Reviews Conclusion
The business-oriented focus of Instagram necessitates a more serious approach.
We do not consider Sidesmedia a very secure or expert approach to boosting engagement. Use a trustworthy and practical tool to boost your social media account's engagement with its audience.
You can be certain that your Instagram account will expand securely if you choose a tried-and-true solution like AiGrow.
In general, SidesMedia is not something we suggest you use. This is because they do not provide a free trial and have received nothing but poor ratings on Trustpilot.
FAQs
Q1: What Is SidesMedia?
SidesMedia is a social media growth service that claims to provide likes, followers, and viewers on many platforms to increase your involvement. 
Q2: Is Sides Media Legit?
Although we have no reason to doubt SidesMedia's legitimacy as a Social Media Growth Service, we can't guarantee you will get the promised results. Previous buyers have often complained about being flooded with fake followers. As a result, we advise you to look into other options if you want to expand your social media followers.
Q3: Is SidesMedia Safe?
We have no evidence to suspect SidesMedia poses any security risks. We would like to assure you of complete satisfaction with your service, but their poor rating on Trustpilot prevents us from doing so. As a result, we advise you to look into other options if you want to expand your online followers.
Q4: Does Sidesmedia Really Deliver Results?
When it comes to marketing, Sidesmedia is a service that falls short. It won't help you get your audience involved.
Q5: Does Sidesmedia Provide Any Free Trial? 
There is absolutely no way to get a free trial of Sidesmedia's services.