Anyone who hasn't yet noticed the immense power of Instagram has been living under a rock! This platform can genuinely bring about success for all businesses, and the best Instagram growth services help speed up the process. Among such services, we came across SimplyGram, a tool that promises to help you expand your Instagram!
Simply Gram has made big claims to save the progress of its customers' Instagram. But are we supposed to take their assertions at face value? Of course not! We have decided to delve deep into SimplyGram reviews to answer questions like: 'Is Simplygram legit?'
On the other hand, Instagram growth companies, like AiGrow, can work miracles for your brand and business. So, we will take a look at this Instagram growth tool and introduce it to you.
Are you ready for a thorough Simply Gram review to find out the truth about this tool?! Let's get to it, then! 🙂
What Is SimplyGram
As mentioned above, this tool is an Instagram followers app that claims to help influencers, users, and brands to make considerable progress. Yet, what strategy does Simply Gram apply to make it happen?!
This so-called Instagram growth agency exploits the mother-child IG growth method. In this strategy, the mother-child Instagram growth service will create accounts on your behalf. Then, those accounts will send mass DM to those who might be interested in your content or product, encouraging them to follow you or view your posts.
But, this method can be time-consuming and inefficient even with managers that Simplygram claims to provide for their clients. So, it can't be a good reason to choose the Simply Gram service.
Additionally, this mother-child Instagram growth seems spammy and annoying according to Simplygram reviews! Would you follow a particular page, no matter how appealing the content, if a random person asked you to do so?! We bet you wouldn't, and neither will those poor Instagrammers who receive the messages.
They may get pissed off and flag your account for all we know! After all, SimplyGram promises organic Instagram growth, right?! We'll see soon enough in the Simply Gram review section.
We want to emphasize that it is best to avoid using platforms that employ the mother-child strategy. Due to the fact that they represent your account as a spammer who sends obnoxious direct messages to numerous people. Instead, you can employ IG growth services like AiGrow, whose account manager manages your Instagram account in a structured manner.
For now, let's figure out how this tool functions and what other features it provides!
How Does SimplyGram Work
So far, you have learned what kind of Instagram growth service Simply Gram is. Let's see what steps you would take if you wanted to start with this agency and if those steps are safe at all. To better understand how users feel about each of Simplygram's features, we looked into Simplygram reviews in each aspect.
1- Simply Gram Audience Targeting
When it comes to Instagram account management and growth, specifying your target audience is crucial. If you can't determine the characteristics of your ideal audience, then how can you create content that will appeal to them?! Or, more importantly, how can you show a growth tool what kind of fans you want to entertain?
On SimplyGram, you can allegedly target the right audience by entering hashtags and rival accounts. When you enter the pages whose followers you're competing for, SimplyGram will send its 'child' accounts to text those followers.The truth: Simply Gram offers that targeting tool, but is that functional? According to Simplygram reviews on TrustPilot, Simply Gram sends fake, inactive followers. At this point, you can't hope for much from the targeting tool since we know there is no real follower growth at all.
2- Account Management
If an Instagram growth company provides you with a team of experts, this team will work as a consultant for you. Plus, the managers will develop efficient social media marketing and ensure everything goes perfectly well. SimplyGram claims to hire account managers for your IG growth. Yet, does Simply Gram live up to this standard?! The truth: We have no proof that there are Instagram managers because when customers had technical problems and questions, no one was there to address them. So, unfortunately, this tool can only talk the talk but can't walk the walk!
3- SimplyGram AI Optimization
Another feature reportedly advertised by this tool is that it will analyze and find data to refine your Instagram strategy. Using the AI-acquired information, the team of managers will rethink and perfect your growth. Again, this is what SimplyGram promises to its clients.
The truth: Based on various SimplyGram reviews, this agency doesn't deliver real followers. So, there's no growth strategy for Simply Gram to focus on and perfect!
4- Allegedly Full Customer Service on Simply Gram
These days, 24/7 support for any service will help relieve your mind. It ensures that potential customers can contact the company should any issue come up. Like several other agencies, SimplyGram promises to provide full-time support to all the clients who have purchased a plan.
The truth: Many SimplyGram clients have faced problems with this tool. However, no support team was in place to address their concerns. Multiple users had to log out of SimplyGram and cancel their subscription without getting a refund. Scroll down to the Simply Gram reviews section to examine the evidence and read about users' experiences on various websites.
5- Compliance With Instagram Terms Of Use
We all know that Instagram is against unsafe third-party apps. That's why you will be losing IG followers for no reason if you use such services. But, SimplyGram stated that their actions comply with Instagram's terms of use and guidelines.
According to their claims, using the tool won't get you banned. However, is that really the case?! So let's look at several reviews of SimplyGram from various websites, including Reddit and YouTube. To learn just how dishonest they are, carefully read the following section!
Simply Gram Reviews on Reddit and YouTube
Unfortunately, a SimplyGram review on Reddit was from a client who had lost their accounts. More SimplyGram reviews from different websites complained of a similar experience. Users got their IG accounts restricted at best or entirely banned at worst!
Sadly, you can't get your account back once you lose it for this reason. That's because Instagram has officially warned us against such actions and will take no responsibility should we choose to take that risk.
Additionally, there are other Simplygram reviews on Reddit in the answer of a client asking, Is Simplygram a scam? As you can see on the screenshot below, two users said that it's just a ripoff. So, the Simplygram scam is proven!
Let's now examine the Simply Gram reviews posted on the YouTube website. We discovered numerous negative reviews of SimplyGrams on YouTube. For instance, in a video, a user was investigating other customers' experiences, and they said that it was simply a hoax. You need just search the Simplygram on YouTube!
Or this video, when a user discovered that all of the testimonials posted on Simplygram's website were fraudulent after checking the testimonies' usernames, and they do not exist! Therefore, avoid investing your time in such a service and instead use services like AiGrow. This robust growth tool differs from other services in that its managers get in touch with you as soon as you sign up for this platform.
SimplyGram Pricing Packages
Various Instagram growth services offer different pricing plans for their customers. This way, everyone can find a package that fully suits their needs. Simply Gram is no exception.
There are three different packages available for various purposes.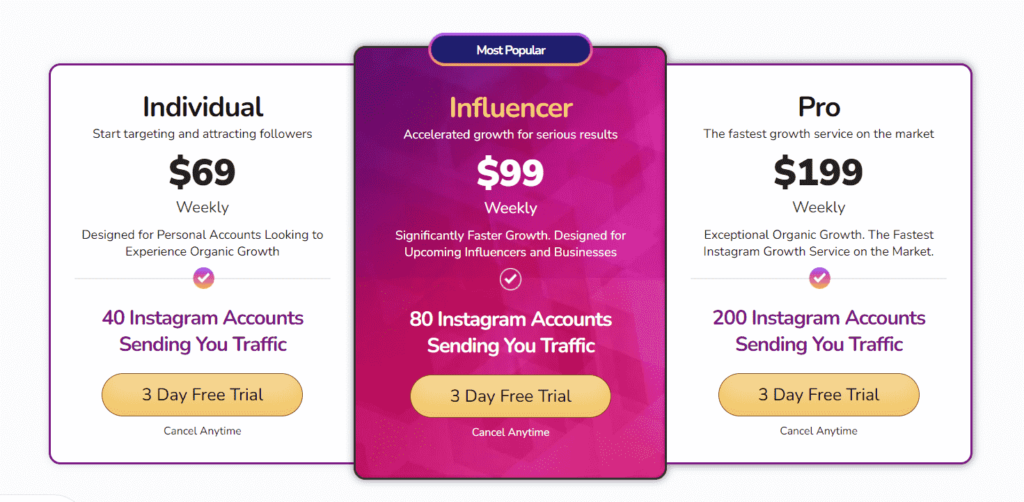 Individual Package
This package is aimed at Instagrammers who have personal needs. For the weekly cost of $69, you get all features. And SimplyGram will create 40 child accounts to DM interested users in your niche. That's what this plan is supposed to do anyway!
Influencer Package
As we can tell from the name, this package is suitable for Instagram influencers and brands who have just started. Paying $99 a week, you will allegedly get 80 Instagram accounts that will text potential customers for you.
Pro Package of Simplygram
This plan is apparently designed for brands who have already made progress on Instagram and want to get more IG followers. SimplyGram claims that for the price of $199 a week, you will experience faster growth.
If you think these prices are not exactly fair, just wait! They've specified the fees for weekly payments. But when you check out, they will charge you monthly.
So, for an Individual program, you'll have to pay $276. The Influencer package comes at $396, and the pro package will cost $796. These are steep prices by any standard, considering you're not buying followers.
SimplyGram 3-day Free Trial
According to Simply Gram's claim, you'll get a free trial for three days, and you can cancel at any time!
Disclaimer: Free trials can help you test a growth service and determine if it is what it claims to be. Yet, this SimplyGram free trial is not precisely free of charge or risk!
The main drawback is that you need to enter your credit card information to place the order. You can't start a new trial if you don't fill in the credentials. And this begs the question: Is your credit card information safe on SimplyGram?! Assuming it is safe, there are more complications!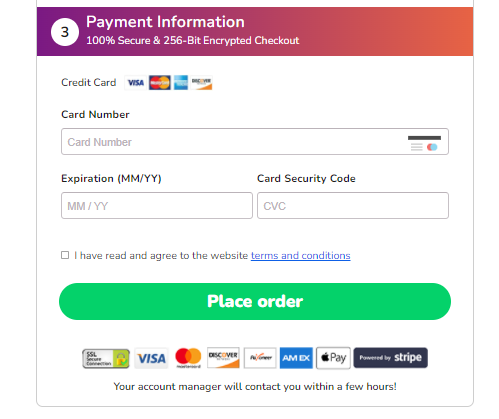 You might say, 'SimplyGram canceling is an option; I can cancel the free trial before the three days are over.' You would be right if this service delivered its promises. However, many customers have reported that they couldn't understand how to cancel SimplyGram. And that's because it's almost impossible.
In other words, even if you trust this tool with your credit card, there's no way you can cancel SimplyGram's trial and avoid the payment. Once you pay, there's no going back! And because you pay monthly, it's a relatively huge sum of money to pay for a service you're unhappy with!
SimplyGram Cons
If we take this service at face value, we will surely think it's the ideal Instagram growth service. Yet, reading SimplyGram reviews, we'll come to the conclusion that this tool is not precisely what it's cracked up to be.
Let's see how SimplyGram can fail to satisfy you.
1- Fake Testimonials on SimplyGram Website
I know; it's a big red flag! When we see fake customer reviews on a site, we should feel threatened. It means that they don't have genuinely happy clients who have achieved their goals.
You might be wondering how we found out they're fake. We checked every account one by one, and we realized that these Instagram usernames and pages don't even exist! For instance, look at this account SimplyGram has used as a happy customer.
Now let's see if this IG account exists:
Nope, it does not. You can check other Instagram usernames they have mentioned as success stories; you will get the same result!
These fake testimonials and reviews stretch to Trustpilot even. When you read the most recent comments, you will see no complaints, just one-line reviews about how perfectly this service performs. But as you scroll down, you will find their real customers who have a lot to say!
2- Fake SimplyGram Followers
Remember how SimplyGram applied the mother-child method to bring about real Instagram growth?! Some users have trusted this tool to attract their Instagram target audience. And the outcome was not favorable!
SimplyGram only delivers IG bots and ghost followers. Genuine clients have stated that their accounts were flooded with bots and uninterested audiences. There goes our faith in SimplyGram!
3- Violation of Instagram Guidelines
Let's see how SimplyGram violates the IG terms of use, shall we?!
Instagram is indeed against creating fake accounts for whatever purpose. And SimplyGram's promised progress starts with making IG pages on your behalf.
Instagram disapproves of spamming other Instagrammers. And SimplyGram allegedly gets you followers by DMing thousands of people to encourage them.
The Instagram application is sensitive to suspicious activities. Fast follower gain is questionable and will get you shadowbanned by Instagram.
These were just a few examples. But these problems are enough to get your activities limited and your page banned.
4- SimplyGram High Prices
The packages are expensive, especially when you realize they show weekly payments while you need to pay monthly in action. Generally, you have to pay a higher price compared with other follower apps and services.
5- No SimplyGram Cancelations
We have explained already that this service offers a trial. But, it's neither free nor cheap! You can't find a cancelation button or option after paying for the trial.
That is, you can't cancel the payment even if you're entirely dissatisfied with the services. SimplyGram will continue to run and harm your account for at least a month. This goes to show how unreliable this agency is!
Final Verdict: Is SimplyGram a Scam?
We thoroughly investigated this service for this SimplyGram review to be trustworthy and complete. As a result, we found out that not only is this tool unsafe, but it can severely hurt your Instagram reputation.
As you've seen in many customer comments, SimplyGram can be counterproductive in building brand awareness on IG. So, it is a scam. And, if you care about your progress and the time you put into it, which we are sure you do, you have to forget about SimplyGram. But then, what growth service can you trust?!
SimplyGram Alternative: If Not SimplyGram, Then What?
Let's face it. Instagram success is a must, yet it is too challenging to accomplish singlehandedly. So, you need tools, but you shouldn't settle for anything less than the best!
AiGrow: The Best SimplyGram Alternative
AiGrow is an ideal service for those who crave sheer transparency and real Instagram growth.
It is a management and growth tool with multiple features. Using AiGrow, you can conveniently:
Grow your Instagram followers at a steady pace.
Schedule content for the best times.
Gain blog traffic with a bio-link tool.
And much more! If you want to know more about its features and how it works, you can go through this AiGrow review.
All the features aside, the best thing about signing up with AiGrow is that you will instantly get a dedicated account manager. They don't use so-called managers, but an actual professional team who's had vast experience in growing Instagram will be closely monitoring your strategy.
Check out this video to hear what satisfied AiGrow users have to say about the "magic tool."
Plus, you can demand a full refund if you feel like it's not performing well! And they will return the payment, no questions asked.
Guarantee your Instagram success with AiGrow now!
AiGrow VS. Simply Gram
In light of the fact that you wish to examine the similarities and differences between these two services, we have gathered all of Simplygram's features into one section and compared them to those of AiGrow. It is not difficult to see that AiGrow is a product of superior quality.
| Features | SimplyGram | AiGrow |
| --- | --- | --- |
| AI-powered technology | ✅ | ✅ |
| Organic growth method. No bots, spam, or fake followers | ❌ | ✅ |
| Mother-chiled method | ✅ | ❌ |
| Hashtag generator tool | ❌ | ✅ |
| Advanced filtering & targeting options | ❌ | ✅ |
| Growth with influencer marketing | ❌ | ✅ |
| Instagram analytics & social monitoring tools | ❌ | ✅ |
| Managed growth plans | ❌ | ✅ |
| Support in developing your Instagram content strategy | ❌ | ✅ |
| An experienced account manager will take care of your Instagram account (Manual Growth) | ❌ | ✅ |
| 24/7 Support | ❌ | ✅ |
| No password required | ✅ | ✅ |
| Viewing Insta stories | ❌ | ✅ |
| The number of followers and success guaranteed | ✅ | ✅ |
| Content design template (feed/stories) | ❌ | ✅ |
| Scheduling Tool | ❌ | ✅ |
| Multiple links in bio | ❌ | ✅ |
| Instagram post deleter tool | ❌ | ✅ |
| Instagram Mass unfollow tool | ❌ | ✅ |
| Mass DM marketing | ❌ | ✅ |
| Giveaway & contest picker | ❌ | ✅ |
| Fast delivery of services | ❌ | ✅ |
| Safety | ❌ | ✅ |
| Trustpilot Score | 3.7 | 4.7 |
AiGrow VS. Simplygram
FAQs on Simplygram
Despite our thorough examination of Simplygram, there may be questions concerning this service. We addressed some of the most frequently asked questions. Please feel free to ask any more queries.
#1 How to Cancel Simplygram Subscription?
As this was covered in the previous section, Simply Gram will keep operating until the end of the period that you purchased, and you will not be able to cancel the Simplygram Subscription even if the service is not what you were anticipating it to be.
#2 Is Simplygram Legit?
As a result of all that has been discussed up until this point, you should be able to reach the conclusion that Simply Gram does not in any way operate legitimately. If you do not agree with this, please read this post once again!
Over To You
These days, nothing is more consequential to your brand's success than your Instagram presence! IG can help you reach the heights of fame and popularity if used right. On this path, you will need growth tools like AiGrow you can trust.
In our SimplyGram review, we tried our best to remain impartial and give you all the facts. As a result, we understood that Simply Gram could irreparably damage your hard-earned success by violating Instagram's terms of use and sending you bots. However, you can get immediate access to AiGrow and enjoy effortless growth!
We gave you all we had; now, it's your turn to share your invaluable experience with us. Leave us a comment and tell us all about it! 😉