There are different Instagram growth agencies, introducing their services in the most presentable way possible. But, among all the various tools, where does Ampfluence stand? What have Ampfluence reviews revealed?
Are you wondering how to grow your Instagram effectively? Indeed, reliable Instagram growth services can accompany you on your path to social media success and ensure it. But if you don't investigate them before purchasing, they can make you regret ever considering them, as Ampfluence does.
Let's face it; we don't have all the time in the world to test different tools, and we certainly don't get multiple shots at success. So, is there a way to figure out which platforms are genuine?! Well, we will test different apps on your behalf, share our experience, and help you make an informed decision. Unfortunately, many people have complained that Ampfluence is a scam!
Now, it's time to see if Ampfluence can hold up to the minimum standards or if those reviews are right and it's not worth it at all. We will be analyzing this AMP's reviews, features, tools, performance, and best alternatives, like AiGrow!
Let's start this Ampfluence review then, shall we?!
What Is Ampfluence
As you have already noticed, it's a social media growth service that allegedly helps users get more IG followers, comments, and likes. Keep in mind that Ampfluence is not merely limited to Instagram. They also promise to increase your followers on TikTok, Twitter, and Pinterest.
However, maintaining those social media networks demands a large number of skilled managers. So let's see what Ampfluence has to supply! Yet, each Instagram growth service offers its own customized tools and has unique ways of achieving results. Otherwise, all agencies would be the same!
So, what features does this one provide? And one more question: is Ampfluence legit?! No spoilers here; just keep reading to find out the truth!
How Does Ampfluence Work
Ampfluence attempts to deceive you by exaggerating how it operates to achieve the desired results. So, let's see what steps you need to take to get started on delivering the promised numbers!
#1 Ampfluence Signup Requires Extra Information
To sign up for an Ampfluence account, you need to choose a plan. Then, you must fill out a list with your information. It sounds like any other growth service so far. But buckle up; it's about to get weird real soon!
Not only does Ampfluence require your Instagram credentials and email, but it also asks for your phone number and accurate street address! I know, right?! It's perfectly understandable if they need your target location, but I can't see how they'd need your present location down to the street address!
So, if you are as sensitive about your privacy, you should reconsider!
#2 Ampfluence Consultation Stage
Additionally, their consulting process dramatically exaggerates! They made reference to something they weren't capable of doing that well and for which they were in no way responsible.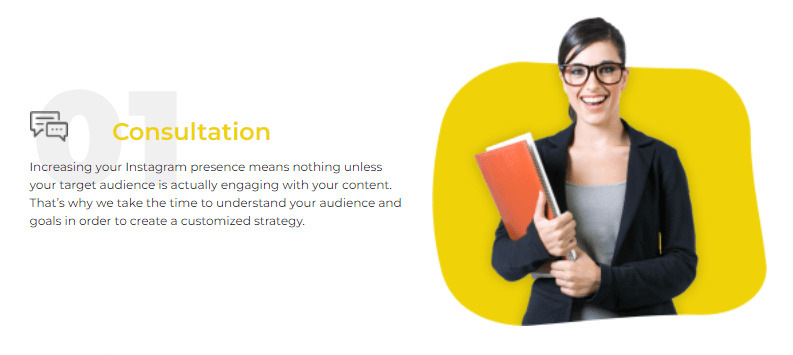 After choosing a pricing package and signing up, this service promises a consultation session. In this stage, you will specify your rival pages, niche hashtags, and target audience so that Ampfluence can get you the followers you want.
From this 'consultation,' we expected a meeting with an account manager or support team only to find that selecting your goals and followers' criteria is their consultation process. So, don't wait around for Ampfluence to dedicate a social media manager to contact you!
Hence, why not use a service like AiGrow? Their dedicated managers will never leave you alone and will contact you at an early stage and continue their support during the growth process.
#3 Allegedly Manual Targeting
This platform boasts a research team to find potential customers and followers. It claims that this 100% manual research will analyze your rivals, niche, and industry. But if that's the case, the Ampfluence reviews should be positive, but unfortunately, the customers have a lot to say!
Sadly, our research of Ampfluence users shows that there is a likelihood that they may utilize dangerous bots to do so. Because their so-called consultants only ever question your goals and niche!
#4 Ampfluence Followers/Likes/ Comments
Despite the fact that it was never fulfilled, this tool promises to increase your IG engagement rate organically. That is, they claim that they've employed a human-powered team to take action on your behalf and offer real followers.
If all their promises were true, we'd all be happy! Yet sadly, we've seen complaints from unsatisfied customers who only received fake followers and got shadowbanned by IG.
#5 Analytics & Measurement
Remember how we talked about this tool using a real team to analyze your niche?! Well, now they offer a team to analyze your performance. That is, they allegedly measure the changes your page has gone through since using Ampfulence.
Additionally, there is no way to see Ampfluence's dashboard before buying their package. You must select one of their pricey packages, provide your private information, and then you will have access to the dashboard or everything to see the specifics. It's a long way, agreed?
In contrast, AiGrow allows you to register, go to the comprehensive dashboard, and then purchase. All the things they offer are clear. You can confidently start your journey with AiGrow.
Ampfluence Pricing Plans
In general, the prices are relatively expensive, but you get to choose between 3 different plans. The screenshot below demonstrates how there is a significant difference between the first and third packages, and when you purchase the first one, you receive nothing unique in use!
Ampfluence Growth Plan
The starterpack, with a monthly cost of $249 promises an average of 250 targeted followers, email support, and standard analytics. Considering you get charged monthly and that you'll have no hashtag research tools, the cost is way too high!
Growth X2
Ampfluence's most popular package is this one, which provides an average of 500 followers plus hashtag research tools, priority support, and analytics. This plan comes at the monthly price of $349! If you wish to provide it for one year, calculate the cost!
Exorbitant Price of Ampfluence Growth & Content Package
If you're not just looking for niche-relevant followers but also social media posts and caption templates, this package will allegedly address your needs, but you have to pay a bit over the odds! This 1499-dollar plan helps you get IG followers instantly, schedule IG stories and posts, and access 15 templates.
It is, however, a luxurious bundle. Who can afford it? If you can afford it, Ampfluence isn't worth it!
AiGrow, on the other hand, has reasonable costs and a variety of bundles. On AiGrow, there are numerous services and bundles from which you can select based on your needs. Test it out!
Customized Packages For Large Brands
If you own a large brand and require a different package that suits your specific needs, Ampfluence has some options. But, of course, they come at an even more expensive price of $4,500 per month. Do you dare use it?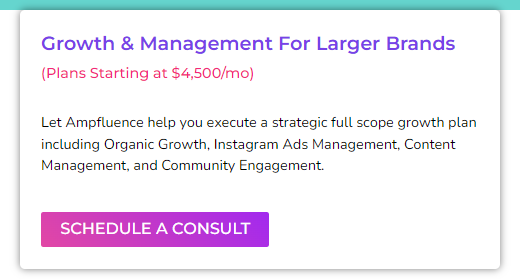 If you're determined to try this service, make sure to use an Ampfluence coupon code to get a discount at least! You can get a promo code for Ampfluence on different websites including hotdeals.com.
Ampfluence Features
Overstated aspects of Ampfluence's features are illustrated in the following screenshot. Claims that should have been fulfilled by this Instagram growth agency in action. If not, then they are nothing more than blatant lies!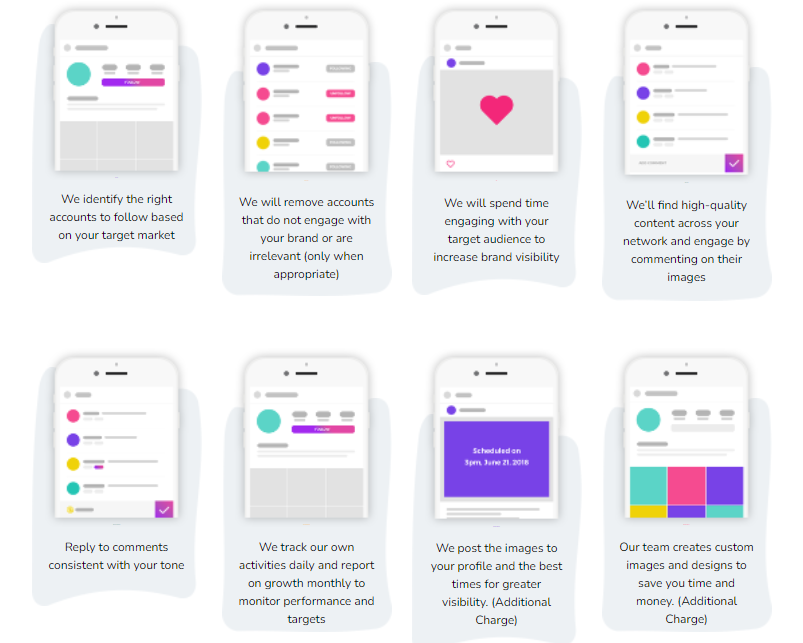 We have mostly covered how this service claims to work. But let's have an overview of what tools they provide. After all, you need to know what you're buying! So, let's see.
As mentioned previously, Ampfluence offers to find your audience and engage with them.
This platform also allegedly works as an Instagram unfollowers app. Such tools, if they're genuinely functional, can enable you to notice who doesn't follow you back or engage with your content. Then, you can unfollow them. Problems arise when the tools are either not functional or are ignorant of Instagram's daily limits.
Ampfluence promises to engage with other accounts. That means that it will like posts and leave comments. Now, the tool promises to do this manually, yet is that the case?
This platform is also an IG scheduler tool, which means that if it works well, you'll be able to publish your content during the best times to post on Instagram.
These features seem decent enough, right?! Especially if you check the Ampfluencer blog, you'll be convinced that it's truly helpful. But, let's not judge a book by its cover and delve deeper into it!
Ampfluence Reviews
Every Instagram growth agency claims to be the best and most efficient on the market. But if we analyze their performance and ask their customers, we'll then learn to what extent they're telling the truth.
Ampfluence Reviews on Trustpilot
To make this Ampfluence review complete and conclusive, we've decided to share the experiences of several genuine clients. Let's see what problems they have faced and if they can be overlooked!
Ampfluence Has Done More Harm Than Good
Instagram terms of use and guidelines are indeed against using automation of any shape. But how does it notice you've been using bots?! In practice, when you follow/unfollow too many accounts, Instagram will become suspicious.
Yet, this can't be an excuse for an unfollowers app to stop functioning! An enhanced tool, like AiGrow, will remove your ghost followers manually while paying attention to the limits.
Unfortunately, based on this Ampfluence Instagram review on TrustPilot, Ampfluence's unfollow tool is not even functional. This unhappy client has been facing several issues due to its poor performance!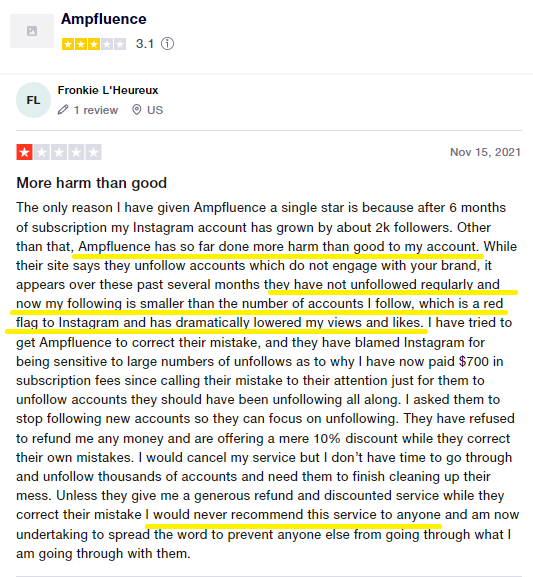 Ampfluence Reviews on Reddit
On the Reddit website, there were also lots of users complaining about Ampfluence inefficiency. In this part, we gathered all of them to show you how a service can be tricky.
There is not Feeling of The Growth Of the User's Account
Ampfluence charges a hefty price for the services they offer. Yet, the price would be acceptable if all their advertisement were true, and paying the price would help you double your engagement rate and gain a considerable number of followers.
However, this customer has experienced their services and feels that the numbers and quality are not the promised results for which she paid! Many other Ampfluence Reddit reviews are of the same opinion.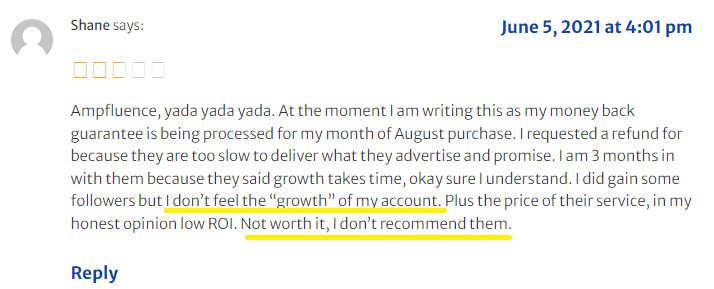 Get Better Money Elsewhere With Someone Who Truly Wants You To Succeed
Again, we have Ampfluence Instagram reviews of customers who feel like they've wasted their money because they didn't see the performance and results they wanted. So, Ampfluence doesn't seem to be value for money even if it functions well.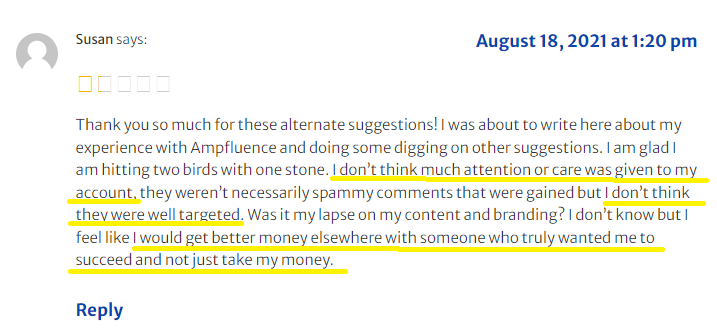 Ampfluence Pros and Cons
Testing this tool and reading several client reviews, we have come to the conclusion that this tool is not what it so fervently advertises to be! If it functions at all, it will get you fake followers who have no interest in your content. And at such prices, their performance is simply unacceptable!
In the picture below, everything is clear:
Do Not Risk Such a Scam Try AiGrow Instead
Instagram entertains more than 1 billion users worldwide, and since 44% of users make purchases on this platform, it has become a haven for brands and businesses. That's why you should know how to grow your Instagram. Instagram's success has been a deciding factor in your business's progress!
So, whether you're a brand or an influencer, you need to grow your Instagram followers, and you need them now! However, having read the review for this service and probably many others, you may ask, 'if growth tools are so risky, why should I use them?'
If we're being realistic, not all of us are experts in Instagram marketing! And we surely don't have the time for trial and error. So, we need help, and growth companies offer it! Some companies exploit the current trend to sell their ineffective tools at high prices while others genuinely care about your brand and want to see you thrive!
So, just because some tools don't bring you closer to your goals, you shouldn't assume that the others are the same. You just need to find an Instagram growth service that actually works and know how to grow your Instagram!
So far, we've realized that Ampfluence doesn't have an ideal performance. Now, what?! What other options do you have?! Well, as it happens, we have the perfect solution for you; AiGrow!
AiGrow: The Best Ampfluence Alternative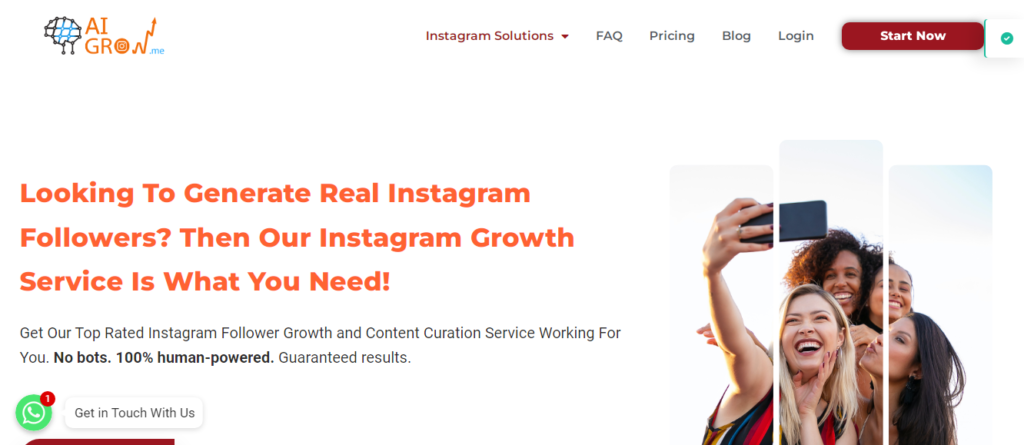 AiGrow is an excellent Instagram growth and management tool which provides a safe, enjoyable journey to success! This tool enables you to:
Grow your followers organically.
Target your audience on Instagram.
Host successful Instagram giveaways and pick the winners in seconds.
DM potentially interested customers and followers.
Monitor your rival accounts, attract their followers, and get inspired by their content.
Schedule your content for the optimal posting time.
Share coupons with your followers to reward them.
Create CTA links on Instagram bio,
And much more! They have so many tools and tricks up their sleeve that they can make your Instagram experience genuinely fruitful!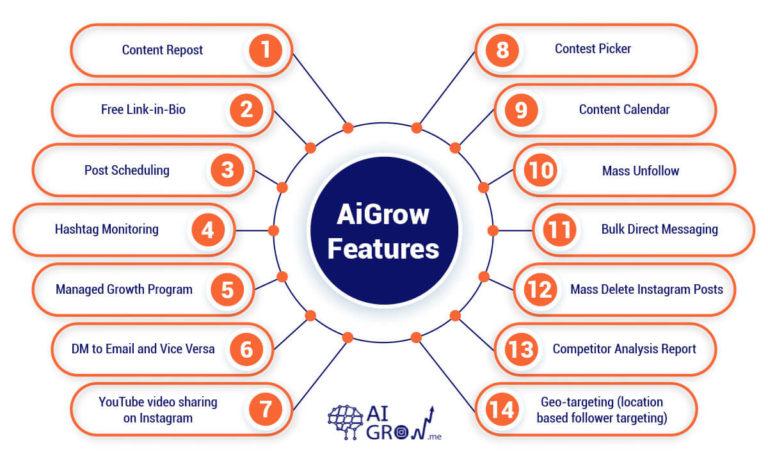 Guarantee considerable IG progress with AiGrow right now!
What Sets AiGrow Apart
We've seen too many growth tools that failed to deliver on their promises. So, what's so different about AiGrow?! There are numerous positive reviews of AiGrow on the net, like this one.
This incredible growth service doesn't just talk of 'organic' growth or dedicated account managers but, in fact, provides them! Once you sign up on AiGrow, you will have a professional team to develop a strategy and respond to your questions.
Take a look at the following user testimonial for further evidence:
Plus, they offer a full refund if they can't meet your goals. In other words, they actually guarantee the results you signed up for. And if you see something you don't like, they will return your money, no questions asked!
Let's take a closer look at how Ampfluence and AiGrow could differ:
| Features | AiGrow | Ampfluence |
| --- | --- | --- |
| Organic growth | ✅ | ❌ |
| Audience targeting | ✅ | ✅ |
| Available Instagram growth team | ✅ | ❌ |
| Monitoring rival accounts | ✅ | ❌ |
| Creating CTA links in bio | ✅ | ❌ |
| Creating IG coupons | ✅ | ❌ |
| Connecting DM to Email | ✅ | ❌ |
| Mass DM | ✅ | ❌ |
| Scheduling Instagram reels, posts, and stories | ✅ | ✅ |
| Bulk deleting posts | ✅ | ❌ |
| Automating Instagram giveaways | ✅ | ❌ |
| Offering accurate analytics | ✅ | ✅ |
| Identifying the best hashtags for content | ✅ | ❌ |
| Guaranteed result | ✅ | ❌ |
| Guaranteed refund | ✅ | ❌ |
| Trust Pilot Score | 3.1/5 | 4.6 |
AiGrow VS. Ampfluence
For more information, make sure you read our complete review of AiGrow and watch this video!
There's literally nothing to lose with AiGrow, so go for it!
How To Get Started With AiGrow
Getting started with this service is also straightforward. You only need to follow the steps below:
Then, connect your Instagram following the on-screen prompts.
Once you're in your dashboard, choose 'Manage.'
Now, you need to identify your target audience so that it can target them for you.

Now, you sit back and relax as your account manager takes care of the rest for you.
You can also check out other tabs to schedule your posts, share multiple links in your bio, or mass delete some posts!
Get immediate access to this fantastic tool now!
Final Words On Ampfluence Review
The number of Instagram users is bound to increase, making it an even more ideal platform for marketing. In this situation, an Instagram growth service can play a significant role in your success and failure! If you choose the right path, you will enjoy smooth progress, while if you make a snap decision, you will regret it for good!
In our Ampfluence review, we tried to provide all the answers to your questions about how to grow your Instagram account using a reliable and not phony social media growth tool. In conclusion, we found out that despite the high cost, Ampfluence is not a reliable tool for your growth! Yet, AiGrow can achieve the perfect results for you!