We may use TikTok for various purposes. While some people use the TikTok app to create short videos of themselves dancing or lip-syncing, others use TikTok as a marketer to make a living. Several individuals such as influencers and marketers are looking for apps like TikTok as they're most likely concerned about the app's demise.
On the other side, you might enjoy making short, eye-catching movies on TikTok and sharing them with your family and friends, but this platform is inconvenient for you. As you may be aware, TikTok is not available to everyone in the world due to government restrictions in some countries. Additionally, some users are concerned about the app's security.
So, a TikTok alternative is necessary for these situations. The good news is that you can have a similar experience via apps like TikTok. Let's dive in to know about other similar services. One of these may be just what you're looking for.
10 Apps Like TikTok
Social media is a constantly surprising creature. When one platform appears to have monopolized the region, another appears practically out of nowhere, altering the scene.
These platforms proved features, effects, and sites like TikTok. However, if you're interested in producing and sharing short movies with filters, music, and other applied effects, TikTok is unmatched.
Several TikTok alternatives are gaining traction in the app stores. Let's look at some of them, just in case!
#1 Instagram Reels: The Best TikTok Alternative
The Instagram Reels feature can be used as a TikTok alternative on Instagram, a major social media network worldwide. Instagram jumped to produce Reels tools like the TikTok app as soon as TikTok emerged as a popular video-sharing app.
To make it easier for users to produce and discover short and enjoyable films, Instagram introduced Reels in 2020. We can say Instagram Reels is a top choice among TikTok competitors. It's also a terrific opportunity for individuals to explore with videos.
Simply put, it couldn't be any easier to use. There's an extensive music collection so that you can conveniently add music to Instagram reels. Besides, Instagram reels feature a slew of clever effects and options to modify the tempo in whole or in part.
You can also download and repost IG reels in a variety of ways. And you can choose to have them appear in your main feed, in the Reels section of your account, or solely in your Stories.
How to Make the Most of Instagram Reels
As mentioned already, one of the popular apps like TikTok is Instagram, and its reels feature is a perfect TikTok alternative! But for your IG reels to have the optimal outcome, what should you do?!
You should be able to upload it during the best times to post on Instagram, use relevant hashtags, draw engagement and interaction, and have the right Instagram strategy. Yet, how can you accomplish all these tasks?!
AiGrow, a reliable Instagram management and growth tool, is your ideal choice! Using this platform, you can:
Get a dedicated management team with whom you can share your concerns and develop the best organic growth strategy,
Schedule and repost Instagram posts, stories, and reels,
Identify the best hashtags for your niche,
Monitor your competitor's IG account,
Receive post ideas according to the latest trends,
And much more!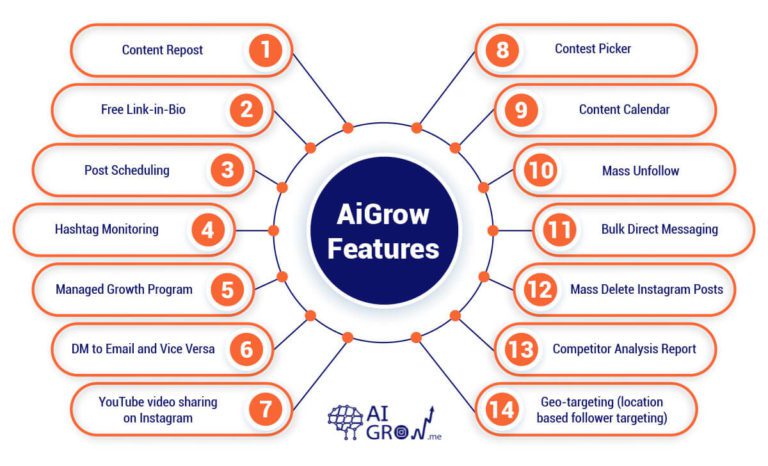 AiGrow is the key to success for all your Instagram reels. You don't even need to worry about bots because you will have a human manager handle everything! For more information, check out this AiGrow review.
Sign up for AiGrow right now to enjoy immediate access to all the must-have tools!
#2 YouTube
YouTube may not be the best among the apps that are like TikTok. Although YouTube isn't great for short-form video content producers, it is a brilliant app among TikTok video sharing apps for viewers. Both iOS and Android devices can run this platform with no issues.
If you use TikTok to make money and you don't know if that's possible on YouTube, I have good news for you! YouTube monetization may be challenging, but it's a common practice! That is, many users exploit YouTube for business marketing as well.
For those who don't want to download the apps, YouTube has many compilation videos that feature TikTok, Vine, Snapchat, and other popular apps.
#3 Dubsmash
Dubsmash was a video-sharing social media application for iOS and Android developed in the United States. The company was founded in Germany and relocated to Brooklyn in 2016. After years of speculation, Reddit confirmed the acquisition of Dubsmash on December 13, 2020.
Since 2021, Reddit's own video-making facilities have been merged with Dubsmash's tools. The integration would shut down the standalone Dubsmash app, making all user videos and posts inaccessible until they downloaded the app before February 22, 2022. Dubsmash.com redirects to Reddit.com as of February 22, and the iOS app is no longer available through the App Store.
Have you ever wondered how superstars such as Kevin Hart, Cara Delevigne, and the Kardashian sisters compose their flawlessly timed lip sync videos?! They all use Dubsmash. This platform seeks to highlight each creator's unique characteristics and abilities.
Dubsmash's algorithm is primarily designed to promote diversity. Unlike many other video applications, it does not track your GPS location or collect usage data to sell it to third parties. So, it is one of the safe alternatives to TikTok.
This program allows you to film yourself lip-syncing to a variety of audio samples, from popular tunes to renowned movie lines to viral YouTube videos. You can record or upload any video, apply effects such as filters, stickers, and text, and then share your creations with the Dubsmash community.
It is possible to post your Dubsmash videos on other social media networks, such as Instagram and YouTube. The hashtag, #Dubsmash, has been used in more than 3 million Instagram posts, some of which celebrities have made.
Boost your knowledge on social media: How to Create Trendy Social Media Posts
#4 Triller: Popular Apps Like TikTok
While you can collaborate with friends, Triller is not a social media platform. Yet, video editing and uploading to social media sites like Facebook, Instagram, and Twitter are possible with this software program. So, you can use it as one of the safe alternatives to TikTok.
Triller gives you the ability to use an entire song in your videos. For your Triller videos, you can use your own Apple Music or Spotify library, giving you many more options.
This application appears to be the video-editing app of choice for celebrities, perhaps because it is so simple to use. As a result of Triller's AI, you can edit videos much more quickly than you would otherwise be able to do manually.
Using Triller's motion analysis, you can also sync your movements to the beat of your music of choice. All you have to do is record your video, and the app takes care of the rest. Cut and trim videos, add filters, or draw over videos like Snapchat with Triller's video editing tools for an extra boost in creativity.
Boost your knowledge on social media: How to Change TikTok Username [3 Simple Steps]
#5 Funimate
Funimate is the best TikTok alternative video editing app you can find! Funimate can be used in a variety of ways. Create video loops, easily add slow-motion effects, and share with millions of Funimate users who create innovative videos smoothly.
To create fun lip-syncing videos like TikTok, you can use its vast library of music and sounds. Besides, more than 20 video effects are available, and you can quickly add text and stickers to your videos.
So, you can make your video stand out from the crowd by using their library with thousands of elements, including stickers, backgrounds, and overlays. Then, you get to share your videos on TikTok, Instagram, Snapchat, Musically, and other social media platforms to impress your friends and gain new followers!
Boost your knowledge on social media: How to Remove TikTok Watermark in Six Steps
#6 Likee
Android users can use Likee as apps similar to TikTok. Among its many features is a Music Magic filter that applies effects to videos based on music volume and intonation changes. You will love Likee because it has a wide range of special effects that you can use to your advantage in post-production.
You won't find these effects anywhere else. Fast and easy video production is now possible with the SuperMix feature. You can also make your own music videos with the app's great selection of music.
Other features, such as the AI face-swap FaceMagic, enable you to star in your favorite movie roles so that you can step into the shoes of any superhero you like instantly!
In addition to these functions, Likee offers a wide range of filters and the ability to speed up and slow down videos as well as to crop and trim videos. Additionally, Likee's community is quite active, allowing you to connect with other content creators and discover new videos. Best of all, with Likee, you can post your videos on all of your social media profiles.
Boost your knowledge on social media: How to Go Live on TikTok
#7 Snapchat: Best Apps Like TikTok
Snap Inc. is the company behind the popular American instant messaging app Snapchat. Snapchat's most notable feature is that you can access images and messages for a limited amount of time before they are permanently deleted.
Users' "Stories" now include 24 hours of chronological content and "Discover," allowing brands to show ad-supported, short-form content initially intended for person-to-person photo sharing.
Videos can be as short as 60 seconds on Snapchat, and once shared, they vanish in a flash. A "my eyes only" option allows users to store their photos in a password-protected area.
End-to-end encryption is already being used, albeit in a limited capacity, to expand its scope in the future. Because of the success of TikTok in the previous year, Snapchat has seen a recent uptick in popularity.
While Snapchat is not a perfect TikTok alternative, as a short-form video platform, it has a lot to offer with 238 million daily active users making it a solid social media platform with a broad reach.
Boost your knowledge on social media: 13 TikTok Hacks to Get Followers Faster
#8 Clash
Clash (formerly byte) is an American social networking site that hosts 16-second looping videos. It's an in-beta video application developed by the former creator of Vine that is currently only available on iOS.
Previously, we could only share loop videos and boomerangs on Instagram. Now Clash enables users to create and share looping videos lasting 21 seconds in an environment where popular content is surfaced on a For-You Esque page called Now Serving.
Clash places a premium on inclusivity in its community and creators. Yet one of its main disadvantages is that it does not maintain a library of songs or sounds. Instead, creators should provide all audio.
Clash's mission is to assist creators in achieving success and earning a living while creating content full-time. The platform is designed for creators who value authenticity, creativity, and community.
A new mechanism called "DROPS" will let fans support and reward videos and producers in pre-fixed micro amounts, on top of the money that Clash presently gives creators.
Boost your knowledge on social media: A Sneak Peek into the Metaverse[The Best Guide]
#9 Lomotif
As a TikTok competitor, Lomotif lets you cut movies, edit in-app, add slow-motion, and more, all of which are similar to TikTok features. Also included are stickers, emojis, beauty filters, and a library of music and effects.
Both iOS and Android devices can use this software. Creating videos with friends is also possible via the app. Lomotif's Birthday and New Year's Day features help you raise your profile on the app during these special occasions.
#10 Cheez: Apps Like TikTok
Cheez is a famous social media platform for vlogging, fashion, and comedy. In addition, if your videos are liked, shared, and commented on, you'll be rewarded. You can also support other creators by checking out their work and commenting on them.
In addition to trimming videos, video editing tools allow effects, stickers, and filters. With Apple iOS, Android, and Windows OS, you can participate in challenges, compete against other users, post topics, and even participate in DanceOff on Cheez.
Boost your knowledge on social media: 9 Best Instagram Giveaway Template Examples for Marketers + Tools
FAQs on TikTok Alternative
Some TikTok users that use this app have questions about alternatives to TikTok and need more help to find a good one. In this part, we answer your most frequently asked questions.
What Are the Most Important TikTok Competitors?
While TikTok's popularity has skyrocketed since its debut in 2018, social media platforms similar to the TikTok video-sharing app come and go at a rapid pace.
There are several TikTok-like apps; while some apps provide a high performance of features, same as TikTok, other apps like TikTok don't satisfy users.
Among adult apps like TikTok, such as Clash, Triller, Dubsmash, Instagram Reels, Byte, provided features like TikTok, and we can say they are the most powerful TikTok competitors.
Boost your knowledge on social media: 19 Best Facebook Ad Examples For professional Marketers
Are There Apps Like TikTok for Kids?
Although the security foul-ups of TikTok cannot be underestimated, child abuse and sexual exploitation have been a concern for the TikTok app. TikTok has stated that it is "deeply committed" to child safety and has "zero tolerance" for any behavior that leads to or may lead to these crimes.
Children as young as eight are being groomed, watched, or engaged in sexually explicit conversations by predators who use adult apps like TikTok. To avoid it, some manufacturers provide Kid-friendly apps like TikTok.
Now, there is a safe social platform that allows children to play, create, and learn with one another to unleash their full potential. The former founder of UClass, Ringelstein, has launched Zigazoo, which he calls a "TikTok for kids."
Among the largest social networks for children, Zigazoo stands out. It is a free app that allows children to answer short video-based exercises and share their responses with their social media contacts.
Final Thoughts on Apps Like TikTok
The viability of any app or platform cannot be guaranteed long-term. Many innovative minds are coming up with new ways for people to express themselves and connect in today's social media world. That's why there are a lot of apps like TikTok for everyone, no matter what your goals or preferences may be.
The Tiktok alternative, like these 10, has started to rise in popularity as TikTok has been banned in some regions. See which app works best with your brand, followers, and yourself by checking out our list of TikTok alternatives!
Read more on social media:
Top 16 Instagram Fitness Models that Will Inspire You
25 Best Twitter Tools for Marketers and Business Owners
How to Download Facebook Photos