Instagram has become the perfect opportunity for businesses and brands to reach their customers. Yet, success on such a competitive platform doesn't come easy. In fact, Instagram several growth services, including Combin, have been introduced to the market to make it achievable.
If you've been looking for the best Instagram growth services to get more followers and likes, you have surely come across a long list of names. Well, while searching on different websites to find the best Instagram followers apps, we noticed Combin.
This platform is often introduced as one of the most popular Instagram growth tools out there. Yet, before making any rash decisions about a service that can determine your Instagram success and failure, you need the answer to a couple of questions. Are Instagram growth services worth it? And Is Combin safe and legit?!
We have tested this platform. And in this Combin review, we are going to have a closer look at its features, services, pros and cons, and best alternatives, like AiGrow! So, let's start without wasting time.
What Does An Instagram Growth Service Do
Let me set your mind at ease; almost all Instagram users, that is, all 1 billion of us, want organic Instagram growth. Yet, that's not easy to come by. Getting more followers on Instagram requires an inordinate amount of time, effort, and patience.
Honestly, not every business or influencer can afford that. In this case, proven Instagram growth tools allow you to achieve your goals while saving your most crucial resources: time and energy.
Each app, including Combin, may offer unique features. For instance, some allow you to schedule content for the best times to post on Instagram, some offer giveaway pickers, and others enable you to mass DM your IG followers. In the long list of IG tools, we also have platforms like AiGrow which offer all these tools in one convenient dashboard.
However, not all growth companies were designed to address your needs and fulfill your expectations. Unfortunately, some services see this increasing desire for Instagram success as an opportunity to sell their worthless products.
That's why we have decided to provide reviews of growth agencies to help you make informed decisions. You can read some of our helpful reviews here:
Now, let's move on to our Combin review and find out if you can use it with a clear conscience!
How Does Combin Work
Actually, this platform offers two different services:
Instagram growth tool,

An Instagram

scheduler.
You have to download apps for each service separately.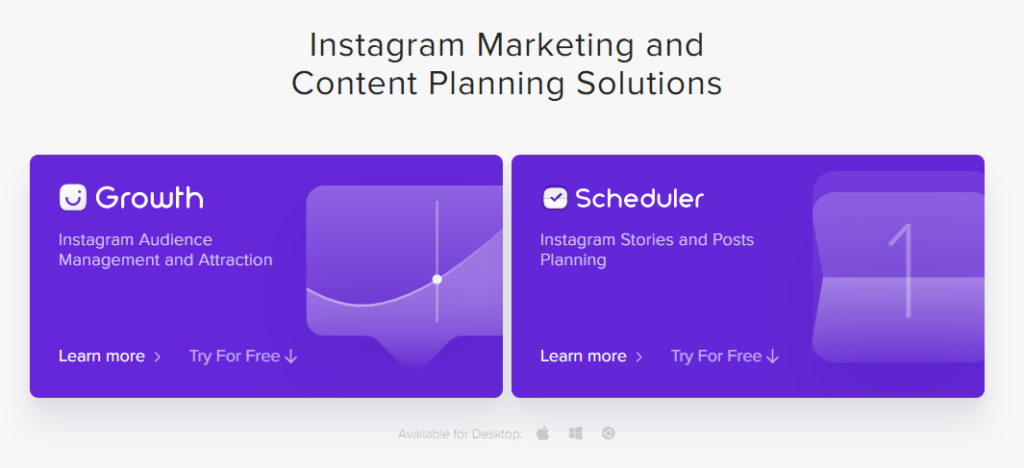 The growth tool will help you determine hashtags and rival Instagram accounts. Then, you can allegedly interact with their followers by liking their posts, leaving comments, or mass following them.
The Combin scheduler, as the name suggests, helps you schedule your IG posts, stories, and reels. You may also repost Instagram content on your feed and story.
How To Get Started With Combin
Now, let's see what you can expect once you sign up on Combin. If you wish to start with the free trial, which we recommend you do before you pay for any subscription, you should first download the Combin app.
Then, you should enter your username and password.
Once you're in, you can see your Instagram profile on the dashboard.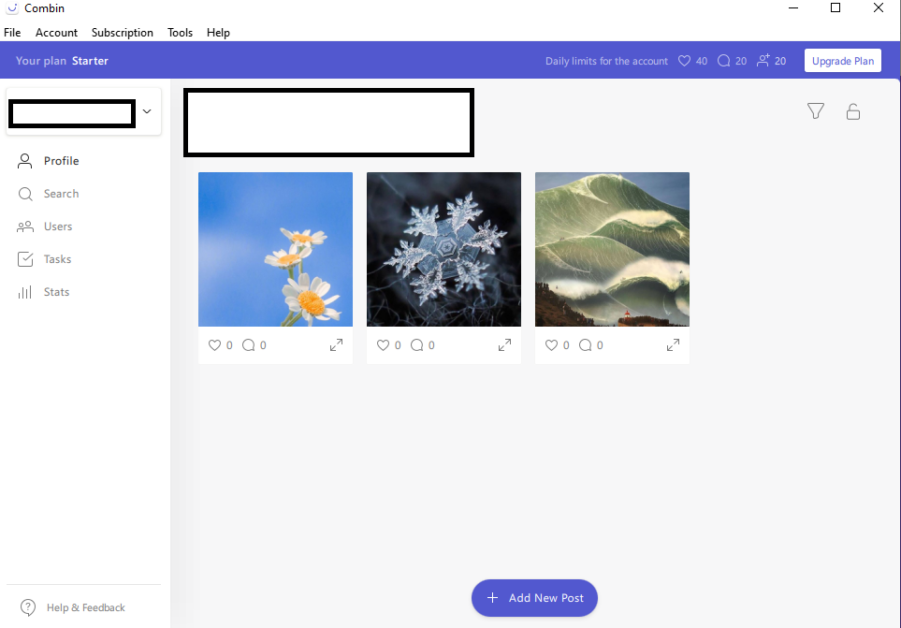 On the left bar, you can see the 'Search,' 'Users,' 'Tasks,' and 'Stats' tabs.
#1 Combin Search Tab
In the 'Search' section, you get two alternatives.
By choosing 'posts,' Combin will start searching for posts under the hashtags, locations, and time period you've specified. Then, it allows you to like and comment on these posts, or follow the owners.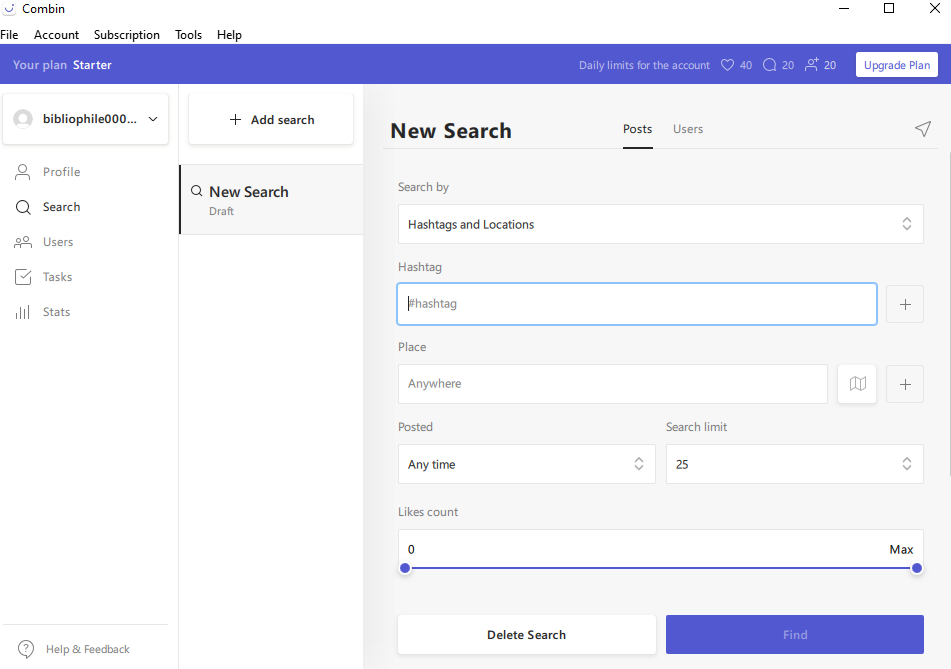 By selecting 'users,' you get to enter hashtags and a rival account. Combin will then find accounts you can follow.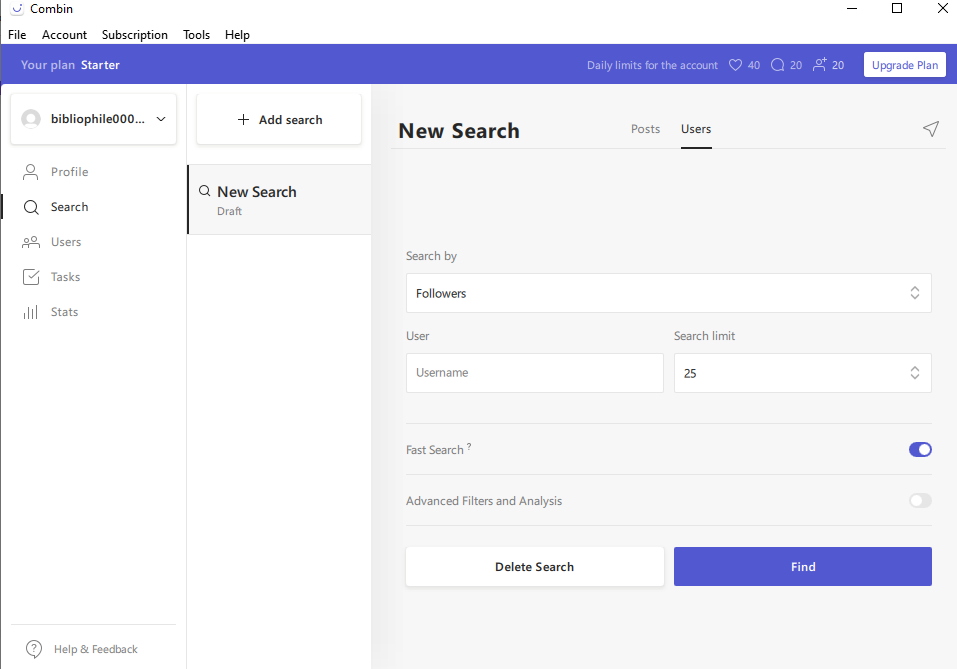 At this point, we shall hope and pray to God and all celestial beings that those accounts follow us back instead of blocking our account!
#2 Users Tab
In the 'Users' tab, you can see the accounts you follow, the pages that follow you, and your unfollowers. Now, you can use Combin as an Instagram unfollowers app, and remove them in bulk.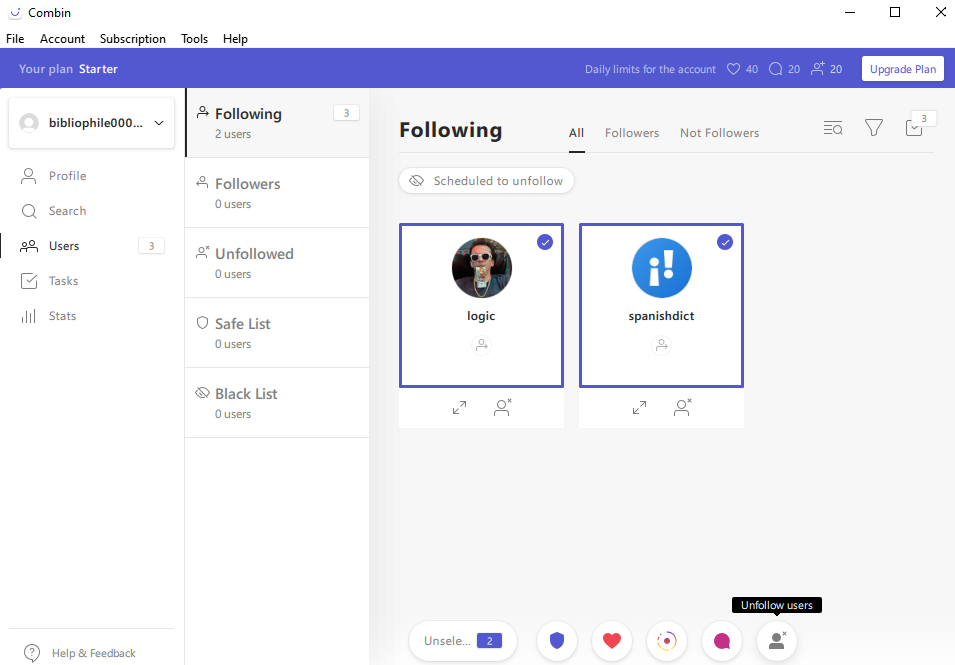 #3 Tasks Tab
As you can guess from the name, the 'Tasks' section lets you see all your activities. Not that you can undo any of them, but you can indeed view what posts you've liked, and what pages you've followed using Combin.
#4 Combin Statistics Tab
Last but not least, the 'Stats' section is designed for those who'd like to know more about their performance. Using this tool, you access allegedly real information about the number of new followers, likes, and comments you have gained.
However, this option, as with many other features, isn't available in the free trial.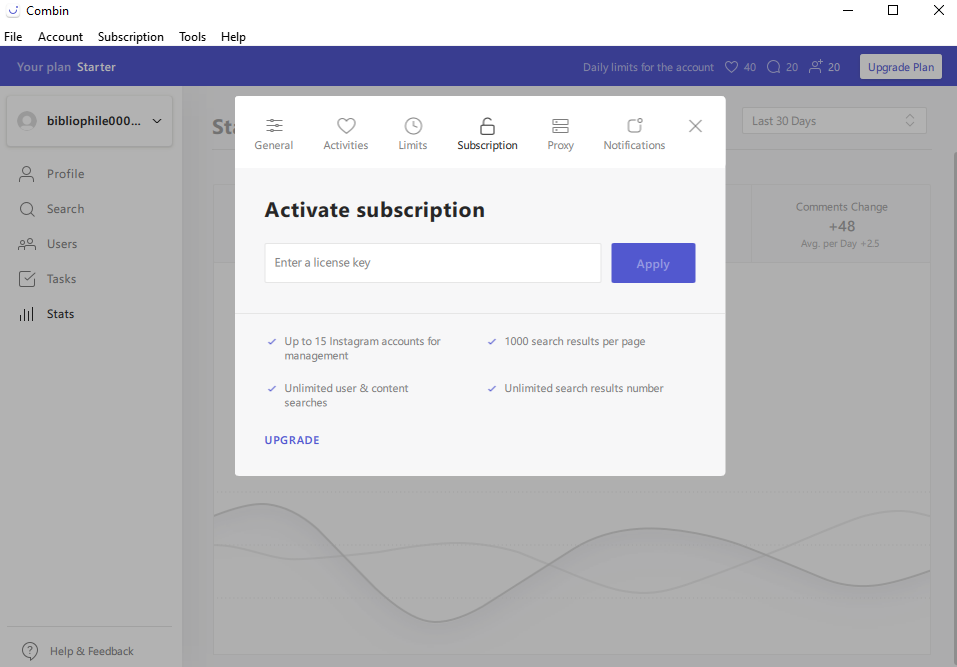 Combin Growth Features
Before we address a question, like 'Is Combin legit?' we need to understand what this tool offers! First, let's observe the growth service.
Well, Combin's growth wasn't exactly what I personally expected. It doesn't offer AI technology that can target your followers based on your content or your preference.
Using this growth app, you can:
Search for users to follow based on hashtags, locations, and rival accounts.

Find the people who are not following you back.

Check your audience quality and

identify your inactive followers.

Receive daily, weekly, and monthly reports and statistics

on

your Instagram growth.

Find

supposedly

target audiences on Instagram.

Find influencers to work with you.

And bulk-follow, unfollow people and like or comment on Instagram.

Observe the tasks you have completed.
So, all in all, we can say that Combin is more of an automation tool and growth analyzer rather than a growth tool helping you gain more followers and allegedly attract your target audiences.
Combin Scheduler Features
As for the scheduler, it is like most of the schedulers out there and is not offering anything distinctive. Using the Combin scheduler, you have the chance to:
Bulk upload Instagram stories.

Resize your images.

Schedule posts and stories

and automatically share them on Instagram.

And add locations, hashtags, and mentions to your post captions.
So, the only feature that makes it better than Instagram itself is that you can upload some images and videos, set the best time, and post them automatically on your accounts.
Combin Pros & Cons
First, let's see how it could be advantageous to use Combin. Using it, you'll be able to:
Schedule to unfollow people.

Create a list of trusted users to avoid unfollowing them accidentally.

Analyze your performance on Instagram.

And find potential followers.
On the other hand, it has some demerits. For instance:
Combin uses automation to do its business for you which increases the chances of you losing your account for good.

You have to download and Install bulky apps to start.

If you want to use both the growth and scheduler apps, you must download two separate apps.

Combin doesn't have any services to attract your target followers automatically and you just have to set some bulk actions to do so.

Instagram notices unusual activities on your page and will ban you.

There are no Instagram account managers to address your concerns.

They feature terribly poor customer service.

The chance of getting shadow-banned by Instagram is high in case they use repetitive or irrelevant hashtags on your posts.

And it's a desktop app and is unavailable on iOS or Android.
Combin Pricing
Combin prides itself on its variety of plans. It claims that there's a suitable pricing plan for everyone. Let's see to what extent it's true!
Here's the list of prices for the growth services: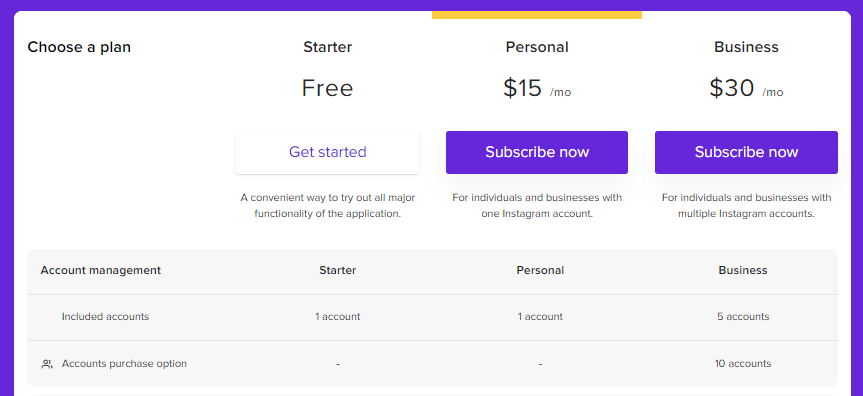 As for the free trial, it's very restrictive as it doesn't provide statistics and limits the number of accounts you can engage with. Plus, it doesn't let you manage multiple Instagram accounts at the same time.
Even the 'personal plan' for which you have to pay $15 per month doesn't allow you to manage more than one IG page.
However, the scheduler is totally free and you just need to install it on your Windows, macOS, or Linux device to use it.
Combin Reviews
Many of you asked, 'Is Combin safe?' Here, you will perhaps find the answer to your question.
So far, we have covered this tool's features and dashboard in our full Combin review. Now, it's time to see what problems I and other customers have faced.
1- Too Many Application Bugs
Unfortunately, it's true! Not only are the Combin apps too heavy, but also there are many glitches. This Combin growth review points to this problem.

As I mentioned before, the free trial only allows you to interact with 20 accounts. But following only 20 accounts shouldn't be so time-consuming! I could have done it much faster than Combin did!
Pro Tip: it should be noted that the number of accounts you could follow on Combin free trial used to be 25 a month prior to this update. They have now decreased it to 20 to provoke users to purchase their plans. This is also a red alert as you have to pay in order to see how it functions.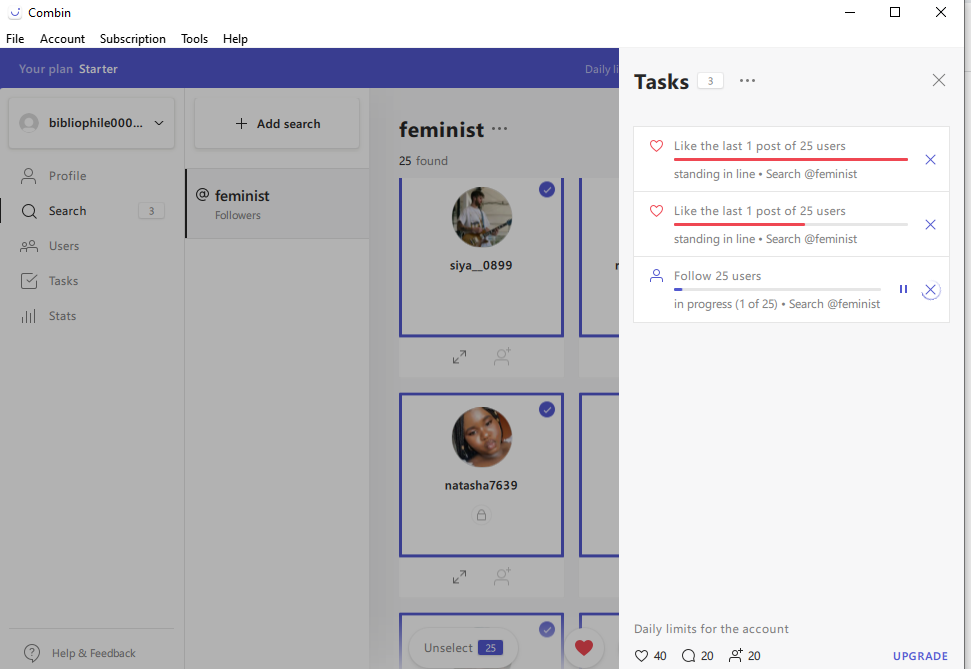 If users choose automation, it's because they want fast results while putting in less time. Yet, this service doesn't allow that.
2- Increased Chance Of Getting Blocked By IG
Instagram terms of use are indeed very clear about such tools! Once you start taking bulk actions, Instagram will ban your account as it did mine!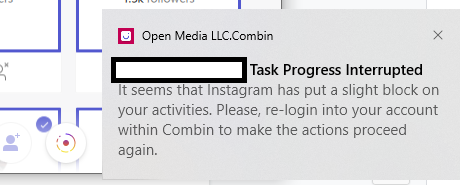 This can go two ways. Either you will start losing Instagram followers and finally get temporarily shadowbanned by Instagram. Or, your account will be shut down for good. Look at this Combin scheduler review to see what I'm talking about!

So, it all comes down to one question. Are you willing to take this risk? After all, your precious Instagram content is on the line!
3- Terrible Combin Performance
Combin doesn't offer much, but the tools it does provide can be of some help if they function at all. However, according to this Combin growth review left by a customer, the tool stops working after a while.

4- Poor Customer Service With Combin
Combin seriously lacks reliable support. Once you sign up for the free trial or even one of the paid subscriptions, you're on your own!
If you face any problem, whether technical or not, don't expect reliable, fast answers from the support team. According to a Combin scheduler review from a client, it will take a long while for you to get a hold of the customer service. And once you do, they'll do nothing but blame you or Instagram.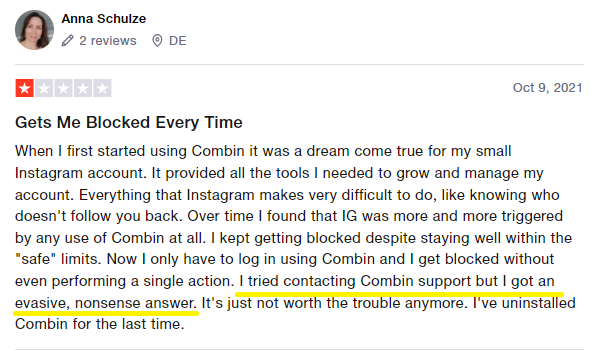 5- Terrible Cancelation Policy
Once you cancel your plan with any service, they should stop deducting money from your account, right?! Well, Combin doesn't!
One unfortunate customer has noticed that Combin was still charging her for two months after she had canceled her subscription. And because of the poor customer service, she was unable to reach them for a while!

Combin Reviews on Trustpilot
This growth service has now scored 3.1 on Trustpilot, which has experienced a drop in the last two months. The number of negative Combin reviews has also increased on the website.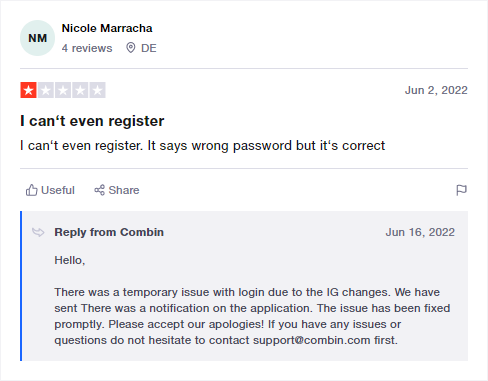 In the above review left by a customer, for instance, the customer has complained that she can't even register on the platform.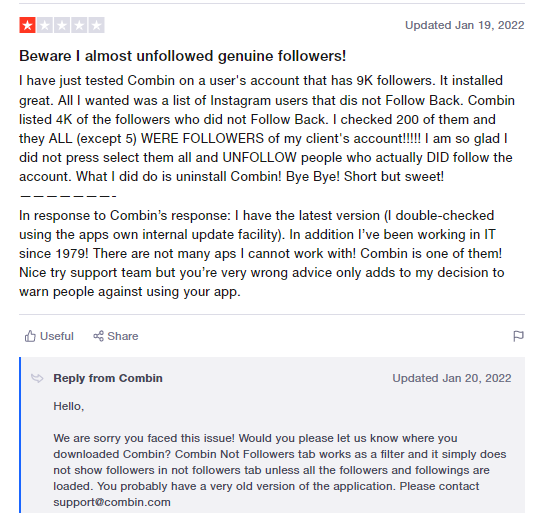 Here's another Combin review in which a customer has talked about its poor Not Followers tab. According to this review, Combin mistakenly lists your genuine followers as those who have not followed you back! This is a huge red flag as it could put your business at the risk of losing active followers.
As you can see, the support team has not been very helpful to this customer and has only advised him to update the app. To this, the customer has replied back that he was already using the latest version and warns others not to trust Combin for growth on Instagram.
Final Verdict: Is Combin Safe
Honestly, no. Combin might get your account permanently banned by Instagram. So, it's not an ideal option for those who have put much effort into their IG page since they may lose their engaging Instagram content.
Plus, the features are fairly basic for the price they charge you. There's no way to get a hold of their support team, and once you do, they're not helpful at all.
These disadvantages can't be overlooked. And they aren't even compensated with excellent performance. So, if you ask us, Combin is simply not worth your time and money.
Now, what?! Should you simply give up on your quest for a reliable Instagram growth tool that can actually meet your needs? Of course, not!
Best Combin Alternative: AiGrow
As mentioned above, Combin just helps you bulk like your prospective followers, leave them comments, and follow them. So, I believe that after a while you may find it useless.
Instead of using this app, I recommend AiGrow.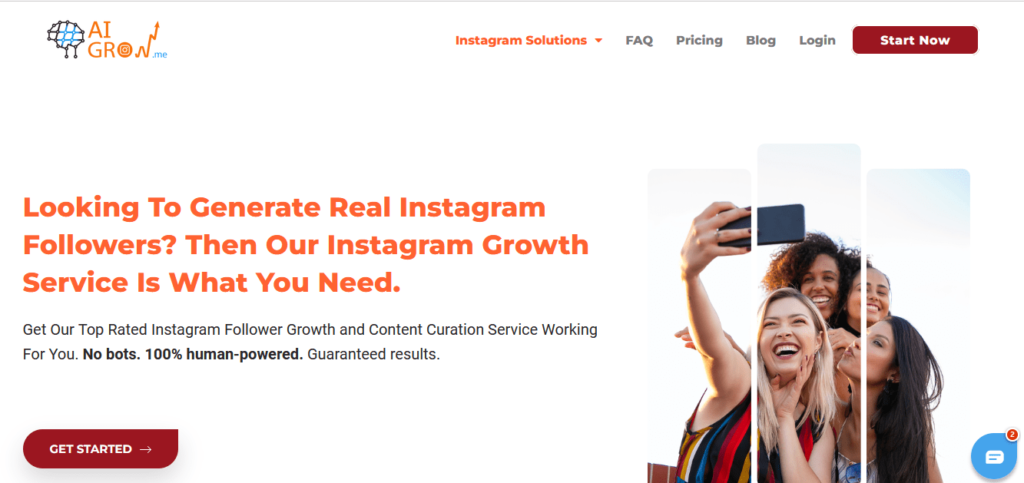 Unlike Combin, AiGrow is an all-in-one Instagram growth service and you don't need to download any apps to use it. No matter if you are working with your mobile phone, or your laptop, you just have to open your web browser and go to their website to grow your Instagram organically.
Moreover, it doesn't offer any automated actions to attract your target audiences. Instead, an Instagram account manager starts managing your account and manually attracting Instagram users. So, you'll never get shadowbanned with Aigrow as you would with Combin.
For more information about this app, make sure to read our AiGrow review and watch this video!
Bottom Line
To sum it up, being a popular followers app, Combin may not be the best choice to use and grow your account on Instagram. In this Social pros article, we reviewed all its features, pros, and cons. So, read the article meticulously and choose the best alternative app for your marketing goals like AiGrow to shine ever brighter on Instagram.