In today's digital age, social media platforms have become powerful tools for individuals and businesses to connect, engage, and grow their online presence. With its visually appealing content and massive user base, Instagram has emerged as one of the most popular platforms for sharing photos and videos.
One effective way to expand your reach and gain exposure on Instagram is through collab post Instagram. Instagram collaboration post involves collabing with other users to create and share content. This strategy allows you to tap into each other's audiences, increase your visibility, and gain new followers.
In this article, we will guide you on how to collab post on Instagram. Let's find out more about this wonderful Instagram feature without further ado.
Are You Interested in Gaining More Real and Loyal Followers? 
How to Collab Post on Instagram; Collaborate Meaning
Here is a complete answer to your question, "What does collaborate mean". Collaborating on Instagram is partnering with another user or brand to create and share content. It involves working together to create posts, stories, or other forms of mutually beneficial content for both parties involved.
Collab post Instagram can take various forms, such as co-creating content, featuring each other's products or services, or hosting joint giveaways or events.
Instagram collaboration post allows you to tap into a wider audience by leveraging the existing following of your collaborator. This can help increase your impression and exposure to potential new followers or customers. Collaborations also provide an opportunity to cross-promote each other's content, increasing engagement and visibility for both parties.
How to Collab Post on Instagram
If you want to know how to collab post on Instagram, here is a step-by-step guide. To collaborate on a post on Instagram, follow these step-by-step instructions:
1. Open the Instagram app on your mobile device and go to your profile page by tapping on your profile picture at the bottom right corner of the screen.
2. Tap on the "+" button at the centre of the bottom menu to start creating a new post.
3. On the next screen, you can add photos or videos. Tap on "Add Video" to select the video you want to post.
4. Choose the video you want to upload from your device's gallery or camera roll. You can also record a new video by tapping on the camera icon at the bottom centre of the screen.
5. After selecting the video, tap on the "Next" button at the top right corner of the screen.
6. On the next screen, you can apply filters, edit the video, or add captions and location tags if desired. Once you're done, tap on the "Next" button again.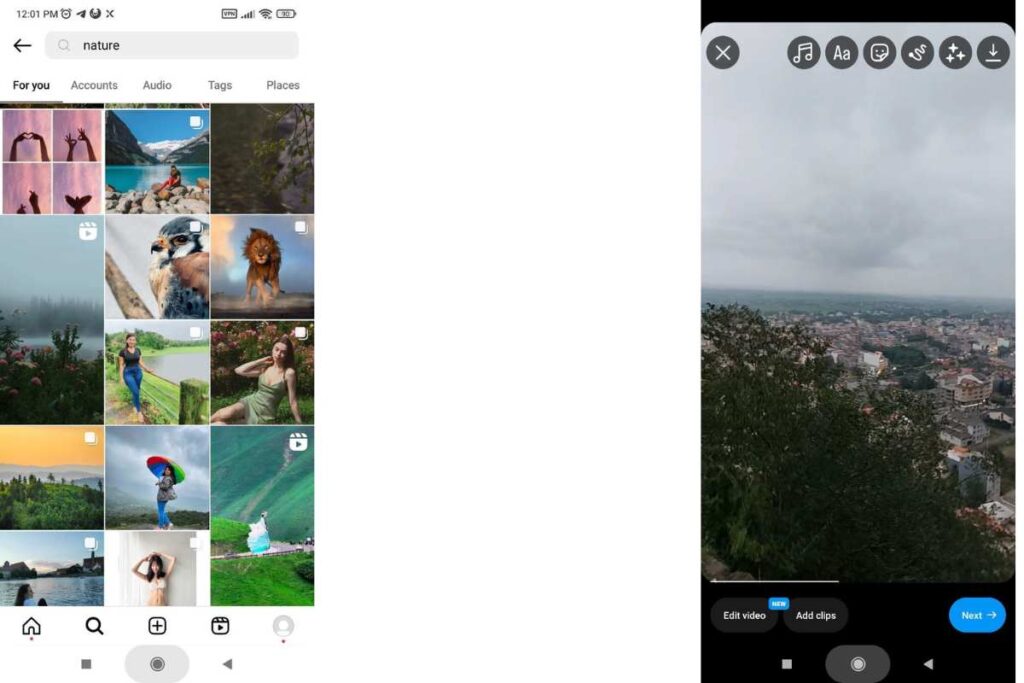 7. Now, you can add people to tag in your collaborative post. Tap on the "Tag People" option, represented by an icon of a person with a plus sign.
8. Search for the Instagram usernames of the people you want to tag in the post. As you type, Instagram will suggest accounts that match your search. Tap on the correct account to tag them.
9. You can tag multiple people by repeating the previous step for each person you want to include.
10. Once you've finished tagging people, tap on the "Done" button at the top right corner of the screen.
11. Finally, you can add a caption, hashtags, and any other desired settings for your post. When you're ready, tap on the "Share" button to publish your collaborative post on Instagram.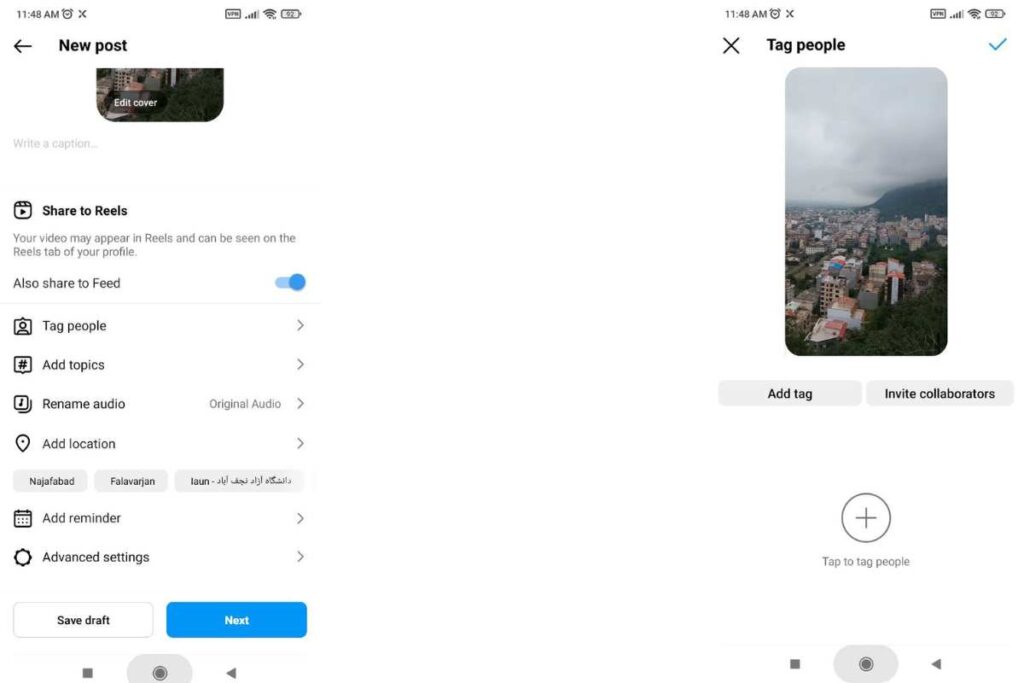 That's it! Your collaborative post with tagged people will now be visible on your Instagram profile and in the feeds of the people you've tagged.
Read More: Instagram Tagged Photos Search: Best Ways To Find All Tags And Mentions
How To Invite Collaborators on Instagram After Posting
Instagram does not allow users to add collaborator Instagram after posting. Collaborators can only be added before posting by selecting multiple accounts to tag in the post or using the "Tag People" feature.
Once a post is published, you can only edit the caption, location, and tags, but not the list of collaborators. Instagram's features and policies may change over time, so it's always a good idea to refer to the platform's official documentation or support channels for the most up-to-date information.
How To Accept Collaboration on Instagram?
To accept an Instagram collaboration request, follow these steps:
Check your DMs: When someone requests to collaborate with you on a feed post or Reel, you will receive a direct message (DM) notification. Open your Instagram app and navigate to your DMs to find the collaboration request.
Open the collaboration request: Tap on the DM notification or go to your DMs and find the message from the user who wants to collaborate with you. The message will contain the collaboration details, such as the type of content and any specific instructions.
Accept the request: Within the DM conversation, you should see an option to accept the collaboration request. Tap on the "Accept" button/link to proceed.
Confirm the collaboration: After accepting the request, Instagram will confirm your acceptance. The content will be shared with both your audiences, allowing you and the other user to collaborate on the post or Reel.
You May Also like to Read: Instagram DM Glitch: 8 Frequent Reasons and How to Fix It
Why Invite Collaborator Instagram Not Showing
If you are experiencing issues with the "add collaborator Instagram", there could be several reasons why it is not showing up. Here are some possible explanations:
Account type: The "invite collaborator Instagram" feature is only available for business accounts on Instagram. If you have a personal account, you must switch to a business account to access this feature.
Privacy settings: If your account is set to private, you may be unable to add collaborator Instagram after posting. Make sure your account is set to public or switch to a business account.
Tagging restrictions: If you have disabled the option for others to tag you in posts, you cannot invite collaborator Instagram after posting. Check your account settings and enable tagging if necessary.
Incomplete profile: Instagram may require you to complete your profile before you can use the "Collabing" feature. Ensure that you have added a name and website to your profile.
Following others for col lab: Instagram may require you to follow other accounts before you can invite collaborators. Try following some relevant accounts in your niche.
Inviting friends: Instagram may require you to invite your friends to join the platform before you can use the Instagram collaborator feature. Consider inviting some of your friends to join Instagram.
Waiting period: After completing the necessary steps, you may need to wait for up to 48 hours for the shared Instagram account feature to become available. Be patient and check back later.
Instagram server issues: Occasionally, Instagram may experience technical difficulties or server outages. If this is the case, you must wait until the issue is resolved for the collab post Instagram feature to work.
Read More: Joint Instagram Account [The Best Guide to Managing Shared Instagram Account]
How To Remove Tags on Instagram
If you want to remove a tag from a post you're tagged in on Instagram, you can follow these steps:
1. Open the Instagram app on your mobile device.
2. Tap on your profile icon in the screen's bottom right-hand corner.
3. In your profile, tap on the tagged posts icon, which looks like a person with a tag next to it. It is usually located in the middle of the screen.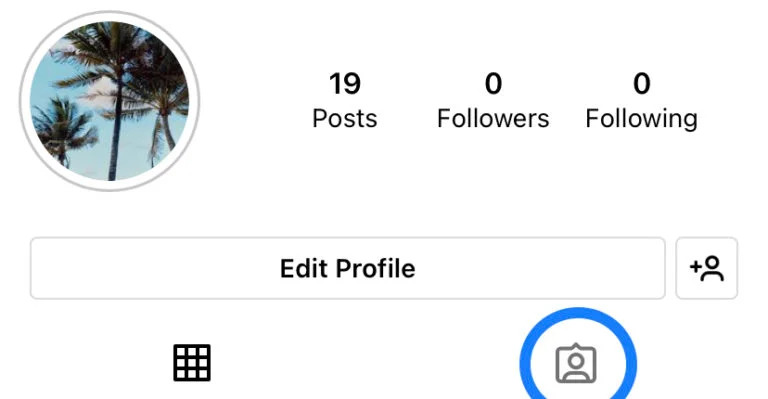 4. Scroll through the list of tagged posts until you find the post you want to remove the tag from. Tap on the post to open it.
5. Once the post is open, tap on the screen until your username appears as a tag.
6. Tap on your username tag to open a menu of options.
7. From the menu, select "Remove me from the post."
8. Instagram will ask for confirmation to remove the tag. Tap on "Remove" to confirm the removal.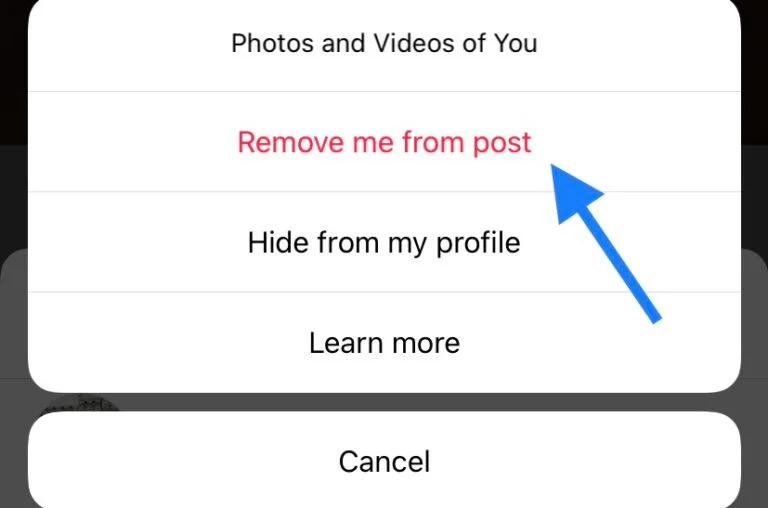 After following these steps, you will no longer be tagged in the post, and your username will be removed from the list of tagged users.
How To Collaborate on Instagram; Is There a Better Way?
Do you want to know how to collab post on Instagram? Collaborating on Instagram has never been easier with AiGrow's dedicated account manager by your side. Whether you're looking to grow your followers, brands, or your posts, AiGrow handles all the details on your behalf.
From liking your posts, and coordinating content creation, your AiGrow account manager will handle it all, allowing you to focus on other work. In fact, AiGrow is the best answer to the question: "How to do a joint post on Instagram".
With AiGrow, collaboration becomes seamless and hassle-free, ensuring you can maximise opportunities and build valuable connections within the Instagram community.
Start your Instagram growth journey here.
How to Collab Post on Instagram; AiGrow Made the Hard Work Easy
Are you interested in knowing how to do a collab post on Instagram without bothering yourself? AiGrow is the best answer. When you choose AiGrow, you gain access to a team of experts who will handle all aspects of growing your page on your behalf, saving you time and energy. From liking your posts to reaching out and negotiating terms, your AiGrow account manager will take care of it all, ensuring a smooth and successful collaboration experience.
Start growing more on Instagram.
Unlock Your Instagram Potential with AiGrow: The Ultimate Growth Service for Organic Followers"
Are you looking to boost your Instagram presence and gain real, organic followers? Look no further than AiGrow, the ultimate Instagram growth service. With AiGrow, you can experience the power of manual growth techniques combined with cutting-edge, resulting in genuine engagement and increased visibility for your Instagram account.
Unlike other services that rely solely on bots and fake followers, AiGrow takes a personalised approach to help you grow your Instagram following. Their experts will manually engage with your target audience, liking relevant posts, following potential followers, and even sending direct messages on your behalf. This human touch ensures that your interactions are authentic and meaningful, leading to higher engagement rates and a loyal community of followers.
Take your Instagram growth to the next level with AiGrow!
AiGrow Services
AiGrow offers comprehensive services designed to help you grow your Instagram presence effectively. With their dedicated account manager at your disposal, you can experience the power of personalised growth strategies tailored to your specific goals and target audience.
One of the key benefits of AiGrow is its commitment to organic growth. Unlike services that rely on fake followers and short-term engagement, AiGrow focuses on genuine interactions and meaningful connections. Also, when it comes to how to collab post on Instagram, AiGrow is the ultimate solution. With its comprehensive suite of features and dedicated account manager, AiGrow provides the perfect answer to all your collaboration needs.
Sign up to drive organic followers to your page.
Some of AiGrow's services and packages are as follows:
#1 Managed Growth Service
Experience the power of managed growth with AiGrow, the ultimate Instagram growth service. Besides giving you a hand with your question regarding how to add collaborator on Instagram after posting, AiGrow also has some top-notch features for its Managed Growth Service.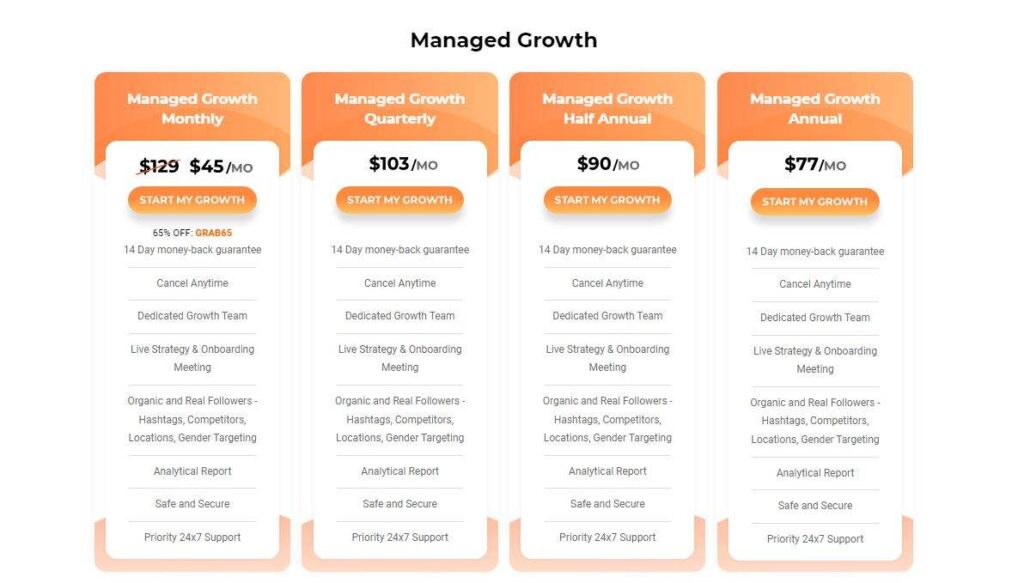 65% OFF: Take advantage of the limited-time offer and enjoy a whopping 65% discount on AiGrow's services, making it an affordable option for anyone looking to grow their Instagram followers.
14-Day Money-Back Guarantee: AiGrow is confident in its services and offers a risk-free trial period. If unsatisfied within the first 14 days, you can get a full refund, no questions asked.
Cancel Anytime: AiGrow believes in providing flexibility to its users. You have the freedom to cancel your subscription at any time, ensuring that you are in control of your Instagram growth journey.
Dedicated Growth Team: With AiGrow, you get a dedicated team of experts handling all aspects of your Instagram growth. Their team is committed to helping you achieve your growth goals, from Instagram engagement strategies to content creation.
Organic and Real Followers: AiGrow focuses on organic growth techniques, ensuring that the followers you gain are genuine and interested in your content. Say goodbye to fake followers and hello to an engaged community.
Hashtags, Competitors, Locations, Gender Targeting: AiGrow allows you to target specific audiences by utilising hashtags, analysing competitors, targeting specific locations, and even narrowing down your audience by gender. This level of advanced targeting ensures that you reach the right people who are most likely to engage with your content.
Analytical Report: Stay informed about your Instagram growth progress with AiGrow's detailed analytical reports. Track your follower growth, engagement rates, and other key metrics to gain valuable insights into your Instagram performance.
#2 Managed DMs
AiGrow is the ultimate Instagram growth platform that helps you on how to add collaborator on Instagram and offers Managed DMs, a powerful feature that streamlines your direct messaging strategy for maximum engagement and growth.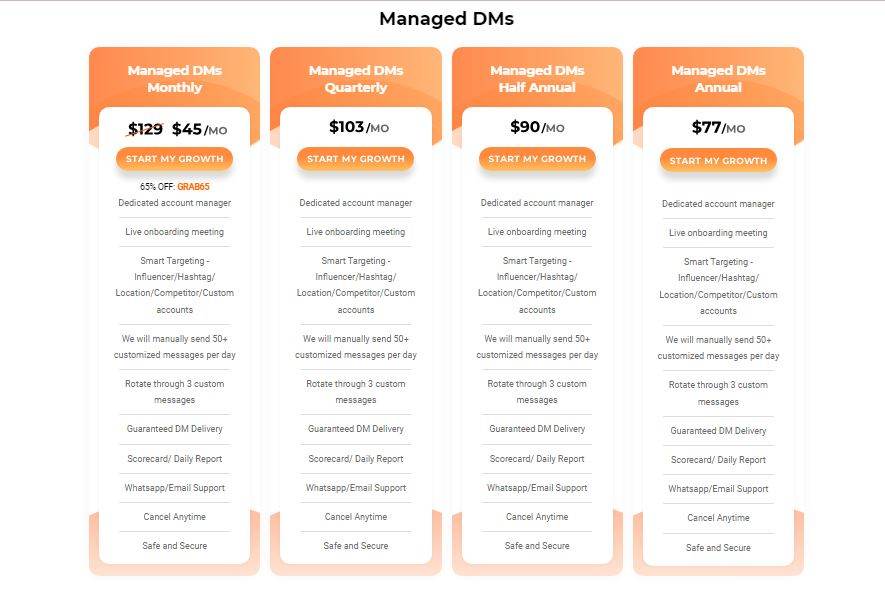 The features of Managed DMs are as follows:
Smart Targeting: AiGrow Managed DMs allow you to target specific influencers, hashtags, locations, competitors, and even custom accounts. This ensures that your messages reach the right audience, increasing the chances of engagement and conversions.
Personalised Messages: Our team of experts will manually send over 50 customised messages daily on your behalf. You can establish a genuine connection and make a lasting impression by tailoring each message to the recipient.
Message Rotation: To avoid repetitive content, AiGrow Managed DMs enable you to rotate through three custom messages. This variation keeps your outreach fresh and engaging, preventing your messages from becoming monotonous.
Guaranteed DM Delivery: They understand the importance of message delivery. With AiGrow Managed DMs, you can rest assured that your messages will be sent successfully, reaching the intended recipients without issues.
Scorecard and Daily Report: Stay informed about the performance of your direct message campaigns with our comprehensive scorecard and daily report. Track key metrics, such as response rates and conversions, to measure the effectiveness of your outreach efforts.
WhatsApp and Email Support: Our dedicated support team can assist you via WhatsApp and email. Whether you have questions, need guidance, or encounter any issues, they are here to provide timely and reliable support.
Let us help you grow your Instagram account.
#3 Mass Unfollow Plans
In addition to their valuable guidance on how to collab post on Instagram, AiGrow also offers exceptional Mass Unfollow Plans. These plans are designed to help Instagram users manage their followers by easily unfollowing multiple accounts at once.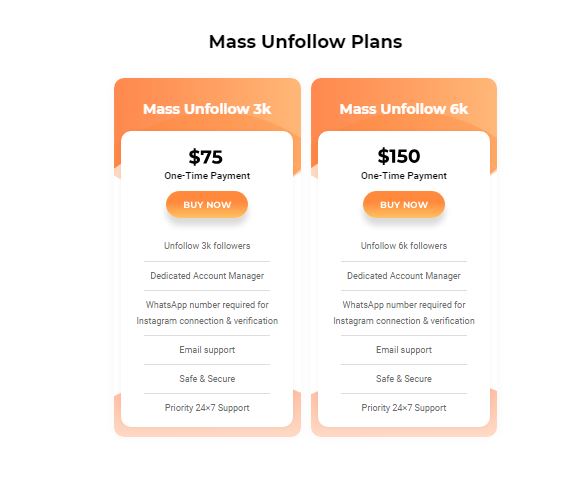 Here are the services:
Unfollow 3k followers: Our Mass Unfollow Plans allow you to unfollow up to 3,000 followers at once, saving you time and effort in managing your follower list.
Dedicated Account Manager: With our plans, you will have access to a dedicated account manager who will assist you throughout the unfollow process. They will provide personalised support and guidance to ensure a smooth experience.
WhatsApp number required for Instagram connection & verification: They require a WhatsApp number to connect and verify your Instagram account. This helps us ensure the security and authenticity of your account.
Email support: They offer email support to address any queries or concerns you may have regarding our Mass Unfollow Plans. Our support team can assist you with any issues during the unfollow process.
Priority 24×7 Support: We understand the importance of timely assistance, so our Mass Unfollow Plans come with priority 24×7 support. Our support team is available round the clock to provide you with prompt assistance whenever you need it.
Experience massive organic growth with AiGrow!
#4 Content Creation Plans
Aigrow is an invaluable tool that can assist you on how to invite collaborators on Instagram after posting and content creation. With its user-friendly interface and advanced features, Aigrow streamlines connecting with potential collaborators, ensuring seamless collaboration, joint pos Instagram and content creation.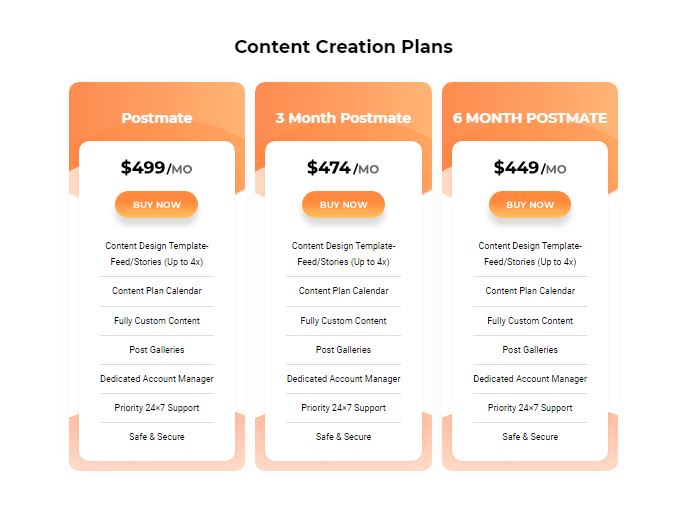 Let's take a closer look at what our plans offer:
Content Design Template: Our expert designers will craft visually appealing templates for your feed and stories, ensuring your content stands out. With up to 4x the number of templates, you'll have various options, allowing you to maintain a consistent and professional aesthetic.
Content Plan Calendar: Stay organised and never miss a beat with our Content Plan Calendar. This powerful tool enables you to schedule your posts in advance, ensuring a steady stream of engaging content for your audience. Plan your content weeks or months ahead, and let AiGrow handle the rest.
Fully Custom Content: They understand your brand is unique and offer fully custom content creation. Their team of skilled content creators will work closely with you to understand your brand's voice, values, and goals and then develop tailored content that resonates with your target audience. From captivating captions to eye-catching visuals, we've got you covered.
Post Galleries: Showcase your products, services, or portfolio in style with AiGrow Post Galleries feature. Create stunning image galleries or carousels that allow you to tell a story or highlight multiple aspects of your brand in a single post. Engage your audience with interactive and immersive content that leaves a lasting impression.
Do you want to boost your Instagram reach? click here.
AiGrow Reviews
AiGrow has garnered an impressive number of positive reviews on Trustpilot, showcasing the satisfaction of its customers.
Many users have expressed their delight with the platform's features and capabilities.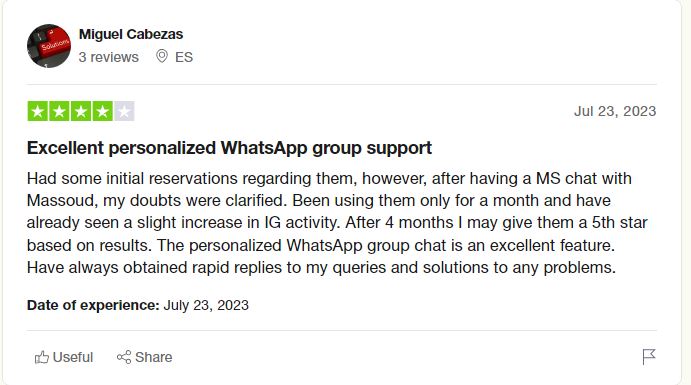 One recurring theme in these reviews is the effectiveness of AiGrow in growing Instagram accounts organically. Customers have reported significant increases in their follower count and engagement rates, attributing their success to the platform's powerful automation tools and targeted growth strategies.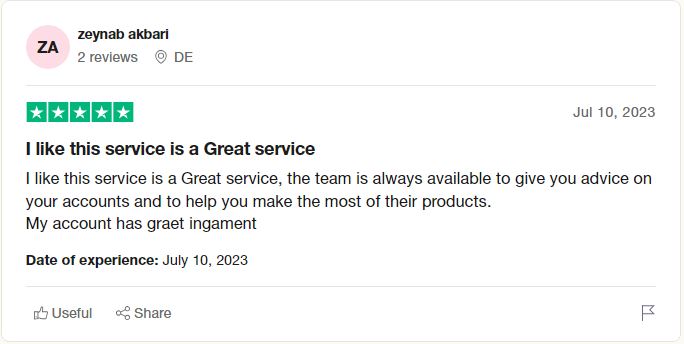 Furthermore, users have praised AiGrow's user-friendly interface and intuitive navigation, making it easy for both beginners and experienced marketers to utilise the platform effectively.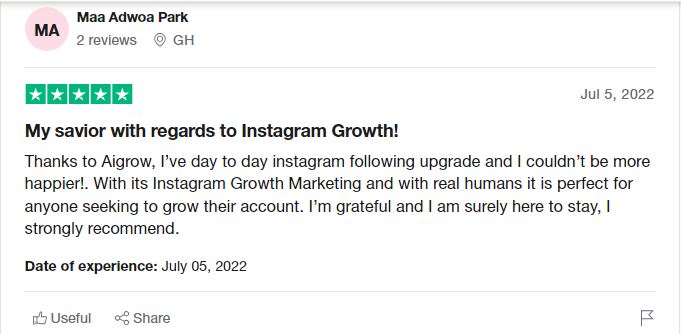 The customer support provided by AiGrow has also received accolades, with reviewers highlighting the prompt and helpful responses they received when encountering any issues or seeking guidance.
Do you want a steady flow of organic followers? Click here.
How to Collab Post on Instagram; Conclusion
In conclusion to how to add a collaborator on Instagram, we should say that collaborating with others on Instagram can be a fantastic way to grow your audience and create compelling content. By finding the right col lab, brainstorming creative ideas, and leveraging the power of AiGrow, you can take your collab post Instagram to the next level.
Remember, the key to a successful collaboration is authenticity and creating content that resonates with your audience. So, start reaching out to potential collaborators, get creative, and let AiGrow help you make the most out of your Instagram collaboration post.
Boost my Instagram engagement now.
FAQs on How to Collab Post on Instagram
Q1: What Does Collaborate Mean?
The collaborate meaning is to work together with others, typically on a joint post on Instagram. It involves actively collabing, sharing ideas, and combining efforts to achieve a common objective. Instagram collaboration post often involves cooperation, communication, and coordination among individuals or groups to accomplish tasks or solve problems collectively. 
Q2: Why Can't I Do a Joint Post on Instagram- Mention Private Account?
Instagram does not allow users to create joint posts with private accounts. Joint posts are a feature that allows multiple users to contribute to a single post. However, this feature is typically available only for public accounts.
Q3: Can You Add a Collaborator on Instagram After Posting?
Instagram does not currently have a feature that allows you to add a collaborator to a post after publication. Collaborators can only be added before posting the content. Once a post is published, you cannot add or change the collaborators associated with it.
Q4: How to Post on Instagram With Someone?
You can Tag them on Instagram. Tagging people can be a fun way to connect and share experiences, but it's important to respect privacy and obtain consent before tagging others.
Q5: How Many Collaborators on Instagram?
Instagram allows users to have up to 32 collaborators on a single post. It's worth noting that Instagram's policies and features may change over time, so it's always a good idea to refer to the official Instagram website or app for the most up-to-date information.
Q6: How to Joint Post on Instagram?
To collaborate on a joint post on Instagram, you need to accept an invitation from another user through direct messages (DMs). Once you receive the invitation, open the DM, read the message, and tap on the "Accept" button or any other relevant option provided.