Are you struggling to boost your Instagram follower count? We all know how essential a strong presence on Instagram is in today's digital age.
And, with Igfamed.com's Instagram followers growth service claiming to grow your Instagram followers organically, it's tempting to explore the possibilities.
However, before you dive in headfirst, it's crucial to distinguish between what sounds too good to be true and what's genuinely safe for your Instagram page. In this Igfamed review for 2023, we'll unravel the promises, the risks, and a better alternative to help you make an informed decision.
Let's dig into the details to address your concerns and guide you toward a safer, more reliable path to increasing your followers.
Igfamed Reviews
Igframed is a website that makes some very big promises about providing you with unlimited Instagram follower count. You should be skeptical of such promises even if they claim to deliver genuine, human Instagram followers at no cost.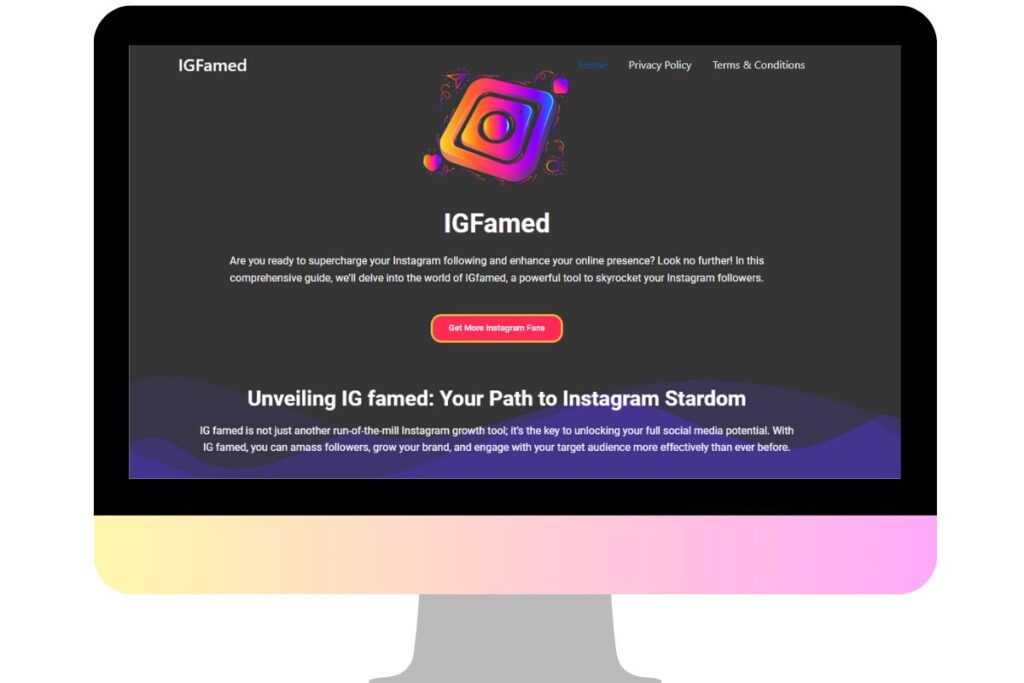 Like many others in this space, the success of their services may depend on the reviewer's or user's perspective. Businesses and people considering these services should proceed with care and research to be sure they are legitimate and in compliance with Instagram's TOS and community rules.
It's important to note that a sudden and significant increase in followers, when acquired through services like Igfamed, can raise red flags on Instagram.
This rapid follower growth can be viewed as spammy behavior on Instagram and violates Instagram's guidelines.
Instagram's algorithms are designed to detect and combat artificial, non-organic follower growth, which can result in actions such as account suspension or the removal of fake followers. To maintain a healthy and authentic presence on the platform, it's advisable to prioritize using reliable Instagram growth services.
Read More: Socialwick Reviews It Is a Scam [A Complete Guide]
Igfamed Review in Scam-Detector
The comments left by users on scam detector websites raise doubts about Igfamed's authenticity. Scam-detector gives Igframed a poor 14.8 safety score, calling it "Controversial," "High-risk," and "Unsafe." This raises serious concerns about the reliability of the website.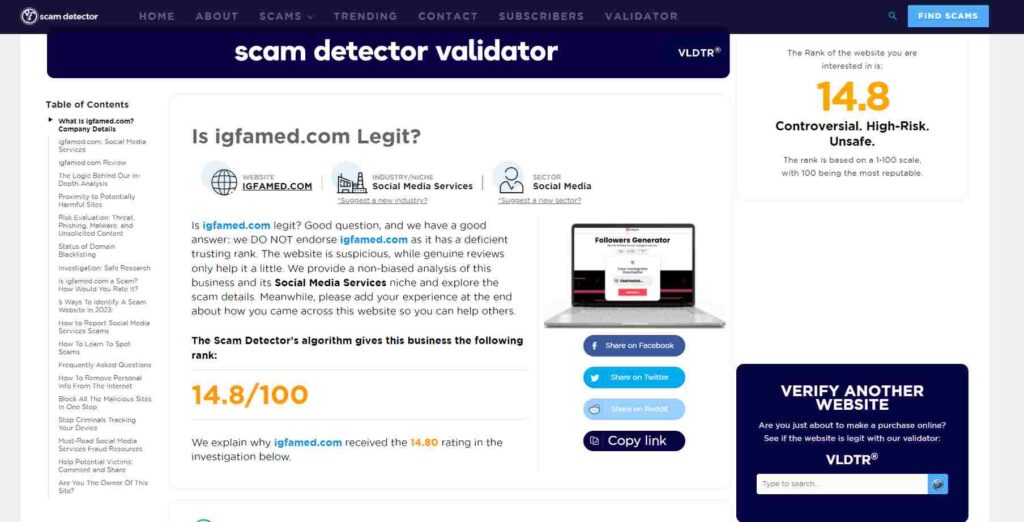 Igfamed Review on Scam Advisor
Scamadvisor, on the other side, rates Igframed as "medium risk," with a trust score of 62 out of 100. Scam Advisor does, however, draw attention to a few issues: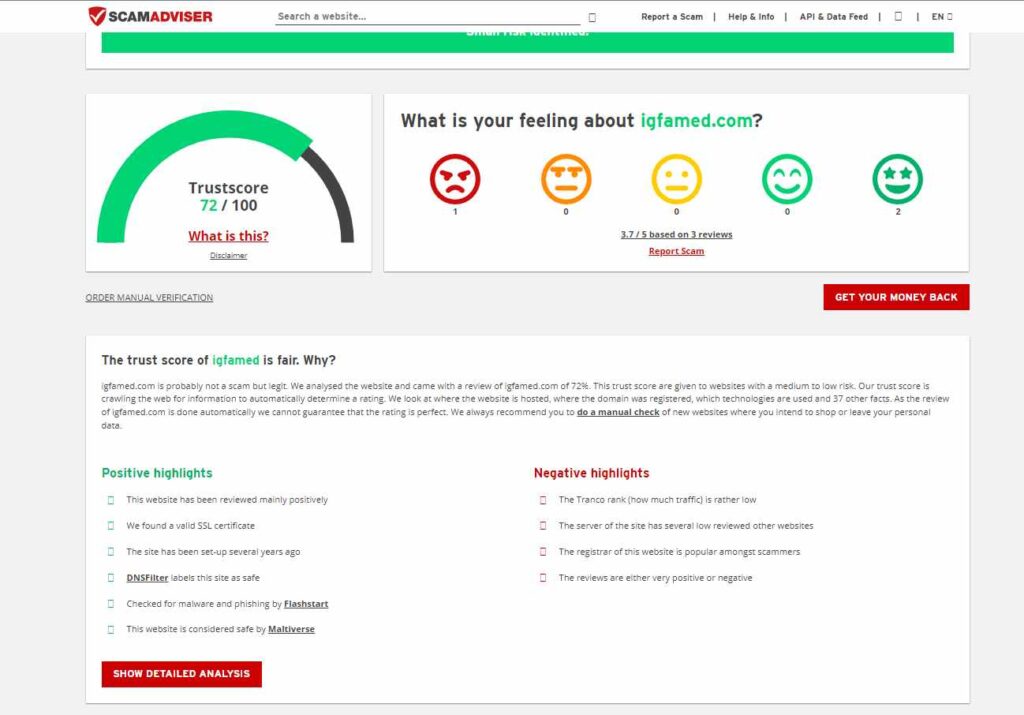 Scammers often use the domain's registrar.
A low Tranco rank indicates that the website does not get many visitors.
Whois conceals the identity of the owner.
Due to a lack of readily available contact information and customer service, it is difficult to get help in case of problems.
The site's credibility is doubted since there are no user reviews on reputable websites or discussion forums.
The website's lack of depth may make it seem less reliable to visitors.
In light of these concerns, as well as the conflicting opinions expressed by scam detection websites, it is prudent to proceed with care and do extensive research before working with IG Famed or a comparable business.
You May Want To Read: Engagement Boost Reviews [Is It Going To Change Your Instagram Growth Strategy?]
How Does Igfamed Work?
Igframed uses a simple method of operation:
1- To start, type in your Instagram username and connect your account.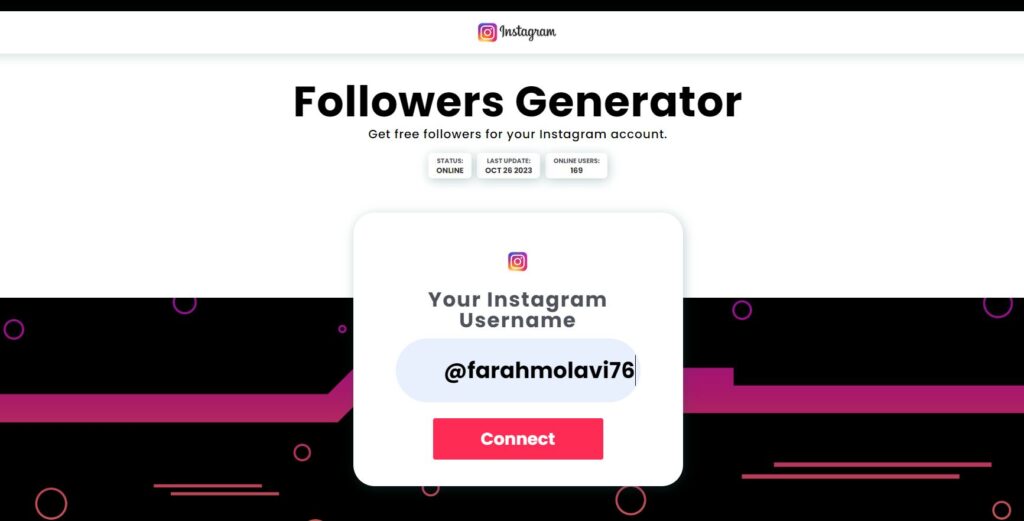 2- Choose the appropriate number of followers (1000, 2500, or 5000) from the drop-down menu.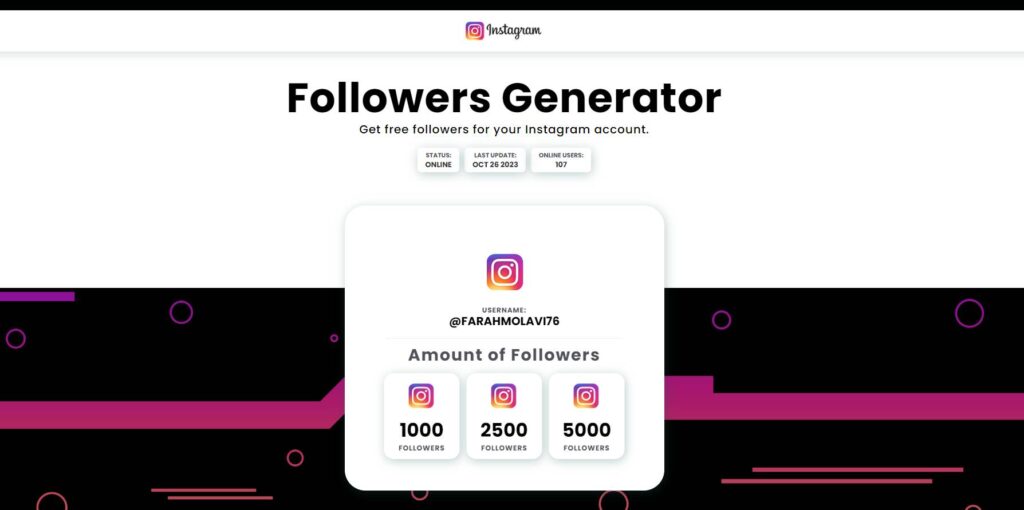 3- Installing a few applications requires a manual verification procedure, so get to it!
4- After completing the required procedures, Instagram will automatically add the selected number of followers.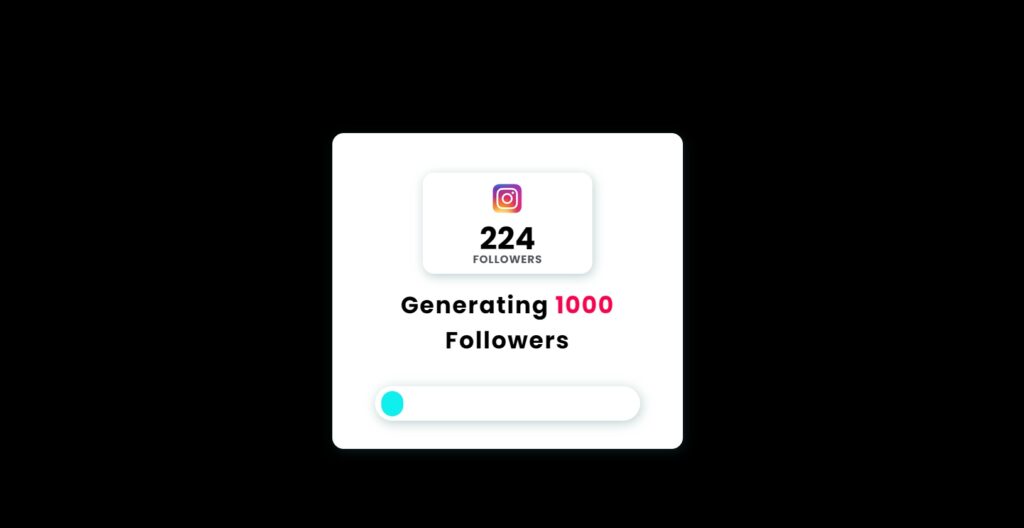 We suggest reading: Blastup Review: Can You Boost Your Instagram with Their Services?
Is Igfamed Safe or a Scam?
Reviews of Igframed and similar services often highlight a common concern: the authenticity of the followers they claim to provide. It's widely admitted that such free services typically do not deliver real, engaged followers, and you can't grow them organically.
It's too good to be true that a service would provide real Instagram followers for free, as growing Instagram followers for business takes time and effort. Many users have reported that a significant portion of the followers gained through these services are often inactive or fake accounts, estimated to be around 80 percent.

These fake Instagram followers typically do not engage with posts by liking, commenting, or sharing content, which can be a real drawback for those seeking genuine interaction and a meaningful presence on the platform.
As a result, while services like Igfamed may promise to get more followers on Instagram, users are encouraged to consider the trade-offs, including the quality and authenticity of the followers they may gain.
Related Article: Followmeter Review [Is Followmeter Safe?]
What Are the Risks Associated With Using Free Instagram Growth Services?
It's crucial to emphasize that fake followers do little to interact with your content, rendering them worthless in fostering a genuine following.
Since Instagram's goal is to promote natural, organic development and social engagement, its user base often looks down upon the use of such sites. When you use these sites, you put your account in danger of being suspended or even shadow-banned.
Increasing your Instagram following via free or paid follower programs is not recommended. Instead, you'd better prioritize Instagram content plan to draw in and keep real followers who will interact with your posts and help you build a strong and genuine presence on Instagram.
AiGrow is here to help you. Their dedicated account manager will create Instagram content for your marketing strategy. With its user-friendly interface and features like content scheduling, hashtag analysis, and audience insights, AiGrow empowers you to curate and post engaging content that resonates with your target audience.
Start creating your Instagram feed now.
Positive Points About Igfamed According to Scamadvisor
These aspects, especially the feedback from previous customers and the security analysis performed on the site, give us confidence in its reliability and safety. Success Stories from IG Famed:
Reviewers have generally given the website high marks, which may indicate that visitors have had a good time using it.
A valid SSL certificate ensures that all communications between your browser and the website are protected by using an encrypted protocol.
Multiple tests and safety labels, such as those from DNSFilter and Maltiverse, indicate that this site is secure. Flashstart has also performed a virus and phishing scan, so you know it's secure.
Read More: IgAnony Review: Stories Viewer and Reel Downloader
Igfamed Drawback According to ScamDetector
Scamadvisor and Scamdetector have drawn attention to concerns with Igframed.com's Instagram followers growth service, so you should proceed with care if you're considering using their services. Notable disadvantages include the following:
Poor Rating for Trustworthiness
The authority ranking for Igfamed.com Instagram followers generator service is terrible, earning it the labels "Controversial," "High-Risk," and "Unsafe." Considerations such as the level of client service, comments from the public, and Domain Authority (DA) were among the 53 essential elements used to reach this conclusion within the Social Media Services business.
"Our Scam Detector's validator tool has detected that igfamed.com possesses an unusually low authoritative rank, signifying its classification as Controversial. High-Risk. Unsafe.. Multiple factors contribute to this rating, with our algorithm taking into account 53 crucial aspects pertaining to igfamed.com's specific industry. These factors encompass a wide spectrum, ranging from the quality of customer service within the Social Media Services niche to public feedback and Domain Authority (DA)."
Convenience to Suspicious Websites
There is serious cause for alarm over the "Proximity to Suspicious Websites" score, which measures how closely igfamed.com Instagram followers generator service is linked to known malicious domains on the web. A higher score suggests a more robust link to potentially dangerous services or platforms.
Malware Scoring and Risk Assessment
There are worries that the company may be affiliated with a spam-infested email address or include malicious code that may spread unintentionally. If you have a high score in any of these areas, it might be a security issue.
Scam Detector Says:
A high Malware score typically signifies the presence of suspicious code that might unknowingly propagate. Also, a high Spam score hints at the possibility of a spam-infested email address associated with the business. Scores below 30 in both categories provide a security measure, but any score surpassing this threshold should raise concerns.
The website's popularity and reliability may be doubted due to its low Tranco rank, which indicates its visitor volume. Also, reviewers seem highly enthusiastic about the site or quite critical, which raises questions about its veracity.
Learn More: What Does TTM Mean on Instagram?
Real Followers With No Risk: AiGrow Instagram Growth Service
AiGrow is an Instagram growth tool that offers manual growth strategies and a dedicated account manager to help you gain real followers and engagement on your Instagram account.
They will follow Instagram guidelines and get you real Instagram followers, ensuring your growth is organic and safe. They offer features such as targeting hashtags, competitors, locations, and gender to attract the right audience.
Unlike IG Famed or similar services, AiGrow's Instagram Growth Service provides real followers without risk to your account. AiGrow focuses on genuine human interaction rather than relying on bot actions.
They prioritize organic growth and ensure that your Instagram account doesn't experience any intense or suspicious growth that could raise doubts about Instagram. With AiGrow, you can trust that the followers you gain are real and engaged, helping you build an authentic and thriving Instagram presence.
Grow your Instagram safely with AiGrow.
AiGrow Managed Growth Service
Here are some key features of AiGrow's Instagram Growth Service:
Manual Growth: AiGrow employs a manual growth strategy, which means that real people will engage with your target audience on your behalf, ensuring genuine Instagram engagement and followers.
Dedicated Account Manager: With AiGrow, you will have a dedicated account manager who will work closely with you to understand your goals and develop a personalized Instagram marketing strategy for your Instagram account.
Follow Instagram Guidelines: AiGrow follows Instagram's guidelines and best practices to ensure that your account remains safe and compliant with the platform's rules.
Real Followers and Engagement: AiGrow focuses on growing followers organically, resulting in higher engagement rates and meaningful interactions.
Hashtags, Competitors, Locations, Gender Targeting: AiGrow allows you to target the most popular Instagram hashtags, competitors, locations, and genders to attract the right audience for your Instagram account.
Analytical Report: AiGrow provides an analytical report that gives insights into your social account's growth, engagement, and performance, helping you track your progress and make informed decisions.
Safe and Secure: AiGrow prioritizes the safety and security of your Instagram account, ensuring that all growth activities are conducted within Instagram's guidelines and without risking your account's integrity.
Priority 24×7 Support: AiGrow offers priority support to its users, ensuring that any questions or concerns you have are addressed promptly and efficiently.
Delegate your Instagram growth to AiGrow.
Aigrow: All-in-One Instagram Management Service
AiGrow offers an all-in-one Instagram account management service with various features to enhance your Instagram experience. Here is a breakdown of the services they provide and their key features:
Managed DMs
Managed DMs is a service AiGrow provides where you are assigned a dedicated account manager to manage your Instagram direct messages.
They will send customized messages, engage with your target audience, and ensure guaranteed delivery of your DMs.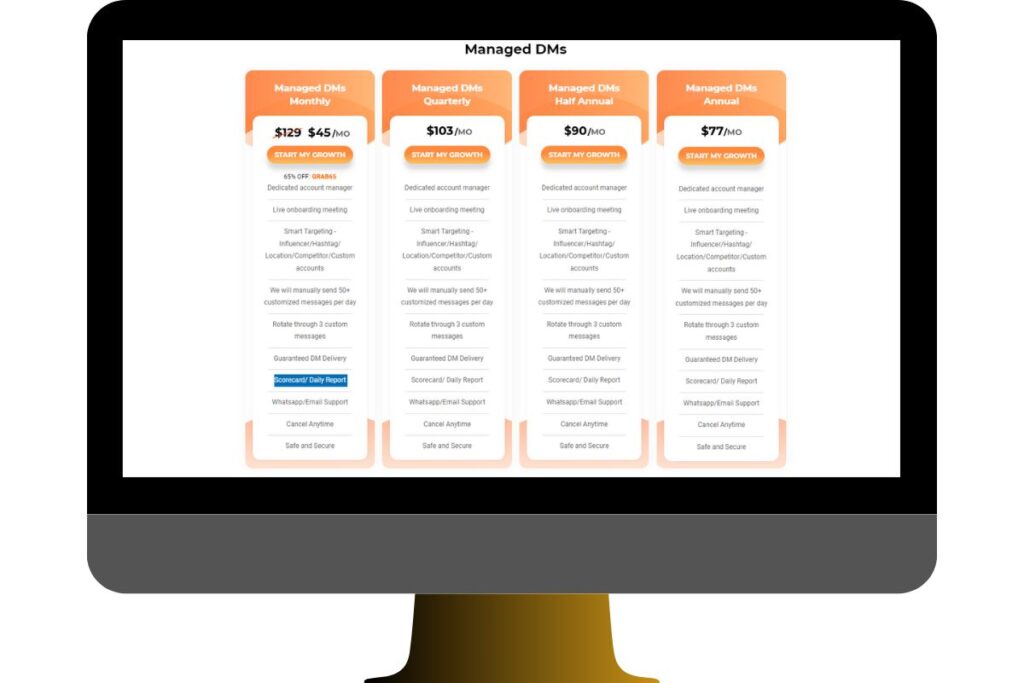 A dedicated account manager to handle your direct messages.
Live onboarding meeting to understand your goals and preferences.
Smart targeting based on influencers, hashtags, locations, competitors, and custom accounts.
Manual sending of 50+ customized messages per day.
Rotation through 3 custom messages for variety.
They guarantee DM delivery.
Scorecard and daily report to track progress.
WhatsApp and email support.
Flexible cancellation policy.
Safe and secure approach.
Supercharge your Instagram engagement with AiGrow's Managed DMs service.
Mass Unfollow Plans
Mass Unfollow Plans offered by AiGrow allow you to unfollow up to 6,000 followers on Instagram. With the assistance of a dedicated account manager, you can safely and securely remove unwanted followers from your account.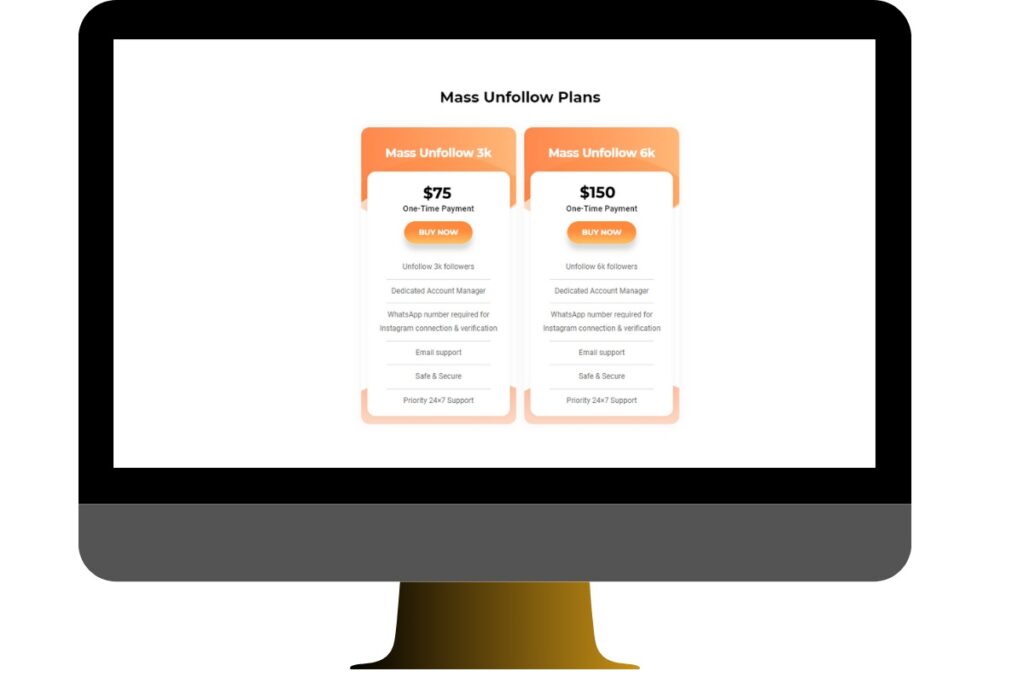 Unfollow up to 6,000 followers.
Dedicated account manager for personalized assistance.
WhatsApp number required for Instagram connection and verification.
Email support for any queries.
Removal of ghost followers.
Safe and secure unfollowing process.
Priority 24×7 support for prompt assistance.
Tired of unwanted followers? Try AiGrow's Mass Unfollow Plans
Content Creation Plans
Content Creation Plans provided by AiGrow offer assistance in creating content for Instagram marketing.
With features like content design templates, a content plan calendar, and the support of a dedicated account manager, you can create customized and high-quality posts, stories, and post galleries to enhance your Instagram presence.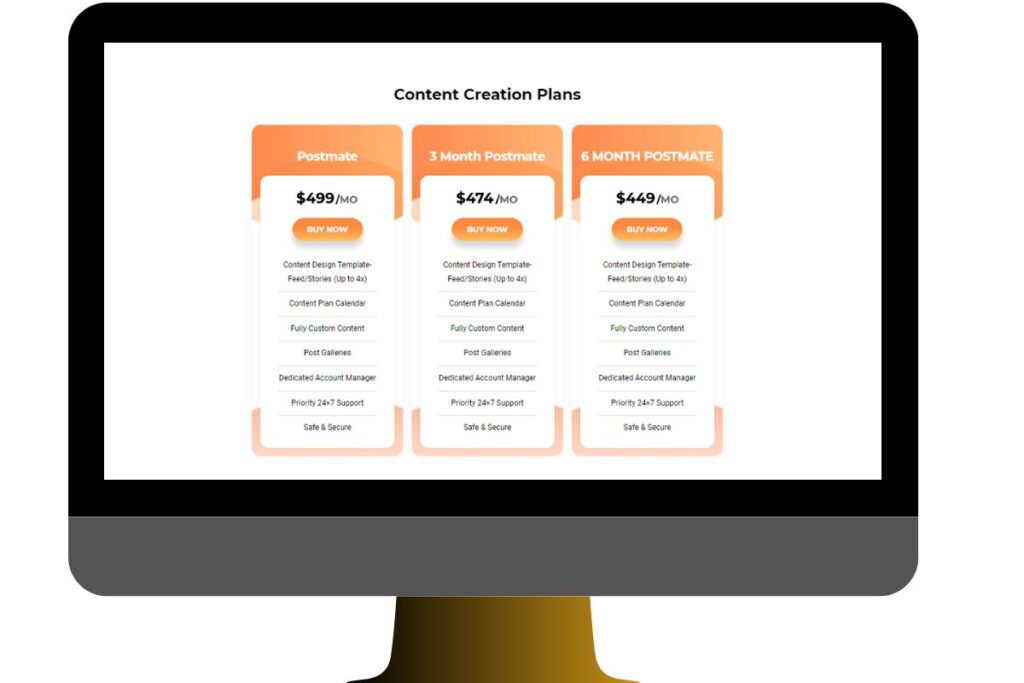 Content design templates for both feed and stories (up to 4x).
Content plan calendar to organize and schedule your posts.
Fully custom content creation to align with your brand.
Post galleries to showcase multiple images in a single post.
Dedicated account manager for personalized guidance.
Priority 24×7 support for any assistance needed.
Safe and secure handling of your content.
AiGrow Scheduler
AiGrow Scheduler is a tool that allows you to manage and schedule your Instagram posts efficiently. With features like post scheduling, hashtag research, caption and tagging capabilities, and analytics insights, the Scheduler helps you optimize your posting strategy and streamline your content creation process.
Efficient management of post-scheduling.
Support for multiple Instagram accounts.
Hashtag research tools for finding relevant and popular hashtags.
Caption and tagging features for streamlined content creation.
Basic image editing tools for adjustments.
Analytics and insights on scheduled posts for performance tracking.
Priority support for prompt assistance.
With AiGrow's all-in-one Instagram management service, you can benefit from managed DMs, mass unfollow plans, content creation assistance, and the AiGrow Scheduler to optimize your Instagram presence.
Last Words
When boosting your Instagram follower count, it's essential to be cautious of services like Igfamed.com Instagram followers, which promise unlimited followers at no cost. Such claims often come with risks and may not deliver genuine human followers.
Instead, consider a reliable alternative like AiGrow, which offers more organic and sustainable follower growth. With AiGrow's dedicated account managers, smart targeting, and secure approach, you can organically grow your Instagram presence and engage with a genuine audience.
Invest in a service that prioritizes quality over quantity and ensures the safety and authenticity of your Instagram growth.
FAQs
Q1: Can igfamed.com Provide Unlimited Instagram Followers for Free?
While Igfamed.com claims to offer unlimited Instagram followers at no cost, it's important to approach such promises skeptically. Free follower growth services often come with risks, such as using bots or fake accounts, which can harm your Instagram account's reputation and engagement.
Q2: Are the Followers Provided by Igfamed.com Genuine?
There is a high likelihood that the followers provided by Igfamed.com may not be genuine. Services that offer free follower growth often rely on automated methods or fake accounts, resulting in a low-quality and unengaged follower base.
Q3: What Are the Risks of Using igfamed.com for Follower Growth?
Using services like Igfamed.com can pose several risks to your Instagram account. These risks include potential violations of Instagram's terms of service, a decrease in engagement due to low-quality followers, and the possibility of your account being flagged or suspended by Instagram.
Q4: Is There a Safer Alternative to igfamed.com for Growing Instagram Followers?
Yes, there are safer alternatives available for growing Instagram followers. Consider using a service like AiGrow, which focuses on manual and organic follower growth. AiGrow provides real human followers, dedicated account managers, and a secure approach to ensure the authenticity and safety of your Instagram growth.
Q5: How Can I Ensure a Genuine and Engaged Follower Base on Instagram?
Building a genuine and engaged follower base on Instagram requires a combination of quality content, targeted engagement, and authentic interactions. Focus on creating valuable and engaging content, engaging with your target audience, and utilizing organic growth strategies like AiGrow to attract real and interested followers.