When growing your social media presence, the quest for genuine engagement and followers is filled with twists and turns. We understand the pain point of every social media enthusiast – the constant struggle to gain real followers who are genuinely interested in your content.
However, the question that often lingers in the minds of those seeking to bolster their online presence is this: Can you trust services like Socialwick to provide real social media followers, or is it just another online scam? Are Social Wick reviews on the internet real or fake?
In this comprehensive guide, we will delve deep into the world of Socialwick reviews, exploring its authenticity in the social media marketplace and shedding light on whether it can be considered among the best Instagram growth services.
Let's embark on this journey together and uncover what Social Wick reviews offer.
Overview of Socialwick Reviews
Social Wick is an online Social Media Growth Service that offers various packages for increasing followers, likes, subscribers, and views on popular social media platforms like Instagram, Twitter, YouTube, Twitch, and Facebook.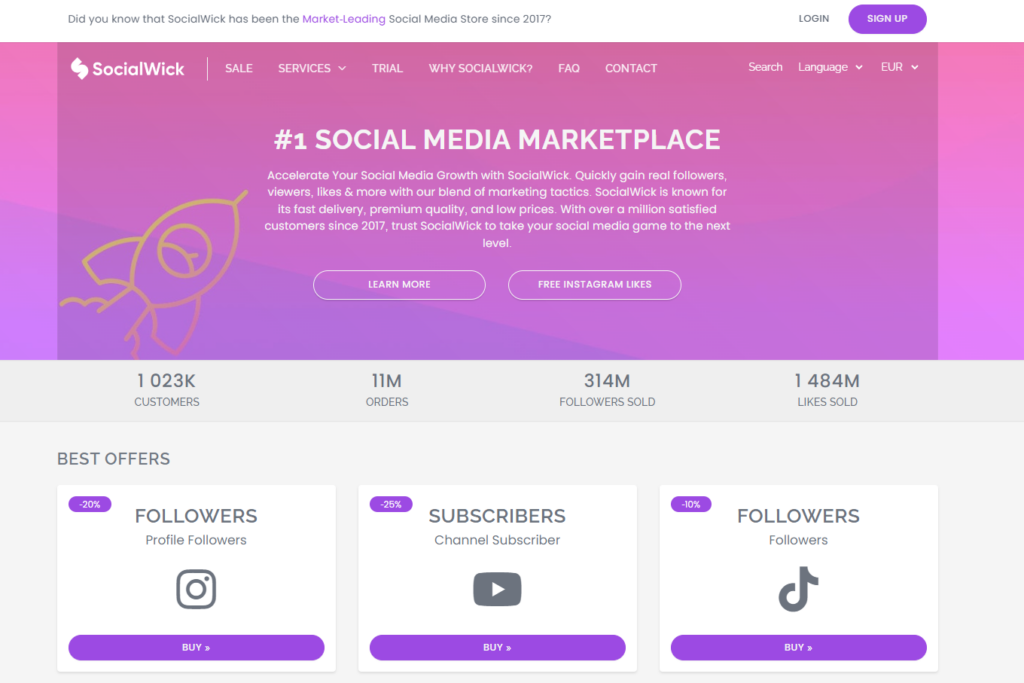 They have gained recognition for their services related to Twitch and Instagram, although they also provide packages for less common platforms such as VK, LinkedIn, and Pinterest. They also offer a service to buy Twitter impressions.
However, it is important to say that the Socialwick buy followers package might have violated social media guidelines since it might include fake followers on your page.
They claim to offer a free Instagram likes option, which can be seen as a form of a free trial, allowing potential customers to test their services. However, we are unsure if their likes are generated using the Instagram automation system. So be careful and double-check before going for their services.
Read More: How to See Who Someone Recently Followed on Instagram
How Does Socialwick Work?
Social Wick operates as an intermediary between users seeking to boost their social media presence and the desired platforms, such as Instagram, YouTube, Twitch, and Facebook. Their service offers packages that include followers, likes, subscribers, and views. For example, when users purchase Social Wick TikTok followers, they employ various strategies to deliver the promised engagement.
To ensure a steady increase in Instagram engagement, Social Wick often employs a drip-feed approach, gradually delivering the engagement over time to avoid arousing suspicion from social media algorithms.
While SocialWick claims to provide authentic social growth, it is essential to note that there is a risk of receiving engagement from accounts that may not genuinely interact with the user's content.
Don't Miss Reading: How to Change Email on Instagram [A Step-by-Step Guide]
How To Use SocialWick?
Using Social Wick involves several straightforward steps:
Choose a Package: Browse through the available packages, which may include options for followers, likes, subscribers, or views. Select the package that aligns with your goals and budget.
Provide Your Account Details: Enter your social media account username or URL, depending on the platform's requirements. Social Wick typically does not require your password, enhancing security.
Complete the Purchase: Pay for your chosen package through their website. Note: The prices might be high, or you may not receive real organic followers and engagement.
Wait for Results: SocialWick will initiate the engagement delivery process. The timeline for seeing results may vary depending on the package and platform.
Monitor Progress: Monitor your social media account to ensure the engagement increases as expected.
It's crucial to remember that while Social Wik offers a convenient way to boost your online presence, the authenticity of the engagement may vary, and there can be associated risks, as discussed in the following sections.
Related Articles: How to Delete a Comment on Instagram [The Best Guide for Both Android and iPhone]
Social Wick Reviews: Pros and Cons of Socialwick
Socialwick, a social media marketing agency, offers increased engagement and growth opportunities for businesses on platforms like Instagram and TikTok.
However, it also raises concerns about the authenticity of interactions and compliance with platform policies. Here are some of the pros and cons of Social Wik.
| | |
| --- | --- |
| 🟢Pros of Socialwick | 🔴Cons of Socialwick |
| Variety of Services | ❌Fake Engagement and Followers |
| User-Friendly Interface | ❌Possibility of Account Suspension |
| 24/7 Customer Support | ❌Lack of Customer Service |
| | ❌High Social Wick Pricing |
| | ❌Bad Socialwick Trustpilot |
| | ❌Decline in Engagement |
| | ❌Lack of Long-Term Value |
Socialwick Reviews: Pros of Socialwick
Here are some of the benefits and advantages of using Socialwick Tiktok, Instagram, and other services:
Variety of Services: Social Wik offers various services to cater to different social media needs. Whether you're looking to increase followers, likes, subscribers, or views on platforms like Instagram, YouTube, Twitch, or Facebook, SocialWick provides options for various objectives.
User-Friendly Interface: Social Wick boasts a user-friendly interface, simplifying purchasing and managing their services. Navigating their website is typically straightforward, making it easy for users to browse packages, enter account information, and complete transactions.
24/7 Customer Support: They claim to offer 24/7 assistance to address user inquiries, concerns, or technical issues. This around-the-clock availability ensures that users can seek help or clarification anytime, contributing to a more reliable and responsive service experience.
Better to Read: What Is Instagram Wall? [Enhancing Engagement and Brand Visibility]
Social Wick Reviews: Cons of Social Wicks
While Social Wik may promise increased social media engagement, its automation and bots to generate likes and followers can risk violating platform guidelines and harming a user's online reputation. In the following, we will delve into some disadvantages of using Social Wicks:
Fake Engagement and Followers
A notable drawback of using SocialWick's services is the potential for receiving fake engagement and followers. Despite their claims of providing genuine growth, there's a risk that some of the engagement may originate from accounts or users who do not genuinely interact with your content.
This situation can result in inflated numbers without meaningful engagement, ultimately undermining the authenticity of your online presence. To avoid these issues and ensure that you can grow Instagram followers organically, consider alternative strategies like AiGrow.
AiGrow employs a dedicated account manager who follows manual growth methods and adheres to Instagram's guidelines. This approach includes engaging with your followers and other users genuinely and meaningfully, resulting in real followers who interact with your content.
Possibility of Account Suspension
Using services like SocialWick does carry a notable risk – it can potentially violate the terms of service of social media platforms. As a result, there's a genuine concern about the possibility of account suspension or permanent bans. Such consequences can significantly harm your online presence and reputation, making it a risky endeavor.
To mitigate this risk and ensure a more secure and compliant approach to Instagram growth, consider alternatives like AiGrow.
AiGrow offers a more cautious Instagram marketing strategy by providing a dedicated account manager who employs manual growth methods that align with Instagram's guidelines. This approach reduces the risk of violating platform terms and safeguards your online presence.
Lack of Customer Service
Social Wick offers 24/7 customer support; however, there have been reports of user dissatisfaction with the quality of support provided. It's crucial to recognize that customer service effectiveness can vary, and not all issues may be resolved to the user's satisfaction.
For those prioritizing reliable and responsive customer support, alternatives like AiGrow can be more appealing. AiGrow not only provides support but also offers a personalized approach. Users can meet live with their dedicated account managers to discuss their goals and content marketing strategies.
This level of interaction ensures that a real human is handling your growth and allows for a more tailored and effective approach to achieving your social media objectives.
Experience massive organic growth with AiGrow!
High Social Wick Pricing
Social Wick's services can be higher in terms of pricing, which may pose challenges for individuals or businesses with limited budgets. This high pricing can limit its accessibility to a broader audience.
For a more cost-effective and authentic alternative, consider AiGrow. AiGrow provides the advantage of a dedicated account manager who handles your growth activities, including liking, following, and unfollowing, at a rate of only $1 per day.
This pricing is more budget-friendly and ensures real and organic Instagram growth. With AiGrow, you can gain real human followers who engage with your content, offering a more valuable and sustainable solution.
Let's grow your Instagram page together.
Bad Socialwick Reviews on Trustpilot
SocialWick's Trustpilot reviews are mixed, encompassing positive and negative feedback.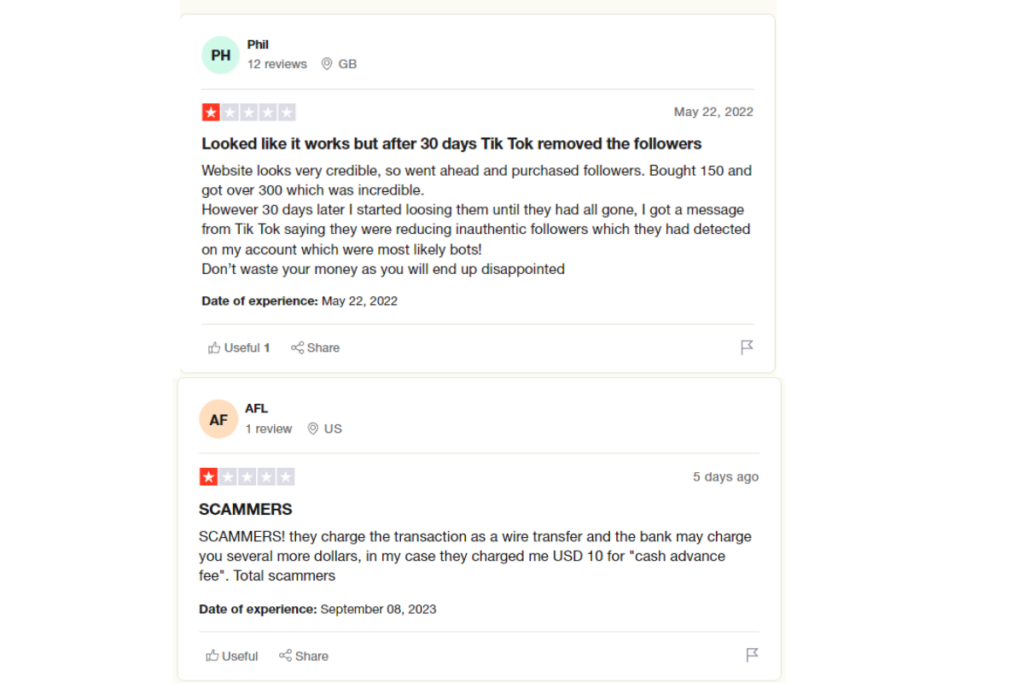 Notably, negative reviews often express concerns about the authenticity of the engagement they offer, which can understandably raise doubts about the reliability of their services.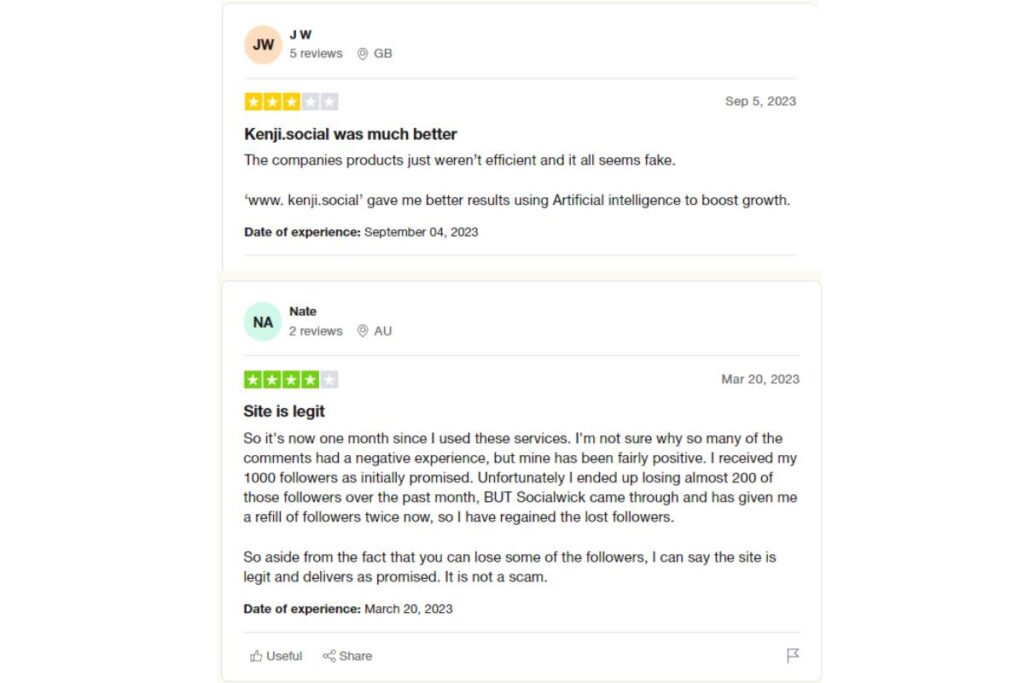 For those seeking a more reliable and highly-rated alternative, AiGrow stands out with its exceptional Trustpilot reviews.

AiGrow boasts a track record of satisfied users who have experienced genuine and organic growth without fearing Instagram shadowbanning or suspension. This positive feedback highlights the value of choosing a service that prioritizes authenticity and user satisfaction.
When considering social media growth solutions, it's wise to explore options like AiGrow that have garnered high scores and trust from their user community. This ensures a more secure and effective approach to building your online presence.
Grow my Instagram account now.
A Decline in Engagement
Engaging with services like SocialWick can result in declining organic engagement over time. The authenticity of the followers and engagement obtained through such services may come into question, posing a threat to the long-term health of your social media presence.
To mitigate this risk and maintain healthy and consistent engagement, consider alternative solutions like AiGrow's Managed Growth services.
AiGrow employs a manual growth approach, ensuring you gain real human followers who genuinely engage with your content. With this method, there is no need to worry about Instagram engagement going down, as it promotes sustainable and authentic interactions with your audience. Choosing a service like AiGrow can help safeguard the long-term vitality of your social media presence.
Grow your Instagram account and save time with AiGrow.
Lack of Long-Term Value
The growth achieved through SocialWick may fall short in delivering long-term value due to the absence of genuine connection and engagement required to sustain a thriving online community.
On the other hand, AiGrow's Managed Growth services provide a compelling alternative for those seeking enduring and meaningful growth. AiGrow's manual growth approach ensures the acquisition of real human followers who engage authentically with your content, promoting lasting value.
Your growth becomes a permanent and sustainable endeavor with a dedicated account manager available for just $1 a day. Additionally, AiGrow offers Content Creation Plans to help you grow and engage with user-generated content.
Your account manager will collaborate to create compelling content that resonates with your audience, ensuring your social media presence remains vibrant and valuable over the long term. Choosing AiGrow can help you build a genuinely thriving online community that endures.
Start creating your Instagram feed now.
Social Wick Pricing
SocialWick's pricing structure is positioned at a higher range than its competitors, which may not be the most budget-friendly option for users seeking economical social growth solutions. Here's a breakdown of their pricing for some of the prominent social media platforms:
Instagram Social Wick Pricing
YouTube Social Wick Pricing
TikTok Social Wick Pricing
1000 followers: $11.24
2500 followers: $28.11
5000 followers: $50.67
10,000 followers: $96.89
1000 followers: $43.74
2500 followers: $95.21
5000 followers: $172.17
10,000 followers: $295.89
1000 followers: $14.99
2500 followers: $37.49
5000 followers: $69.99
10,000 followers: $139.99
The Most-Trusted Social Wick Alternatives
If you're looking for a reliable alternative to SocialWick that ensures genuine growth without the risks of fake followers or bot activity, AiGrow is your top choice. AiGrow specializes in manual growth strategies, providing you with a dedicated account manager who tailors your Instagram growth to your specific needs.
Unlike generic services, AiGrow focuses exclusively on Instagram, guaranteeing authentic growth. AiGrow goes beyond just follower count; it offers essential services like content creation planning and mass unfollow services, making it a comprehensive solution for boosting your Instagram presence.
Choose AiGrow for a trustworthy and effective Instagram growth strategy that aligns with your goals while maintaining the integrity of your social media presence.
Want to grow your Instagram followers faster? Click here
AiGrow Review: The Best Social Wick Alternative
AiGrow is a prominent Instagram management service that provides valuable solutions for individuals and businesses looking to expand their presence on this popular social media platform.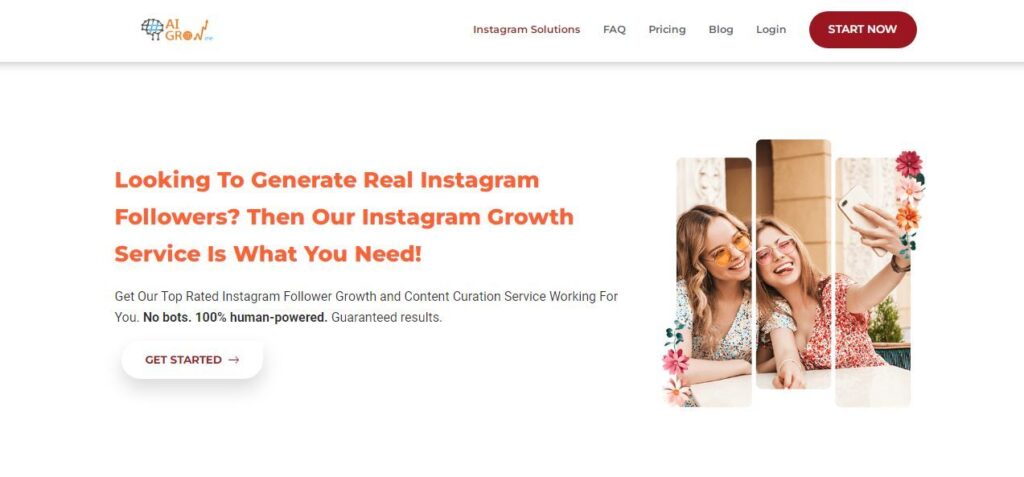 This platform offers a comprehensive set of tools and services designed to enhance your Instagram experience, making it easier to gain followers, engage with your audience, and manage your content effectively.
AiGrow specializes in organic growth, ensuring that the followers you acquire are real and genuinely interested in your content. Additionally, AiGrow's features for managing Instagram message requests improve engagement with your followers, fostering a more interactive and responsive audience.
Your engagement dropped? We can help.
AiGrow Services
AiGrow offers comprehensive services to supercharge your Instagram growth and engagement. From organic follower growth to content planning and mass unfollowing, AiGrow provides a one-stop solution for enhancing your Instagram presence and achieving your social media goals.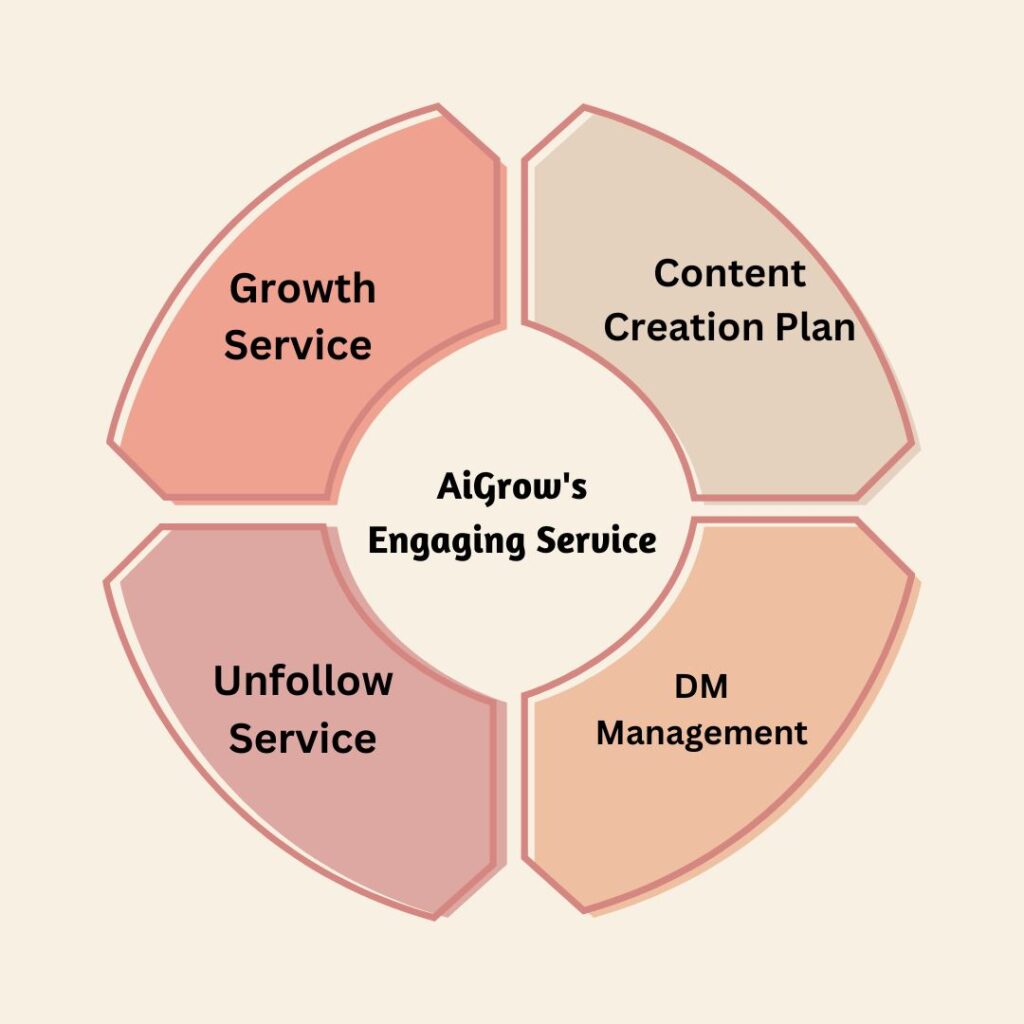 Here are some of the most famous AiGrow services:
AiGrow Content Creation Plan
Benefit: AiGrow assists in creating captivating, high-quality content that resonates with your target audience.
Features: Professional content creation, including images and writing engaging Instagram captions, maintaining an attractive and engaging Instagram feed.
Easily plan your Instagram feed with AiGrow now!
AiGrow Managed Growth Service
Benefit: AiGrow's managed growth service employs targeted following and engagement strategies to attract real and relevant followers.
Features: Manual liking, following, and unfollowing, targeting specific audiences to increase visibility and engagement.
AiGrow Managed DM (Direct Messaging)
Benefit: The account manager will efficiently engage your audience through personalized direct messages.
Features: DM templates, scheduled DM campaigns, and quick responses, improving audience interaction.
AiGrow Mass Unfollow
Benefit: Helps maintain a balanced follower-to-following ratio.
Features: Easily unfollow users who don't reciprocate, ensuring your followers list remains relevant.
Delegate your Instagram growth to AiGrow
Benefits of Using Aigrow
The benefits of using AiGrow as a comprehensive Instagram growth and management tool are evident from its functionalities and user experiences.
Although the provided source does not directly list the benefits, we can deduce them based on the typical advantages associated with such services:
Organic Follower Growth: AiGrow is known for its ability to help users grow their Instagram followers organically. It employs strategies that attract real, engaged followers, crucial for building a genuine and active audience.
Time and Effort Savings: Using AiGrow, users can handle various Instagram tasks, such as liking, following, and unfollowing, which saves time and effort that can be redirected toward creating content plans to drive Instagram traffic.
Engagement Enhancement: AiGrow's features for managing direct messages help improve engagement with followers, leading to a more interactive and responsive audience.
Content Management: AiGrow assists in content creation and social media scheduling, ensuring a consistent and appealing Instagram feed, essential for attracting and retaining followers.
Personalized Guidance: Some services like AiGrow offer dedicated account managers who provide personalized advice and support, contributing to more effective Instagram growth strategies.
Ghost Follower Cleanup: AiGrow can identify and remove inactive or irrelevant Instagram followers, helping users maintain a clean and engaged followers list.
Targeted Growth: AiGrow allows users to target specific audiences and niches, ensuring that the growth aligns with their content and objectives.
Conclusion on Socialwick
SocialWick can be a valuable tool for enhancing your social media presence. However, it's crucial to recognize its advantages and disadvantages. One of its strengths is providing a straightforward means to boost your social media metrics. Yet, its effectiveness hinges on how well it aligns with your authentic online presence and strategic goals.
If you're looking for an alternative approach that combines manual growth with a dedicated account manager, you might also consider services like AiGrow. AiGrow offers a more personalized and organic approach to growing your social media presence, with a dedicated account manager to help you achieve your goals effectively and safely.
Ultimately, the choice between Social Wik and services like AiGrow depends on your needs and preferences in your social media growth journey.
FAQs
Q1: Is Socialwick Legit According to Reddit's Users Opinions?
The legitimacy of Social Wick on Reddit appears to be a topic of mixed feedback, with both negative and positive reviews. However, it's worth noting that the overall rating is not high, which suggests some level of skepticism or concern among Reddit users regarding the service.
Q2: What Are Some Alternatives to Socialwick for Growing Social Media Presence?
When seeking alternatives to Social Wik for growing your social media presence, AiGrow stands out as a highly reputable choice. AiGrow offers a manual growth approach, ensuring authenticity in your follower base and interactions. What truly sets AiGrow apart is the provision of a dedicated account manager who tailors your growth strategy to your specific goals, ensuring a personalized and effective approach.
Q3: Is Socialwick Safe?
Socialwick's website appears to be safe for users to access, and you can receive their services. However, it's important to note that they cannot guarantee the functionality or effectiveness of the services provided.
Q4: Is SocialWick Scam?
It seems that Social Wick may not be a scam, as they offer real services, but there have been concerns about bot actions and fake followers and engagement.
Q5: What Is a Social Wick Voucher?
"SocialWick" appears to be associated with promotional codes or vouchers. Social Wik voucher codes are available on various websites, including HotDeals and Coupert. This Socialwick promo code may offer discounts or special offers when you use SocialWick's services.
Q6: Is Socialwick a Guaranteed Way To Increase Social Media Followers?
Social Wik's effectiveness varies from user to user. Some have reported success, while others have not seen significant results. However, buying followers is not an excellent way to gain engagement at all.
Q7: Are There Any Potential Risks Associated With Using Social Wik?
Concerns about followers' authenticity and potential violations of social media platform policies have been raised—exercise caution.