Are you an influencer? Do you own a business and would like to grow it on Instagram? Do you see your rivals climbing up the ladders of success on social media platforms and wonder how they have gained so many followers? Then you've probably come across IGTools in trying to find an answer to your question.
With over 1 million active users, Instagram has become the number one social media platform for businesses, whether large or small. Therefore, creating a strong social presence on Instagram is an essential part of career success these days for which you can use the best Instagram growth services available out there.
In this article, we will discuss IGTools as one of the growth services that people talk a lot about today, and show you why it is NOT a viable option for your IG growth. We will also introduce AiGrow as the best alternative to this tool.
Let's dive right in then!
What Is IGTools Net
Among the many Instagram growth services, IGTools is the one that is the subject of much debate among many users these days. This Instagram growth tool promises to help you get more followers on Instagram and level up your social presence.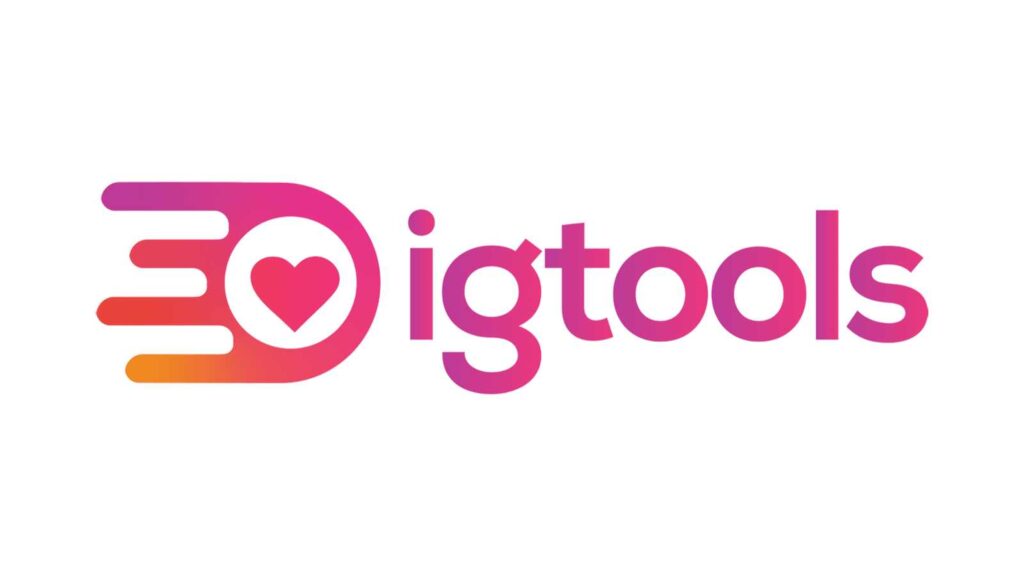 It's worth mentioning that when you search for IGTools.net, you'll come across another website that is very similar to this one. The website is called IGPanel. Interestingly enough, these two share the same content and provide the same services.
As reported by some users, the services on these websites are constantly unavailable and you would have to switch between the two constantly to be able to use its services.
In order to get a better understanding of this IG tool and why we do not recommend it, let's elaborate on how it works in the first place.
How Does IGTool Work
Transparency regarding how a growth service carries out the whole process of getting you new followers is highly important when it comes to choosing the right tool for your IG page.
Unfortunately, this tool hasn't come clean about how it operates. All we know is that they use Instagram bots to deliver you IGTools followers and likes.
The very fact that they use automated bots to deliver your order is a huge red flag for your IG page because it's against Instagram's terms of use. By using such services, then, you are put at serious risk of losing your IG account permanently.
Moreover, it claims to bring you these new followers at a very fast pace. Well, if these followers were real, they wouldn't be added to your account within minutes, would they?
It appears to us that these followers are merely fake ones and can seriously damage your page as fake followers don't engage with your content and as a result, drop your engagement rate on IG drastically.
A Word of Caution
Currently, both IGTools and IGPanel websites are permanently shut down. There can be various reasons behind this. One such reason could be Instagram's ever-changing algorithm.
There used to be a time that Instagram growth agencies that provided fake followers and likes were at their peak. Well, long gone are those days!
Nowadays, services like IG Tools that give you fake followers and likes can't function anymore since Instagram values organic followers' growth and helps pages with higher engagement rates. Consequently, you will get nowhere with fake followers since they won't engage with your posts.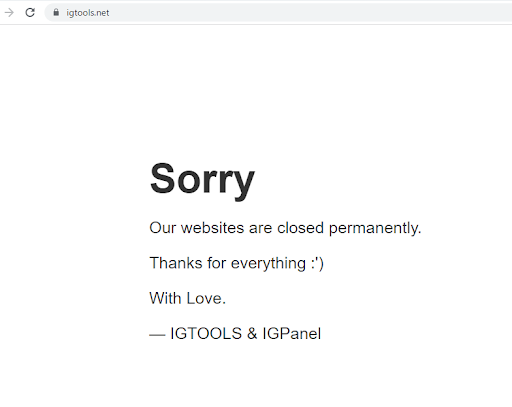 IG Tools Features
IG tools.net used to offer Instagram Reels views, followers, likes, comments, and poll votes services. However, not all services were always available, such as Instagram likes. The website has permanently shut down as of November 2022.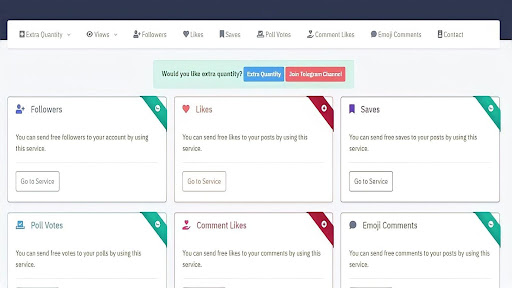 Even though IGtools.net is no longer available, it was once a popular Instagram growth service with various features that users found helpful. By discussing its features and services, we can provide insights into what made this Instagram growth service so popular and offer alternatives for users seeking similar tools. So, keep reading.
IGTools Followers
As mentioned earlier, the followers this Instagram growth company provides for you are fake. Most of these accounts have less than 10 posts, with no specific bio, and sometimes no profile picture. They won't engage with your content and ultimately, Instagram will flag your IG business page as spam.
IGTools Views
Yes, you can add to the number of your video views using this tool. But that's it. The engagement rate of your page is calculated by considering the number of followers, average likes, comments, and saves. IGTools video views only add to your numbers and will not affect your engagement rate.
Additionally, it only offers three types of views: IGTools Instagram views, IGTools video views, and IG Tool live views.
However, if you're looking for IGTools Reels views free or IGTools views on IGTV, don't expect much.
When using ig tools.net views, it's essential to note that the views you receive may be from bots, not real users. doing so may also put your IG account at risk.
💥Pro Tip: If you wish to calculate the engagement rate of your IG page, you can use the tools we've introduced to you in this Instagram tools article.
IG Tool Likes
You can get free Instagram likes using this tool. However, if your real followers take the time to check out the people who have liked your posts, they'll notice that they are fake.
This is extremely destructive to your business credibility. No one trusts businesses that have fake followers and likes these days.
IGTool Story Polls
Polls are used to increase the interaction of your followers with your page, and eventually turn them into paying customers. IG Panel provides fake votes for your polls. So, there is no real person behind that vote to be turned into a customer.
IGTools Saves
You are promised to receive a number of free fake saves for your posts by using this tool.
IGTools Comments
There are two services provided by IGTool net regarding Instagram comments: emoji comments and comment likes.
Imagine you want to asses a page in order to buy a product from it or use its services. You navigate through the comments under its posts to see some customer reviews only to find a bunch of emojis. What impression would you get from this? Not a good one, indeed.
This will make you lose face in front of your potential customers. What they want to see from you are real content and real followers.
⚠️Note: Regrettably, the IG Tools website is currently inaccessible, preventing users from utilizing its features.
IG Tool Reviews
The absence of reviews for IGTools.net is negative. It is critical to research and read reviews before using any service, especially for something as valuable as your Instagram account. Without reviews, it is difficult to determine the quality of the service and other users' experiences. It is wise to exercise caution when using IGTool.net or any other service without enough reviews.
Pros and Cons
Now let's take a look at some of the pros and cons of this IG growth tool.
Pros
Multiple free services including igtoolz free views and followers.
The website is secured through SSL authentication.
Cons
They use bots to deliver your followers, likes, and views.
Too many CAPTCHA tests before you can use the services.
IGTools followers are free but fake. And fake followers and likes can severely damage your IG page.
No frequently asked questions or help sections on the website.
Poor customer service that fails to be responsive in real-time when you need them.
Services are constantly unavailable on both websites.
No legitimate audits.
IG Panel Net claims to deliver these services within minutes. However, there's a limit to the number of Instagram followers and likes you can get in a day and you'll get shadowbanned or action-blacked if you exceed Instagram's daily limit.
The DNSFilter has reported the igtoolz Instagram website as a threat.
It is important to note that there is no official website for IGtools. In other words, your search for igtools. net is no longer operational.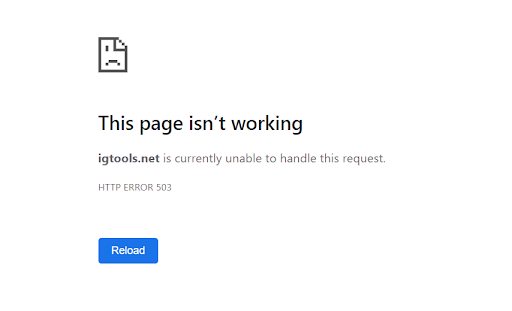 So now what? What should you do after finding out that this is not the right tool for your IG growth? Is there a remedy for this pain?!
Of course, there is! The remedy is AiGrow.
The Best Alternative: AiGrow
As the name suggests, AiGrow is an Instagram growth tool that's there to help you with your social presence. It combines human knowledge together with advanced AI technology to bring about new followers for you.
Not only does it help you gain new followers and increase your engagement rate on Instagram, but also it is an all-in-one service that provides you with various features such as an IG scheduler, a human social media manager, advanced targeting, and many more!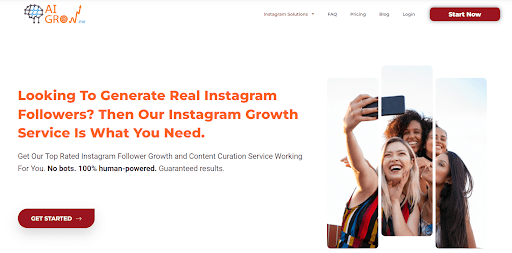 In contrast to IGPanel which uses bots to get you fake followers, AiGrow offers you a dedicated account manager that draws real traffic to your page. This account manager takes the information driven by the artificial intelligence tech and starts engaging with your potential followers' posts and stories.
If you wish to know every detail of this service, read this complete AiGrow review. But let's take a brief look at some of its features now.
How Does AiGrow Work?
Looking to grow your Instagram followers organically and safely? Look no further than AiGrow! Here's how it works:
Pick a plan that's right for you.
Fill out a quick questionnaire about your business and goals, and meet your dedicated account manager who will help create an expert plan tailored to your needs.
Then, the AiGrow team of experts will get to work right away to implement your growth plan.
Stay informed every step of the way with daily and weekly activity reports. Plus, you can reach out to its customer support team anytime via WhatsApp with any questions!
To get started, simply sign up on AiGrow with your name, email address, and password of choice. Then add your Instagram account(s) to the dashboard and select your targeting options.
Finally, set up a meeting with your account manager to analyze your target list and develop a growth strategy. Once your walk-through is complete, we'll start generating activities based on your plan.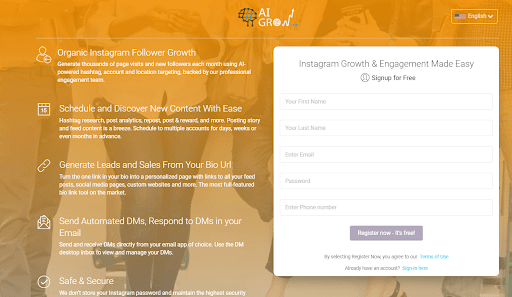 With AiGrow, Instagram management has never been easier. Sign up today to simplify your social media strategy!
AiGrow Features
Boost your Instagram presence with our comprehensive range of tools! Here's what we offer:
Growth (Manual growth strategies)
Get the top hashtag suggestions for your posts to increase your reach
Schedule your posts and stories in advance to save time and post them at the best time
Grow your account organically with our proven and manual strategies
Add multiple links in your bio to direct traffic to your website, blog, or other social media accounts
Mass delete your Instagram posts to keep your feed clean and relevant
Direct Messaging used to known as DM
Manual content creation strategy (for Pro – Managed Plans Only)
Mass unfollow those who haven't followed you back within a specified timeframe to maintain a clean and genuine follower list
Wish to take advantage of these incredible features?! Then give AiGrow a try to have access to them instantly!
AiGrow's Pricing
AiGrow is an Instagram growth service for everyone with every budget and plan. The following includes different pro-managed packages designed for various purposes that this Instagram growth service offers you.
For more information, take a look at its pricing page for seeing different growth packages and plans.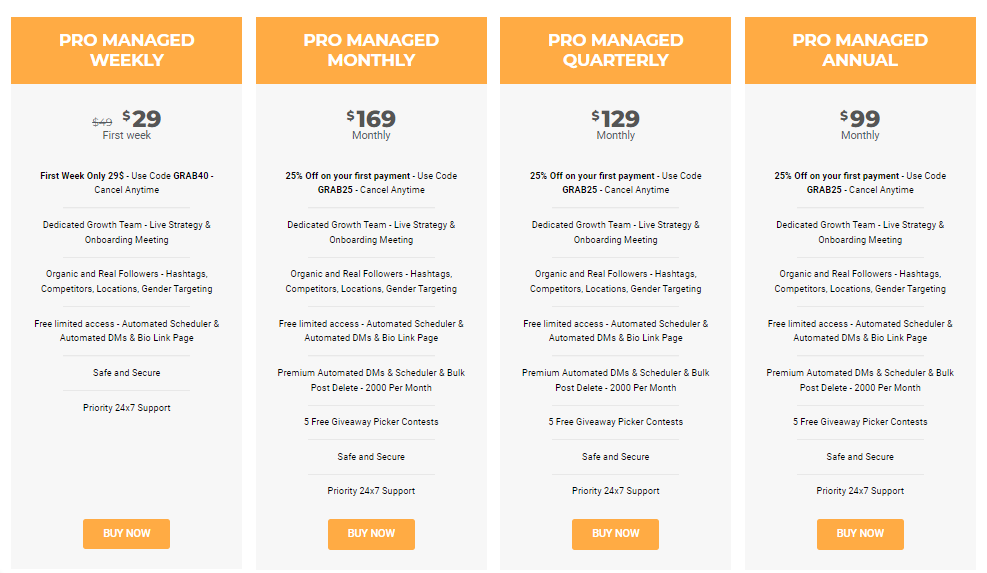 IGTools vs AiGrow: Final Verdict
If you compare these two Instagram growth services, you will notice that AiGrow surpasses IG Tool in both the quality and quantity of its features!
So, don't waste a second more, and sign up on AiGrow right now to start your journey on Instagram!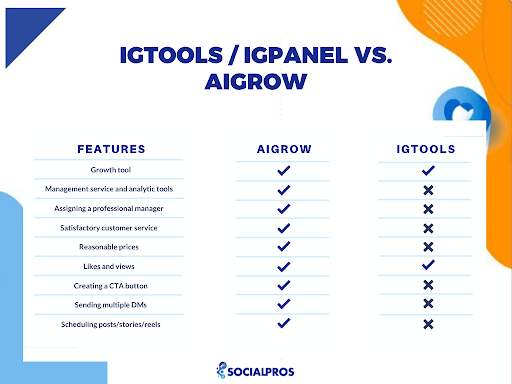 FAQs
Enjoyed the article? Did you get all the answers to your questions regarding IGPanel.net? Do you still have some questions? Then let's get down to some of your most frequently asked questions.
#1 Is IGTools Legit or a Scam?
No. We can't say that the service is legit because all it does is bring you fake insights. As explained fully in the article, these fake followers and likes can put your IG page at risk of being shadowbanned, action-blocked, or permanently blocked.
Moreover, these twin websites are no longer available. Their websites are shut down for good. We also checked out IGPanel and its twin's Telegram channels to see whether they're active only to realize that they have removed all content from their channels as well.
Therefore, it's best to stay away from IGTools.net and similar websites to it.
#2 Is IG Tool Free?
Yes. IGPanel followers are free. So are its other services. But by using this tool, you're setting yourself up for paying a big price; that is, losing your Instagram account, or your genuine followers and customers.
#3 Is IGtools.net Pemenatly Closed?
If you are looking for an Instagram growth service, IG tool.net is unfortunately no longer an option. The site officially announced in November 2022 that it would be shutting down permanently, meaning that it is no longer available for use.
While it can be disappointing to lose access to a useful tool like IGtools.net, it is important to keep in mind that there are still many other options available for growing your Instagram account. Whether you are looking for a tool to help you gain more followers, increase your engagement, or improve your overall performance on the platform, there are many reputable and reliable services that can help you achieve your goals.
AiGrow is one of these reputable Instagram growth services that will help grow your IG account organically and safely.
#4 Is ig.tools.net Different from IGTools.net?
Despite their similar names, ig.tools.net and IGtools.net are not the same websites. While IGtools.net was a popular Instagram growth service, ig.tools.net offers a variety of different services such as database management tools, online conference tools, password tools, and network monitoring tools.
Unlike IGtools.net, ig.tools.net does not offer Instagram followers or growth services. It's important to note that although these two websites share similar names, they are distinct entities with different services and features.
#5 What Is igtoolsapk.com?
IGTools APK is a popular tool to increase Instagram followers, which can be downloaded from latestmodapks.com. The app is not available on the Google Play Store, which may raise questions about its reliability.
| | |
| --- | --- |
| Information | Details |
| Name | IGTools |
| Package Name | IGTor |
| Version | 9S |
| Size | 5 MB |
| Required Android | 5.0+ |
| Last Updated | May 10, 2023 |

It is also interesting to note that the app name that appears after downloading is IGTOR. It is unclear whether it is related to igtools.net.
With this app, you can easily increase your followers, likes, and comments on Instagram. Here's a breakdown of some of the app's top features:
Get unlimited likes for free with IG Tools! No need to pay anyone or complete any tasks.
Increase your followers without limit. Your Instagram profile will become even more attractive to potential followers.
Enjoy free comments from real users who are engaged with your content.
Use the app to win polls and get the results you want!
Increase your story views with IGTool.
The app is user-friendly and easy to use. Customize its theme and privacy settings to your liking.
With Igtoolz APK, you'll be able to enjoy free likes, views, and followers on Instagram.
🚫 One disadvantage is that it's only available for Android users. #igtols
#6 IGTools Chrome Extension: What Is It?
It is a Chrome Extension for exporting Instagram followers, not increasing them.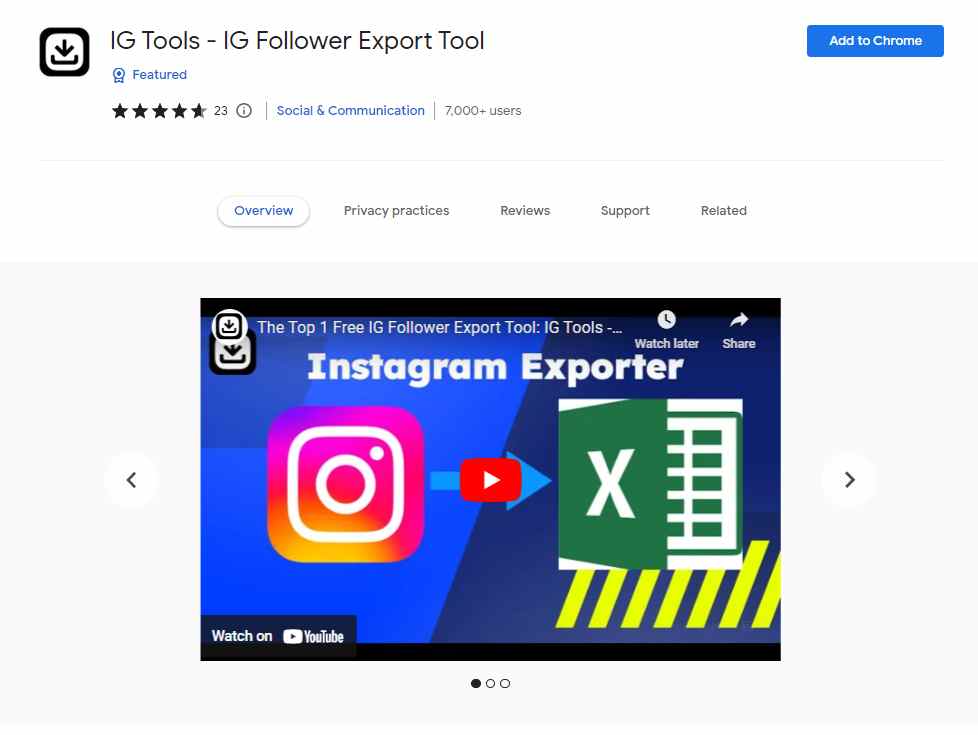 However, for reliable IG services, use AiGrow, a more mature alternative to igtools.net. AiGrow offers real and active Instagram followers and likes. AiGrow is available on Android, iPhone, and PC, and its services are trustworthy and accessible. Try AiGrow instead of dangerous alternatives like igtools.net.
#7 Is IGTools Legit Or A Scam?
It's crucial to know that using IGTools.net and similar websites can put your Instagram account at risk of being shadowbanned or blocked permanently. These sites might provide fake followers and likes, which can damage your page's reputation.
Additionally, IG Tool is no longer accessible, which means the website has been shut down. So, to keep your Instagram account safe, it's best to avoid using IGTools.net and similar websites.
#8 Is Igtools.net Safe?
Scamadviser has given a low trust score to it because it has several negative factors that suggest it may not be a safe website.
Furthermore, the website provides services that are against Instagram's terms of service and may even pose a risk to users' accounts. Therefore, users should exercise caution and avoid using similar websites to protect their Instagram accounts.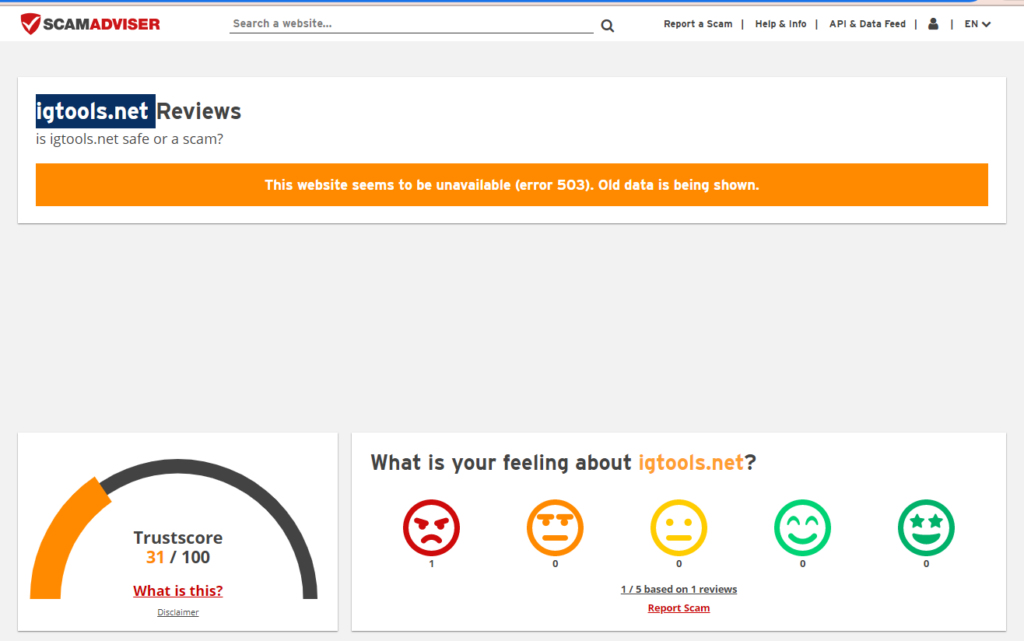 Over to You
In this detailed IGTools review, we tried to provide you with all the information you need regarding this growth service. For all the right reasons mentioned in this article, we DO NOT RECOMMEND IGTools.
Generally, it's best to stay away from Instagram bot services that only get you fake followers and likes. Instead, get a hand from services like AiGrow. Because you need REAL followers and REAL growth on Instagram!
Sign up on AiGrow now for guaranteed results!