Fiverr is a service marketplace where you can find all sorts of freelancers showcasing their works to get clients. Many of these freelancers promise real Fiverr Instagram followers to potential customers, but how do they deliver such promises? How successful can they be in growing your IG organically?!
It's true; many small businesses can benefit from a social media manager as they help companies to save time and energy. If you look at Fiverr's digital marketing services for Instagram, hundreds of freelancers line up to get you more IG followers. Seems like a dream, right? 
But is Fiverr really the best place to hire a social media manager? Honestly, I hardly think so unless you want to buy fake Fiverr Instagram followers and likes!
This article will tell you all the truth behind Fiverr Instagram followers and the services offered by freelancers. This Fiverr review will show you why you should NEVER, ever, use Fiverr to grow Instagram followers. 
We will also discuss the best alternative. Here's an infographic to start with: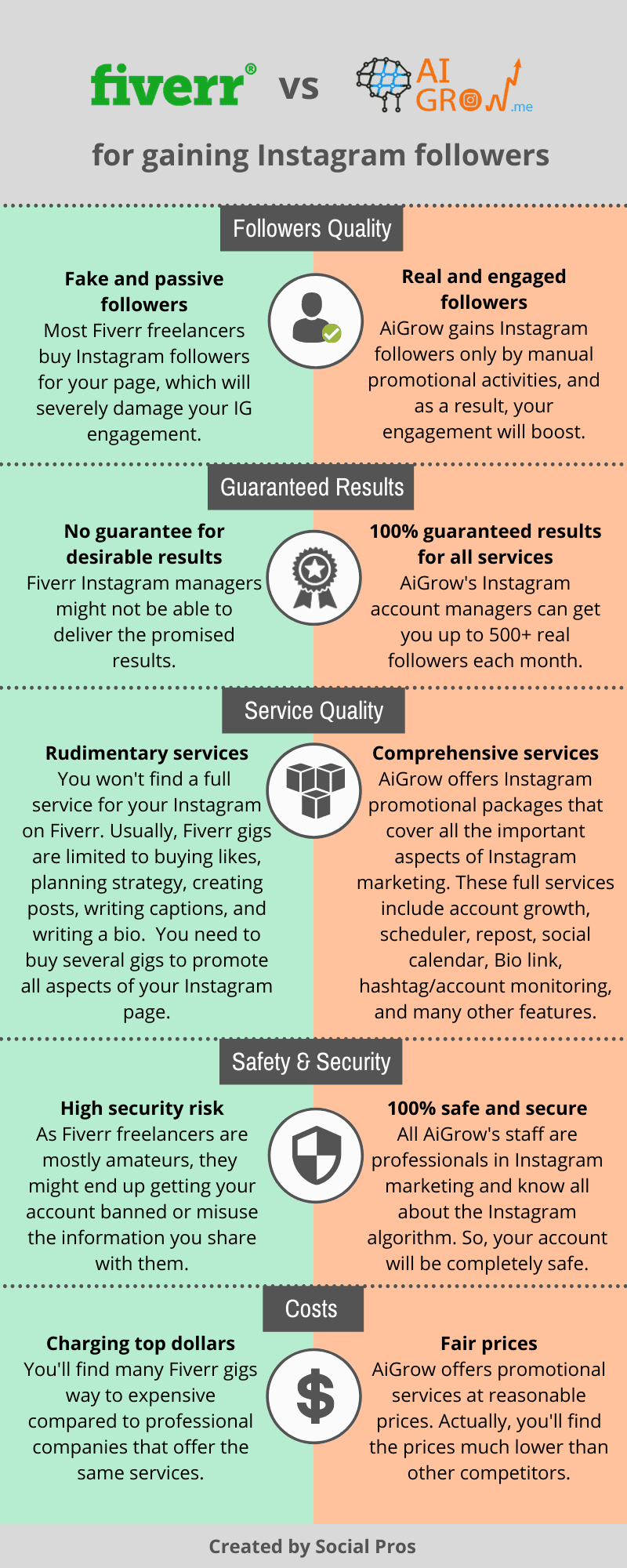 How to Get Fiverr Instagram Followers
Anyone can build a Fiverr app or website profile and start a freelancing career; I mean ANYONE. When visiting Fiverr to find someone to manage your Instagram account, you'll see hundreds of people adding their gigs to the website in many different ways. 
When it comes to Instagram digital marketing on Fiverr, freelancers can be categorized based on types of activities such as:
Fiverr Instagram growth

(Get followers/likes)

Doing shoutouts 

Running Instagram ads

Setting up your account

Creating social media posts (captions, graphics, sell typo graphics…)
You might think it's good that Fiverr has made Instagram follower sale easier. But will Fiverr Instagram promotion successfully increase your IG engagement rate? And more importantly, would you like to gain followers and likes at any cost? 
Look at this 5-star gig, for example: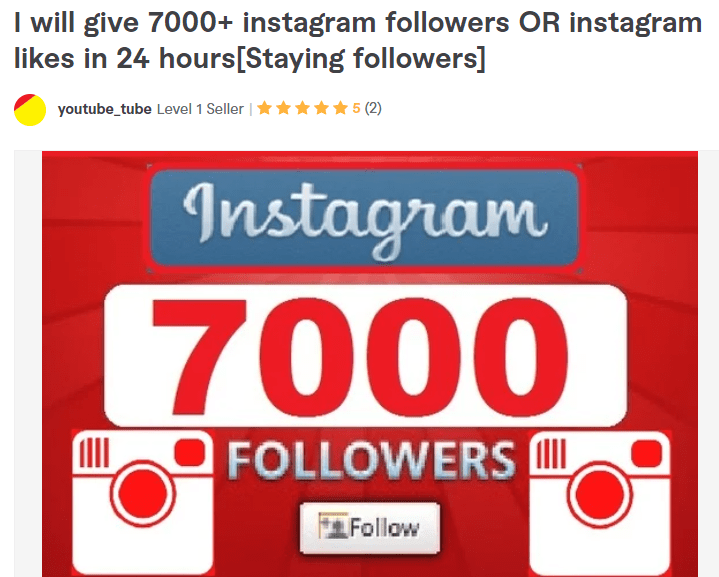 Let's be realistic here; no one can get you 7,000+ followers overnight unless they buy Instagram followers. It means that fake accounts that are not only worthless but also severely damaging are pouring into your page. 
As a matter of fact, you will come across many gigs on Fiverr that have 5-star ratings, but you may still end up loading up your followers' list by fake accounts using them. And don't forget that it will finally make you unfollow several IG accounts! 
That's why on fever, real Instagram followers are not viable options. In the following, I will highlight the most significant drawbacks of getting Fiverr Instagram follower services.
What is wrong with Fiverr Instagram followers services?
Using freelancers to double your engagement rate and follower count is not necessarily bad. However, there are numerous drawbacks to handing over your business to a social media manager on Fiverr. 
In this section, We have listed the most common problems that countless Instagrammers and I experienced using Fiverr. 
#1 Too Many Fake Accounts Among Fiverr Instagram Followers
The most significant problem is that Fiverr freelancers use (and have) too many fake accounts and use them to boost your likes and followers.
Based on a study carried out by Modash, out of the 38 listed Fiverr Instagram profiles, 29 had 25% or more fake followers, which means more than 3/4 of the profiles were fake. And as I showed you earlier in an example, they use the same method to raise your followers' figure. 
According to the same study, @teamovertrain is an excellent example of fake Fiverr accounts. He boasts of entertaining 400,000 Fiverr real Instagram followers while only 10% of its followers are real.
10% is a meager figure for an account that claims to get you real, engaged Fiverr Instagram followers. So, the next time you see such accounts promising effective Fiverr Instagram marketing and offering you shoutouts, beware! 
Remember that you are paying money to be seen by a bunch of bots and semi-automated accounts that'll bring you zero engagement. 
#2 No Guarantee for Desirable Results
Doing a quick search on the Internet (and even on Fiverr itself) and reading Fiverr Instagram followers' reviews, you'll notice that there are many negative comments about Fiverr services. 
After Instagrammers tried to buy quality Instagram followers from Fiverr, they ended up with ghost followers. That's because almost always, Fiverr freelancers don't deliver the result that they advertised. Most of these freelancers do not have sufficient knowledge or experience in digital marketing. 
But here comes the ugliest part: not only do they exaggerate about the results that they can accomplish, but they also lie about it! So, they leave you thinking your new Fiverr Instagram follower is indeed interested in you while they didn't even try to attract your IG target audience!
#3 Not comprehensive services 
Another prevalent problem among all Fiverr businesses is that there is no set of criteria for the services they offer. In other words, it is not clear based on what method Fiverr freelancers design and sell their packages. There is no rule to control them, either.
You cannot expect to take care of your Instagram marketing aspects by purchasing one gig. Take a look at these examples: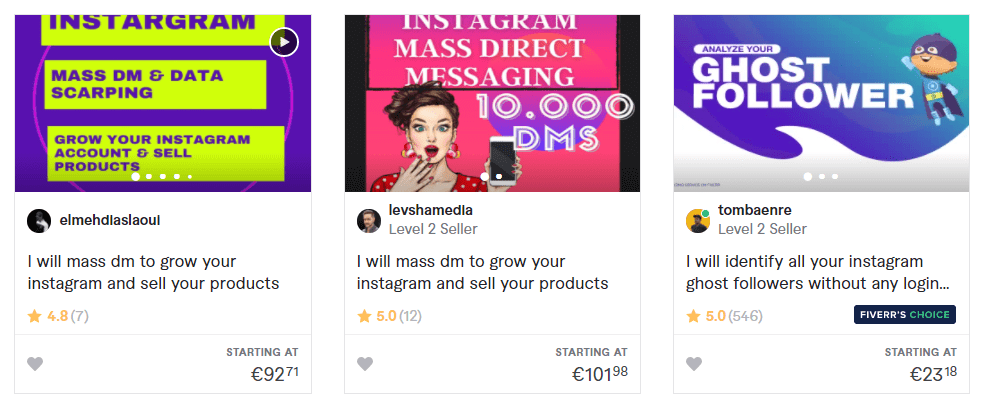 You'll see a lot of gigs and inadequate services on Fiverr. You might think that buying separate services for your Instagram is a good idea. After all, you might be interested in gaining only likes or comments. 
But this actually triggers two big problems. First, buying Fiverr Instagram followers and Fiverr Instagram likes separately is not exactly economical! It costs much higher than purchasing promotional packages from Instagram marketing apps for followers. 
I mean, look at the examples above; do you want to pay so much for someone to do simple tasks such as  mass DMing Instagrammers?
Secondly, offering fragmented and inadequate services by Fiverr freelancers makes you buy several services at once. That is, you might have to share your account's information with several people. 
These matters will severely decrease your account security, which leads us to the next problem.  
#4 Security Risks Involved in Gaining Fiverr Instagram Followers
As discussed above, you can buy Instagram followers on Fiverr, but are you willing to pay the price?! You may have to share your Instagram page password and other valuable information with Fiverr freelancers. 
Many freelancers, especially those who claim to gain your follower base, ask you to hand in the data. Otherwise, they won't accept working for you. Well, this is a risky move because you don't want to share these with strangers! 
Besides, even if they have no bad intentions, there is still a good chance your Instagram account will be banned, and you won't know it until you run a shadowban test. 
Why? Because when different people access your Instagram account from several devices and locations, Instagram senses danger and automatically blocks your account. 
Moreover, if you and your Fiverr account manager(s) use the account simultaneously, you may experience Instagram crashing, which can be pretty nerve-wracking.
And don't forget that many of these Fiverr freelancers use Instagram bots to get you followers, leading to an "action blocked" message appearing on your screen.       
Related article: How to Share a Joint Instagram Account Access for a Team
#5 Charging Top Dollars for Fiverr Instagram Followers
Searching through the Fiverr gigs, I saw some numbers as services' costs that made no sense at all. As mentioned above, there are no rules for services on Fiverr. 
So, anyone, regardless of their level of expertise, can charge you top dollars, even for essential services. But the highest cost goes to those who claim to provide an engaged Fiverr Instagram follower. Take a look at some examples: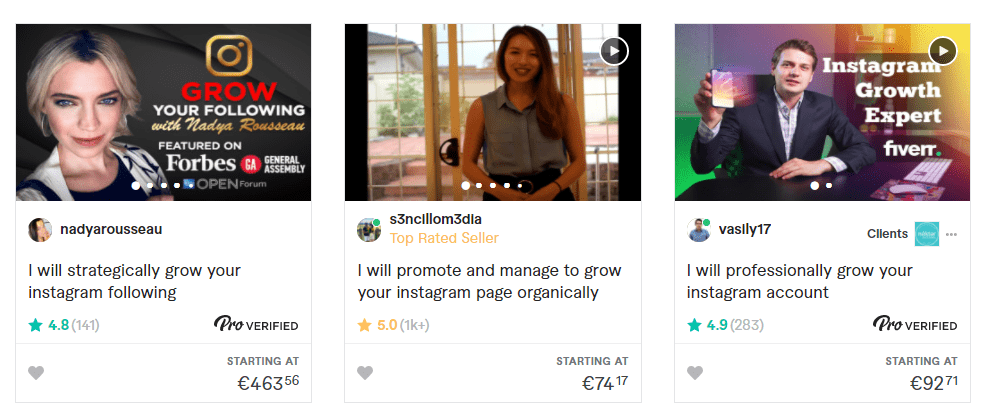 If you don't think these are high numbers, take a look at this basic package, with limited services that cost €834! Not to mention that there is no guarantee that your Fiverr Instagram follower will even like your content.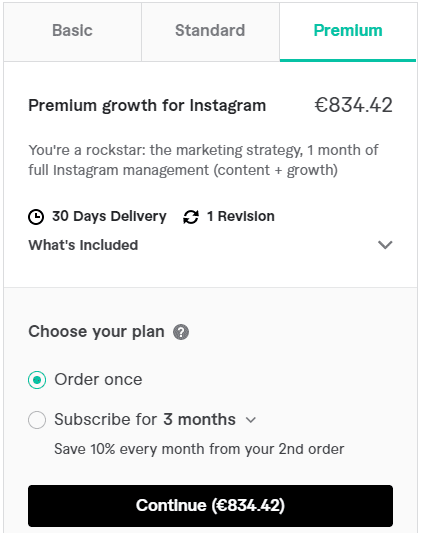 #6 Ridiculous Rules
Last but not least! Even if you are completely okay with all the problems mentioned above, you may not get a deal with your chosen Fiverr freelancers to get Instagram followers. 
Why? Because many of them have ridiculous rules. For example, they might not accept working for you because you don't have your first 1000 IG followers or a verified Instagram account!
A Review of Fiverr Services for Gaining Instagram Followers
So on Fiverr, you can buy Instagram followers. But, as I've told you earlier,  it is not exactly the wisest idea. We are sure that if you go down that road, you will end up losing followers, getting shadowbanned, and risking your hard-earned success!
To prevent your Instagram page from filling with junk accounts that ruin your engagement, you'd better forget about Fiverr. But if you can't trust your Fiverr Instagram follower, then what should you do?
I had promised to introduce a good alternative for Fiverr. Don't worry; the app that I'm going to mention does not have the problems mentioned. As a matter of fact, it has some considerable advantages compared to its competitors. 
So, sit tight and read the following. 
AiGrow: The safe alternative for Fiverr Instagram follower services
AiGrow is a comprehensive Instagram marketing tool that provides secure and organic growth for your account(s). Instead of looking for several gigs on Fiverr to promote your Instagram, you can use AiGrow, which has all the services on Fiverr – and even more – in a professional way.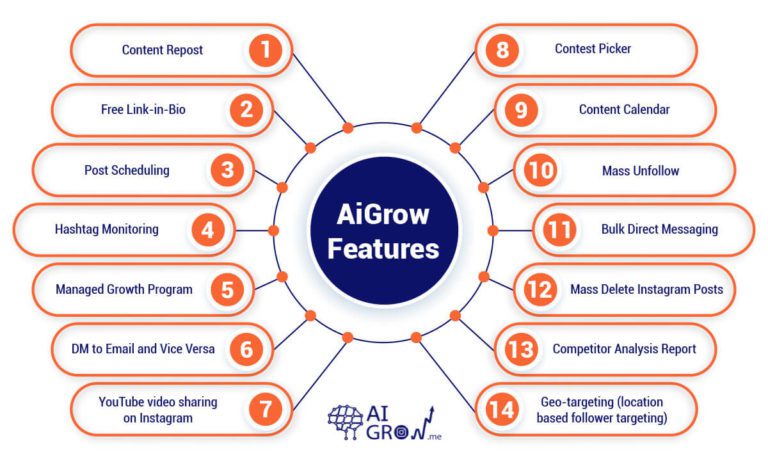 Let me walk you through using this fantastic tool.
Register to AiGrow and Add Your Accounts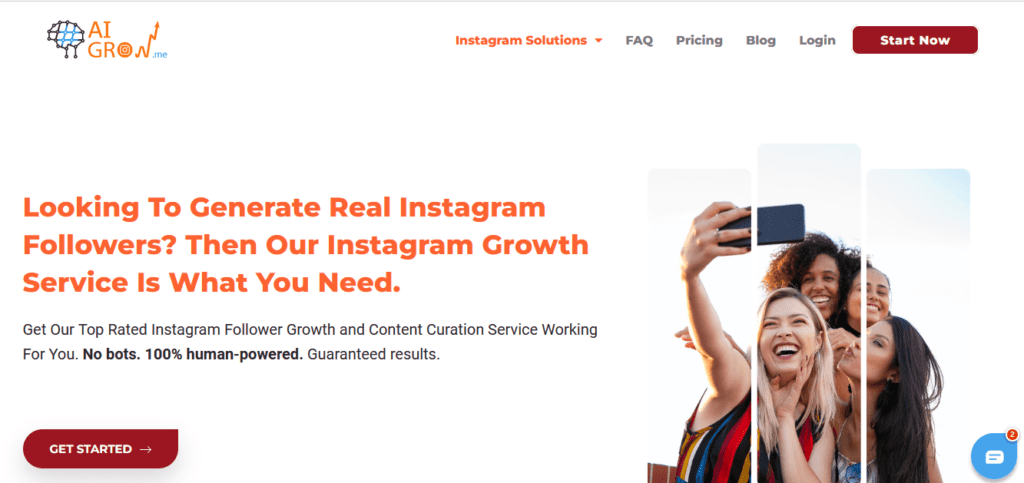 It only takes you a minute to create a free account on AiGrow. After providing your email address, name, and password, you will launch your user-friendly dashboard to add as many Instagram accounts as you wish to promote. 
And don't forget that whether or not you have a verified account, you are welcome to use AiGrow. Let me show you different parts of AiGrow and explain how you can effectively use them to promote your Instagram followers.
Growth
Forget about the unsafe, unreliable Fiverr Instagram follower. AiGrow's growth tool is the quickest, most reliable way to gain followers. Unlike Fiverr accounts, AiGrow only provides you with real and, most importantly, engaged followers. 
AiGrow does not sacrifice quality over quantity either. That's why you don't see empty promises such as 7,000 followers in one day. Instead, AiGrow has designed several Instagram promotional packages for all types of Instagrammers and their budget.
Here are some examples of these promotional packages: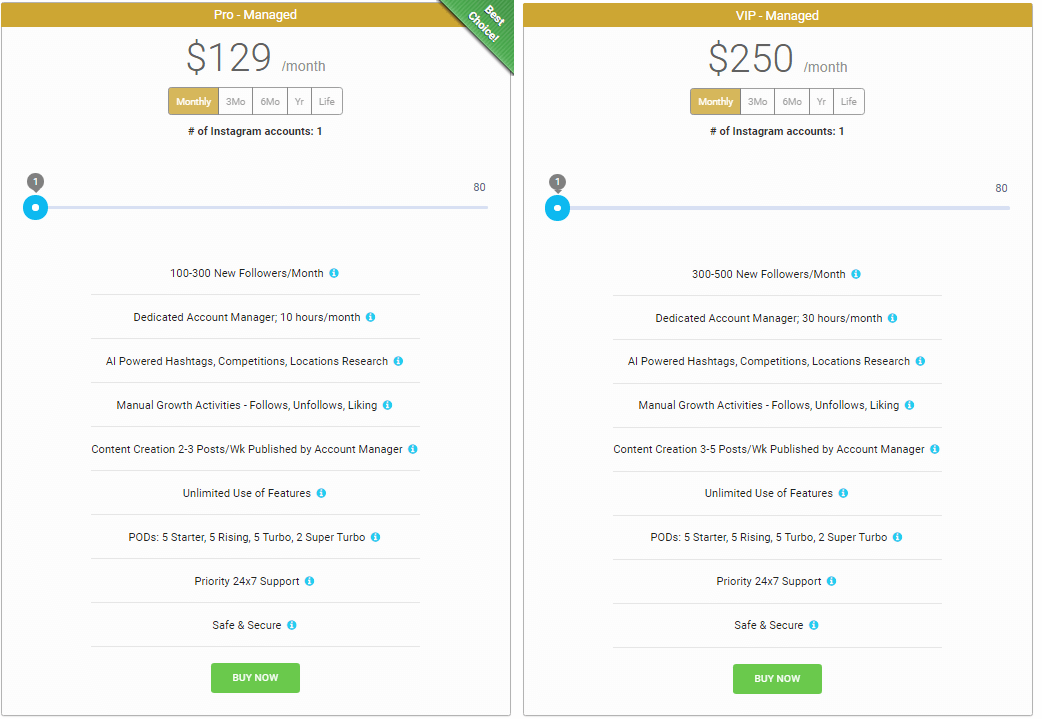 Let me explain how these packages work. After adding your account(s) on the AiGrow dashboard, you can specify what category of niches your account falls into. 
Also, you can determine what type of audience you desire to attract. Adding information such as location and specific hashtags will help AiGrow know your account and business better. 
After adding this information, using AI technology, AiGrow matches you up with a suitable account manager who is a professional in your niche and Instagram marketing.
It's good to mention that you're not dealing with a dangerous Instagram bot here. An actual human being will take care of your account and boost it manually. Your AiGrow Instagram manager can get you up to 500+ guaranteed, real engaged followers per month based on the type of packages you choose.
Moreover, using AiGrow packages, you don't have to worry about your Instagram page's aesthetic part. AiGrow designers can create admirable, successful Instagram posts and write engaging captions for unbelievably fair prices than Fiverr Instagram post design services!
Also, as AiGrow only uses professionals to promote accounts, they are entirely aware of the latest changes on the Instagram algorithm and Instagram daily limits to ensure that your account won't get banned. 
Want to hear another great thing? When you purchase AiGrow packages such as PRO Managed and VIP Managed, you also get free access to all the other promotional tools on AiGrow, such as the scheduler, PODs, and DM to Email. 
Told you! AiGrow is a complete tool to promote your Instagram account. The best thing you can do for your social media success right now is to sign up on AiGrow!
Related article: Safe Instagram Growth Hacking App in 2020
Post and Scheduling
With Instagram packages, you'll get a guaranteed number of followers by Instagram managers. But there are other ways to gain followers, such as using a scheduler to publish Instagram posts at the best times. 
Luckily, AiGrow has a great Instagram scheduler with many additional features that make it the best one.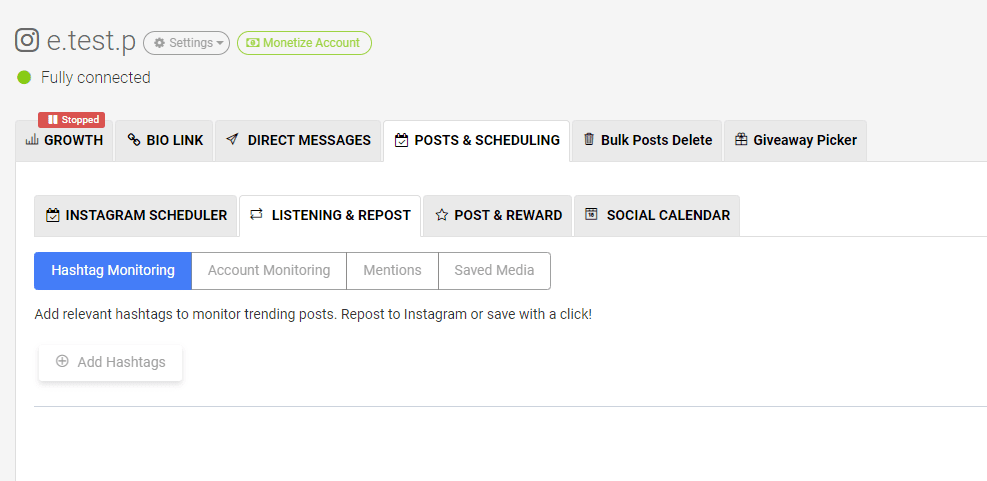 This feature includes a smart scheduler for feed and story (with the ability to add external links to each post), repost mention (which shows you all the posts that you were mentioned on), and the ability to post and reward. 
Also, AiGrow offers several tools for reposting, such as a social calendar (which shows you the upcoming events), listening and repost (you can monitor several accounts and hashtags and repost the selected ones), and the original reposting tool. 
Related article: How to Repost a Video on Instagram Story
Bio-Link
Bio-Link is another fantastic feature of AiGrow that works like a magnet to attract Instagram followers. This tool allows you to have more than one external link on your bio and add links to each of your posts. 

It allows you to drive traffic to your website, create Instagram coupons, and build landing pages. Plus, This is an excellent opportunity to link all your social media to the Instagram bio. Amazing, right?
Giveaway Picker
Giveaways can be time-consuming. You have to handle many tasks simultaneously to ensure an ideal giveaway that will get you the right number of followers and likes. 
Now imagine buying an entirely different service for hosting a giveaway when you can conveniently use AiGrow. This platform offers you two excellent tools for automating your contests and giveaways.
Using these tools, you can simply schedule your giveaway by specifying your giveaway rules, the number of winners, and a deadline. Then, you can just sit back and relax. 
No wonder why many Instagram influencers run successful giveaways! They just know what tool to use!
So, sign up for AiGrow now to get access!
Advantages of AiGrow Compared to Fiverr.
In short, analyzing both AiGrow and Fiverr Instagram followers' services, we can see many more advantages in using a professional brand such as AiGrow for promoting IG accounts. 
Here's a list of some of them:
All-in-one tool

Available for all operating systems

Reasonable prices

Guaranteed results

For all types of account

Managing multiple accounts

Great 24/7 customer support

Manual growth instead of bots

Clear instructions and terms of use

Focus on gaining only targeted audience

Attracting only real and organic followers

Safe and secure promotions without being banned
FAQ on Fiverr Instagram Followers
We began our article with a promise to provide a review for Fiverr and an ideal alternative to using Fiverr. We've kept our word so far! Now, let's see what other questions you've asked.
1- Can I use Fiverr to promote YouTube?
Basically, Fiverr is a marketplace where you can find freelancers. So, you can practically find managers that will boost any social network. This means that using Fiverr to promote YouTube is a possibility.
However, it is not ideal!  So, you will have to accept the same risks involved in using Fiverr for Instagram promotion! 
2- Can I trust Fiverr as a seller?
You might be a social media manager with a lot to offer and looking for a job. Should you trust Fiverr?! The answer is still a big no! 
Unfortunately, Fiverr doesn't offer decent support for the customers or the service providers! Plus, working on a platform that Instagrammers can't trust isn't a sensible decision. 
If you're still not convinced, you can read this review of Fiverr coming from someone who has worked there for a while!
Conclusion on Fiverr Instagram followers' services
In this article, I tried to show you the ugly truth behind Fiverr Instagram followers, so you don't get into the trap. So don't waste your money on a Fiverr Instagram follower you can't count on! 
Why use unauthorized freelancers who only do partial works instead of a top brand like AiGrow that offers all-in-one tools for Instagram promotions?