There are companies in the market for social growth services that claim to deliver guaranteed results. They deceive Instagram users by promising thousands of followers every month. One of them is Social Sensei. But how well do they keep their promises?
This post will focus on Social Sensei to help you decide if it is one of the best Instagram growth services or not. In a nutshell, we will analyze Social Sensei reviews, the strengths and weaknesses of this service, its pricing, features, and everything else you need to know about this Instagram marketing service.
After reading this complete and detailed review of the Social Sensei app, you'll know if it's beneficial like AiGrow or if you should consider it just a dangerous scam that may put you in more trouble.
So, are you ready to start? Now, let's see what SocialSensei can do for your Instagram follower growth.
Why Would You Need the Best Instagram Growth Service
Instagram is a powerful marketing tool that can open up a world of possibilities for free. And Instagram followers are one of the essential requirements for success on the platform. Getting more followers on IG lets you look more legitimate and authentic as a brand.
Furthermore, the number of followers is a good signal of how popular your profile is. So Instagram's algorithm is more likely to push your posts to the Explore Page, giving you a better chance to introduce your IG business account/ brand to a broader audience.
Nevertheless, growing your Instagram followers requires a lot of time and effort. You should provide high-quality and engaging content ideas for your Instagram marketing account and employ Instagram promotions and ads, among many other top marketing strategies, to get unlimited followers on Instagram.
At this point, only Instagram growth services come to your rescue, taking on the entire burden of getting you new targeted followers and helping your business stand out from the competition. However, with so many Instagram follower management apps, services, and agencies popping up every day on the market, it can be highly challenging for you to pick proven Instagram growth tools for real results.
Hence, this post will review Social Sensei thoroughly so that you know how spending your money on this tool will affect you.
What Is Social Sensei
Social Sensei, pronounced as Social Sensay, is an Instagram growth service utilizing a celebrity social media management strategy. More precisely, it claims to operate through partnerships with celebrities and influencers (also known as the Instagram Influencer marketing strategy).
Thus, Social Sensei and its entire service are based on the idea of using powerful Instagram influencers and celebrities to drive new followers to your IG account through promotional giveaways. But stop here first, and check out this Social Sensei review on Trustpilot about their giveaways. It says that Socialsensei uses bots and delivers fake followers.
Let's continue. In this sense, Social Sensei is an Instagram influencer marketing agency that runs Instagram loop giveaways with the famous Instagram influencer community to increase your Instagram followers. As they claim, they have worked with celebrities such as Kylie Jenner and Cardi B. But they never demonstrate it!
However, they don't say which A-list accounts they employ to host your loop giveaway, making the results even more skeptical. Plus, they are highly secretive about their service details, which is worrying.
Social Sensei Different Services
Social Sensei claims to help you grow your socials through a variety of services. When you go to their website and click on the pricing button, you get bewildered by the variety of expensive services.
They provide a number of services, including:
Social media management
Instagram direct messaging campaign
Instagram influencer marketing
Instagram growth through loop giveaways
Instagram engagement
TikTok growth
SEO optimization
For example, their social media management service is hourly, which means they work on your social media accounts in exchange for a fee. However, the prices are prohibitively expensive, and we do not believe it is worthwhile. In essence, all of the packages they offer are so costly that we'll look into them later.
TikTok growth plans are also available from Social Sensei. They teamed up with the Tokative website on this and made it absolutely clear that they assist clients in automatically growing their Tik Tok following. Thus, it is clear that Social Sensei uses bots to do so.
As a result, it is unlikely that they use bots for other services such as Instagram growth. You can scroll down and read Social Sensei reviews to see how many people complained about fake followers!
Compared with Social Sensei, which deludes users with a variety of services that are just for display, AiGrow provides brilliant and clear packages. You never get confused about what packages you need, which we unfortunately encountered on the Social Sensei website!
How Does Social Sensei Work
Source: SocialSensei
Let's see how this Instagram growth service works. According to the Social Sensei website, a growth campaign will involve the following steps:
First, go to the homepage of Social Sensei com. And register for one of their packages.
It would be best if you first defined your target audience. Their most common targeting method to reach Instagram's desired audience is location targeting. Therefore, using this social media marketing service, you can choose your traffic from the United States or other countries. Hence, there is an option between global or United States followers. However, the global follower price is half the cost but offers two times more followers!
You can also attract your target audience based on age, gender, and recent Instagram activity. Defining your target audience is a crucial step as it gives you a better understanding of what your audience needs and likes. You can then use it to develop your promotion according to what your target audience desires.
Then you need to buy one of their packages that fits your budget and target market. If you need help, you can sign up for the consultation package.
In the next 48 hours, their team will be in touch with you about your promotions. Next, they will connect you with the celebrity and influencer to speed up your Instagram social growth, ensuring your account is on the list of accounts that their audience needs to follow in the promotional giveaway. To be more specific, you will be placed on a micro or macro influencers' page, depending on your growth plan.
They will design this promotion around your target audience, business plan, likes, and activities. In this way, allegedly real people, not bots, will follow your Instagram page, hoping to win the promotion.
They allegedly work with influencers ranging in size from Nano influencers to Mega influencers with millions of followers. They simply provide these pricing plans without explaining how they work. Their services are so complicated that even they admit it on their site!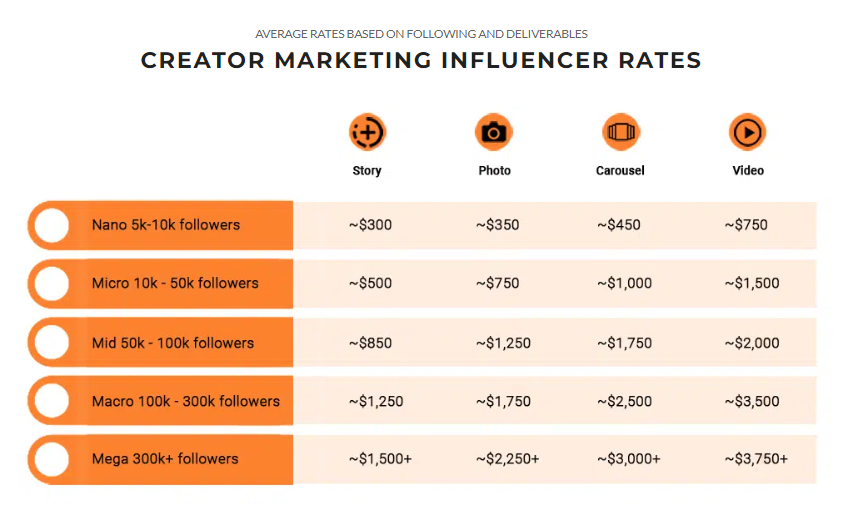 Social Sensei Features
Although Social Sensei has a number of features, they are lacking a few key ones. Some of them include tools for mass deleting Instagram posts, giveaway picker tools, and so on. However, we have already mentioned some of the features that they claim to have.
Audience targeting is based on location, gender, and age.
Celebrity and Influencer Promotion Feature: Social Sensei is a social media marketing software that runs promotional giveaways in partnership with its close network of social media celebrities and influencers.
Supposedly organic growth(however, their use of bots has been proven)
Personal account manager: The account manager will track the growth process, measuring the progress against your target audience. If required, the account manager may also repeat the entire process to ensure you reach your required audience and traffic.
If you're looking for a solution with more flexibility and clearer pricing plans, AiGrow is the way to go. Included in this comprehensive Instagram growth solution are a number of helpful tools. Before, it was analyzed alongside assessments of other services like:
Socialbuddy is the service closest to Socialsensei among those listed here. However, AiGrow is the one we suggest you use.
Social Sensei Pricing
The pricing plan for Social Sensei is divided into more than six categories. They include social media management packages (hourly), Instagram growth through loop giveaways, Instagram direct messaging campaigns, influencer marketing, Instagram engagement, and TikTok growth.
Each of the categories also consists of varying price packages with defined features. Yeah, the Social Sensei pricing system is very complicated! We will investigate some of them here.
#1 Social Sensei Global
This category is designed to bring you followers from all over the world. However, the prices are extraordinarily high, and few people can afford it!
#2 Social Sensei USA
As the name implies, you will only receive followers and audiences from the USA. To set up the Social Sensei USA market, choose one of the following price packages: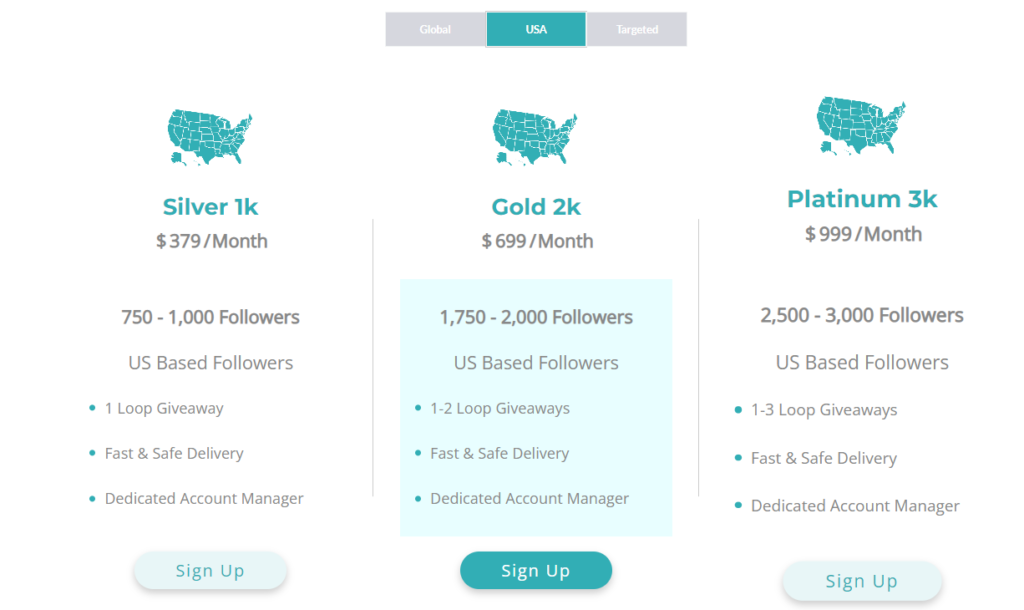 #3 Enterprise 20K – 100K Plus
It is the last category, and it has no defined price. It is mentioned that it costs more than $2,500, which is really expensive! It will allegedly get you between 20,000 and 100,000 followers from specific demographics such as country, age, or gender.
In other words, Social Sensei's Enterprise Plan is customized for each business, and you need to reach out to them to determine if it is the right fit for you. Therefore, its pricing will be decided between you and Social Sensei.
#4 Social Sensei Instagram DM Plan
Instagram direct messages are also available in three pricey packages. When compared to other services like DMpro, Social Sensei's procedure is unclear, and it offers fewer options for Instagram direct messages.
DMpro is a comprehensive IG DM service that allows you to manage your direct messages as a full-fledged manager. You can control your messages from your email and benefit from its link in the bio tool, in addition to a variety of other options. You can read the full DMpro review here.
As you can see, all packages provide priority customer service and a dedicated account manager to grow your Instagram business account. However, according to Social Sensei reviews, they do not offer satisfactory customer service.
Furthermore, as you can see, Social Sensei's cheapest growth option for running a promotion with an influencer or celebrity will cost you at least $499 for the US market. It is ridiculous since they are just going to run one promotional giveaway, expecting you to get 750-1000 followers out of it!
Or, if you sign up for their Global Silver 5K option at a monthly cost of $499, they guarantee a minimum of 2,500 followers. They don't offer a single service for less than $100. Even their Instagram advertising packages cost up to $1000. Please note that this price is what they will charge monthly.
Social Sensei Reviews
This section will focus on Social Sensei, pronounced Sensay, reviews according to customer experiences to discover what real users say about this social media marketing service.
Their onsite customer reviews sound vague and generic. So we leave it entirely up to you whether you believe in them.
Client reviews of Social Sensei have mentioned that their engagement rate has decreased using the service. It means that what Social Sensei provided were fake, low-quality followers. And this quality is not acceptable for $300 per month.
For example, take a look at this recent Social Sensay review on Trustpilot:
"You Will Not Get Authentic Followers with Social Sensei"
Many other unsatisfactory reviews of the service on Trustpilot have gone unanswered. Furthermore, many Social Sensei users have complained that they have received bot or fake followers instead of real or organic ones! If you don't believe it, check out Blavk Hippie's review:
"I had thousands of bots and spam accounts."
Social Sensei customers have written similar reviews, criticizing the service for sending low-quality traffic to their Instagram accounts. Nicolas says, "Genuine scam. They paid for inorganic traffic. I checked where the traffic was coming from, and it came from bot sites. I'm not happy with this company at all. They refused to offer a refund. I paid for bots.''
In addition, when you take a look at Social Sensei Reddit reviews, you will understand its hidden flaws better. Furthermore, we found no evidence of the sites' safety or legitimacy on sites like Scamadviser!
Social Sensei Pros & Cons
In the following, we'll break down some advantages and disadvantages of the Social Sensei app that you must know before spending your bucks on it.
Social Sensei Pros
There is no need to provide your Instagram account password.
They have an HTTP Secure Website.
Social Sensei offers a dedicated account manager.
It offers growth services for getting more TikTok followers.
Social Sensei Cons
Very ambiguous about the details of their service.
Social Sensei's claimed growth is wholly impractical and too generic.
Expensive pricing: Social Sensei prices are astronomical! Only established industries and individuals can overlook the cost.
Despite its high cost, you still have to post and manage content marketing on your own.
Its unsatisfactory customer support can cause trouble if you need help.
There is no mention of the Social Sensei team members on the site.
After promotion, many followers will start losing Instagram followers. Therefore, their Instagram growth strategy doesn't last long.
Social Sensei will not increase your Instagram engagement rate. Who wants an increase in followers without an increase in engagement?
After choosing your growth plan, you can not switch between global and US audiences. You must cancel your current plan and then purchase a new one, which is not user-friendly at all.
Neither do they claim nor do they provide 24/7 customer support. Even their operational hours for priority customer service are limited.
It makes no use of advanced AI technology.
No free trial.
Why Do You Need An Alternative To Social Sensei
I don't believe this service to be a good option available for you, primarily based on negative online customer testimonials, an insecure payment gateway, and very weak customer support.
Additionally, Social Sensei's astronomical prices are not attainable for the average Instagram user. Not only that, there are other services out there that can provide you with the same results for much less money. Like DMpro that we mentioned before.
Also, it has to be noted that Social Sensei's cons greatly outweigh its pros. Hence, we firmly believe that you should not waste your money on Social Sensei. There are some alternatives to Social Sensei that will help you develop your Instagram following without paying those hefty fees.
Indeed, AiGrow & Kiksta are the best Instagram account management services and more budget-friendly options that paying for will be worth it.
AiGrow even performed better than Kickstagram. Please check out this Kicksta complete review to see why it is ranked second to AiGrow.
AiGrow: The Best Alternative To Social Sensei
AiGrow ranks first among the best alternatives to Social Sensei. This service offers guaranteed results at a reasonable price than Social Sensei. In addition to saving time and money, AiGrow also provides the best results in driving high-quality organic followers to your IG account.
Above all, with the AiGrow Instagram growth service, you can delegate all responsibility to your account manager and get released from the burden of content creation strategy. The best part is that it keeps your account safe.
In short, AiGrow is one of the safest, most credible, and most effective services to grow your targeted followers and boost your Instagram business account. AiGrow has extensive new and helpful features that make everything easier for you, from sending automated DMs to running contests and giveaways! We will explore its useful features in the following sections.
Guarantee your success with AiGrow right now!
How Does AiGrow Work
You will go to your account dashboard after registering for free in AiGrow. Registration on the AiGrow platform is free, and you do not need to pay a fee.
Select the growth package that best suits your needs by clicking on 'Upgrade' at the top of the page.
AiGrow asks you to specify your targeting options, including your niche, location, hashtags, and influencers. In addition, AiGrow lets you choose the speed at which it takes action on your behalf.
AiGrow will generate more exposure and awareness for your company by running activities based on your preferences and bringing organic followers to your Instagram page who are highly engaged.
With AiGrows, you don't have to worry about bots, spam, or fake followers.
The service will also assign a dedicated account manager responsible for monitoring your growth strategy, designing your content strategy, increasing your engagement rate, etc.
As a final note, if you have more questions, you can send an email to support@aigrow.me.
Get immediate access to AiGrow features right now!
AiGrow Features
Users have given AiGrow positive feedback. This AiGrow review on the Hoothemes website, for example, demonstrates the service's success. Here are a few of the amazing AiGrow features.
All-in-one Bio-Link Tool: This tool allows you to put as many links as you want on your Instagram bio.
Dedicated Account Manager
Powerful Post Scheduler Tool: AiGrow's Scheduler helps you post your content at the correct time to boost your engagement rate.
Smart Instagram Giveaway Picker Tool: with this tool, you can run efficient Instagram giveaways and contests and choose random winners more fairly.
Effective DM Marketing Tool: This feature lets you automatically send welcome messages to your followers, provide auto-messages, generate more leads, etc.
Instagram Post Deleter Tool
Instagram Analytics Tool & Social Monitoring Tool
PostMate service: PostMate is a feature offered by AiGrow that provides Instagram design plans, personalized content, and more.
Content Repost
AiGrow's Hashtag Generator Tool.
Instagram Unfollow App: AiGrow's Unfollow tool helps identify inactive or fake followers on Instagram, allowing you to unfollow them easily.
24/7 customer support: AiGrow's customer support representatives are always available to help their users.
AiGrow's Features
If you still need convincing, here's a video of what some AiGrow customers have said about the service:
AiGrow's Pricing
A range of growth packages are available to suit your business needs at AiGrow. Please note that when you are using AiGrow, you'll be working with an experienced account manager. As a result, the price will be well worth it.
AiGrow's Growth Plans
Get more out of Instagram with AiGrow.
AiGrow Vs. Social Sensei: Final Verdict
| | | |
| --- | --- | --- |
| Features | Social Sensei | AiGrow |
| Managed Growth Plans | ✅ | ✅ |
| Account manager | ✅ | ✅ |
| Organic Growth. No bots, spam, or fake followers. | ❌ | ✅ |
| Providing Instagram content strategy assistance | ❌ | ✅ |
| Sustainable growth | ❌ | ✅ |
| Advanced AI technology | ❌ | ✅ |
| Designed templates for content (feeds/stories). | ❌ | ✅ |
| Instagram post and story scheduling tool | ❌ | ✅ |
| Multiple links in bio. | ❌ | ✅ |
| Instagram post deleter tool | ❌ | ✅ |
| Instagram unfollow tool | ❌ | ✅ |
| Mass DM marketing tool | ❌ | ✅ |
| Advanced and varied filtering & targeting options | ❌ | ✅ |
| Instagram Analytics Tool | ❌ | ✅ |
| Human-driven + advanced AI growth strategies | ❌ | ✅ |
| 24/7 customer support | ❌ | ✅ |
| Trustpilot Score | 4.1 | 4.6 |
AiGrow Vs. Social Sensei
FAQs On Social Sensei
Here are some frequently asked questions about the Social Sensay growth service. Check them out and find the answers you need.
Q1. Is Social Sensei Legit?
Social Sensei uses celebrities and Influencers (allegedly not automated bots) to grow your Instagram followers organically, which is a working and legit method to improve your online presence. But your Social Sensei followers may not engage with your content or might even unfollow your page immediately after the contest or promotion. Additionally, you still need to work hard and post high-quality content consistently on your own to retain those new followers you just gained.
Also, according to a significant number of Social Sensei's negative reviews, many users received fake or untargeted followers after using the service. The Social Sensay scam project does not deliver its claims and promises. Therefore approach it with caution.
Q2. How To Get Social Sensei Discount Code?
Social Sensei has no free trial option, but they release a coupon code once in a while. You can get a 10% off the Social Sensei discount code by clicking here. Additionally, you can visit this website to receive Social Sensei promo codes.
Q3. Growthoid Vs. Social Sensei: Which Ranks Higher?
The most frequently asked question is about Growthoid. The question most people ask is: Is Growthoid legit? The short answer is yes. According to Growthoid LLC reviews on Trustpilot, it ranks much better than Social Sensei.
Nevertheless, AiGrow remains our top priority when choosing the best growth service. It provides extra features and targeting options to help grow your Instagram account organically.
Delegate your Instagram growth to AiGrow.
Conclusion on Social Sensei Review
Overall, Social Sensei is a complicated and over-promising platform, with ridiculously high prices and nothing much to back them up. Above all, the Social Sensei Instagram growth strategy doesn't last long and has no impact on your engagement rate. So, SocialSensei is not an Instagram growth service worth it if you are looking for more consistent and cost-effective growth outcomes.
We recommend using the AiGrow Instagram growth service. Our recommendation is based on several factors.
Firstly, AiGrow is more affordable and has better customer testimonials than Social Sensei Instagram reviews. Moreover, Aigrow offers a wide range of features with 24/7 customer support, letting you sit back while your following grows organically and safely at the lowest possible price and time.