Do you enjoy window shopping? Then shopping on Instagram will definitely amaze you!
Moreover, Instagram shopping provides a profitable opportunity for anyone who wants to start an online business. But do you know how to set up Instagram shopping?
Features such as Instagram Stories, Live, and Reels allow Instagram Shop owners to showcase and advertise their products. IG shop also is a good feature for Instagram influencers to interact with customers in a fun and creative way and promote products.
If you are interested in selling your products online using Instagram Shop, you've come to the right place. We will cover all the steps to set up your Instagram shopping account immediately.
This article will suit your demands if you are looking for more tools to build your following using AiGrow or work with the right influencers using Ainfluencer.
First, let's explain what Instagram shopping is and what it can do for you.
What Is Instagram Shopping
According to stats, 44% of surveyed respondents shop weekly on Instagram. Instagram Shop also provides a quicker shopping experience. It eliminates a buyer's journey to click numerous links to purchase their desired products.
They can simply go through catalogs or shoppable posts and see the products' prices right from the Instagram app.
Instagram Shopping is an eCommerce feature within Instagram where users can sell their products through a series of photos or videos. As it is free and straightforward to set up, Instagram Shopping is an excellent platform for anyone looking to make money online.
However, there are other ways to sell on Instagram without setting up an IG shop page, but using this feature, users can choose the products they want and buy them through Instagram checkout. This simplifies the purchasing process.
Instagram users can discover all Instagram Shopping accounts through the Instagram Shop tab. They can find brands, browse all the Instagram shoppable posts, and purchase directly from the app or another website.
To check if it is an Instagram Shoppable post, simply look for a shopping bag icon and a link to the product details.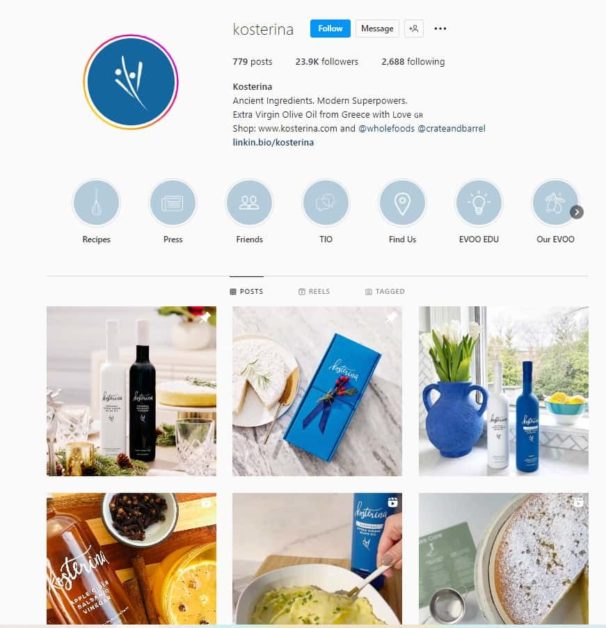 Let's look at some of the prominent Instagram shopping features:
Product tags. With product tags, customers can learn more about items from your catalog.
Product detail page. This page uses information from your catalog to display an item's price, images, variations, and detailed descriptions.
Collections. Enhance the user experience by organizing your products into categories. Make it easy for customers to discover the best-selling or latest products without having to scroll around your entire Instagram page.
Live Shopping. Instagram live shopping lets you sell your products and interact with your followers in real-time.
Due to the Instagram algorithm, your shop on IG can also appear in users' Homes or Explore feeds based on their most recent activity, such as liking relevant posts or following certain brands.
Different Types of Instagram Shopping
Instagram shopping posts, due to Instagram checkout, make it easy for consumers to shop straight on the platform. Influencers, corporations, and brand ambassadors can directly tag products in their posts.
Instagram checkout was first introduced in March 2019 for almost 25 brands, including Channel, Nike, and Zara. But now businesses and creators who are eligible in the U.S. can use the checkout on Instagram.
E-commerce features on Instagram are steadily improving, and now Instagram is testing features that allow users to try on products virtually. To do so, they provide Instagram Stories AR filters.
Additionally, Instagram's e-commerce types are as follows:
Instagram Shops
Instagram Feed Post Shopping
Instagram Stories Shopping
Instagram Live Shopping
Instagram IGTV Shopping
Instagram Reels Shopping
Instagram Guides Shopping
Instagram Shopping using Influencers and Creators
For example, using Instagram Reels shopping, you can create short advertising videos, add music, tag products, and share them on Reel to make them viral.
Why Sell On Instagram
Before addressing the issue of how to set up Instagram shopping and how to sell on Instagram, let's discuss several reasons it might be worth marketing your products through Instagram Shop.
Better Exposure
Promoting your products with Instagram Reels or stories can be an excellent way to expand your IG followers, as Instagram users can share your Reels. This can lead to more people discovering your brand and purchasing your products.
Visual Marketing
As Instagram is an excellent visual marketing platform, you can share engaging visual content like photos or videos to run your Instagram shop more productively. This marketing approach can help boost brand recognition and conversions.
If you don't have a website, an IG shop can act as your website on Instagram. Then you can imply your marketing strategies to your page and maximize the benefits of Instagram shopping.
Easier Checkout Process
After the first completed transaction, Instagram Shop will save the users' details like names, email, and shipping addresses. Hence, they will have an overall enhanced checkout experience the next time they shop.
Customers will also receive notifications about the order's shipment status. Keep in mind that Instagram Checkout charges a %5 transaction fee per shipment.
In-App Analytics
Instagram shopping accounts will have access to IG Insights. Instagram insights provide information about the performance of your account and posts.
Using this in-app analytics tool, you can create more relevant content that resonates with your target customer base and refine your marketing efforts.
Here are some key metrics to track from Insights:
Interactions. Find out what users do when they see your posts. Possible interactions include likes, comments, or profile visits.
Follows. See how many followers you get from a single post.
Most Active Times. Find out when your followers are most active, as this is the best time to upload your posts and stories.
Now that you know how much the Instagram shopping feature helps you to sell on this platform, let's learn how to set up an IG shop.
How To Set Up Instagram Shopping
Although you can sell on Instagram by getting more followers, as well as other methods we'll discuss, you may want to know how to set up an Instagram shop. Remember that you should pay for selling fees by setting up an Instagram shop.
Ready to set up your IG shop? Follow the steps below to start your Instagram shopping journey.
1. Check All The Requirements
The first step is ensuring your Instagram shopping account complies with the Commerce Eligibility Requirements. Failing to meet these requirements can lead to losing access to Instagram Shop, Facebook Commerce, or a completely disabled account.
Here's an overview of the requirements to fulfill:
Approved markets. Ensure that your Instagram business is included in the list of available markets.
Sell eligible products. Instagram Shop does not allow users to sell some products, services, animals, or medical supplies. Moreover, it is also against the rules to list product photos that do not match the descriptions.
Verify your domain. To confirm your domain's ownership, you'll need to complete Instagram's Domain Verification process.
Demonstrate trustworthiness. Always provide accurate information when selling your products. Provide transparency in your product's prices, availability, and return or refund policies.
2. Switch To A Business Or Creator Account
Only Business or Creator accounts can set up Instagram shopping. Hence, you must switch your regular profile to an Instagram business account.
Once completed, you'll have access to the Professional Dashboard, where you can monitor your account's performance and gain access to Instagram-curated educational information.
Follow these steps to switch your account to an Instagram business profile:
Access your profile's Settings by tapping the three-line menu icon in the top right corner.
Click on Account, find the Switch to Professional Account option, and tap Continue.
Select and confirm your chosen Category and tap Business.
Add your contact information and tap Next. You can choose the 'Don't Use My Contact' option to skip this step.
Then, you'll be asked to connect your business account to a Facebook Page. This step is optional, and you can adjust it at a later time.
Your Instagram Business account is all set up. Tap X on the top right corner to return to your profile.
After creating your business account, optimize your Instagram profile to represent your brand image best. Your Instagram name, profile photo, and bio can help potential customers decide to follow or purchase from your brand.
Create a well-crafted bio and use a clear image that fits within the Instagram profile photo's frame.
3. Connect Your Facebook Page To The Instagram Shop
It is mandatory to complete this process, as your Facebook business page will sync your Shop's inventory. Here are the steps to link your Facebook page to the Instagram shopping account:
Go to your profile's Settings, select Accounts Center, and tap Set Up Accounts Center.
Click the option to Add Facebook Account and log in with your Facebook credentials.
Follow the suggested instructions to complete the process of connecting your Facebook Page to your Instagram Shop.
This step will save you time from creating two separate posts to sell your products. Moreover, you can compare metrics and insights between two platforms to help tailor and optimize your content and marketing strategies.
4. How To Set Up Instagram Shopping; Upload Your Product Catalog
Now, it is time to start adding your product catalog. This is where users will be able to find your product photos, titles, descriptions, links, and prices.
Hence, it is best to include comprehensive information about your products. You can upload the product catalog through Facebook's Commerce Manager or integrated eCommerce platforms like Shopify and sell on Instagram using them.
You will have to upload and manage your products with the first method manually. Meanwhile, the second option lets you import your product catalog from popular eCommerce platforms like Shopify and BigCommerce.
When uploading your product catalog, ensure your images are well-captured by showing every angle. Additionally, share images with the best size. Doing so will set the customers' expectations right.
Use a clear or white background to make your product stands out. In addition, include details on the product's variations, materials, colors, or sizes.
5. Submit Your Shop For Review
You'll need to submit your account for review and approval to use your Instagram business profile. Here's how to do it:
Navigate to your account's Settings and click on Sign Up for Instagram Shopping.
Follow the prompts to submit your Instagram Shop for review.
Once completed, you'll be able to check your approval status by visiting the Shopping option under Settings.
Typically, Instagram will approve your submission within a few business days. You will receive notifications upon approval or if any further information is required.
6. Add Details To Your Instagram Posts
Once you've completed the above steps, it is time to create Instagram shopping posts. Start by adding shopping tags to your Instagram posts. Instagram Shop allows you to tag up to five products on a single-image post and 20 products on a carousel post.
In addition, use shopping tags in your Instagram Stories. Cross-check all the product tags and ensure they point to the correct links. Besides the product tags, you can only put a clickable link in your bio.
Links do not work in captions or comments, so always remind your followers to click the link in your bio that will lead them to an external website.
So, now that you've learned how to set up Instagram shopping, it's time to market your shop and sell your products and services on Instagram. So, continue reading.
9 Tips To Promote Your IG Shop And Sell Your Products
Now that your Instagram Shop is running, it is time to get the word out. Leverage Posts, Stories, or Live to build excitement toward your product launch.
Here are several best practices to promote your Instagram Shop and sell more on Instagram.
#1 Maintain Consistency Across All Your Posts
Use the same writing style, brand voice, and content concept on your shopping posts. Not only will it help create a unified overall Instagram feed architecture, but your followers will also be able to identify your brand's unique personality.
You can do this by hiring an Instagram manager. AiGrow is the most effective Instagram growth service on the market. You can share eye-catching content alongside captivating captions by using the AiGrow Content Creation Plans.
#2 Use Relevant Hashtags
Using the right hashtags on your Instagram shopping posts can increase brand recognition, engagement, and conversions. There's a good chance you'll gain new followers and customers from people who search for what you sell and promote through hashtags.
Moreover, you can also use hashtags that your competitors use on their top-performing posts.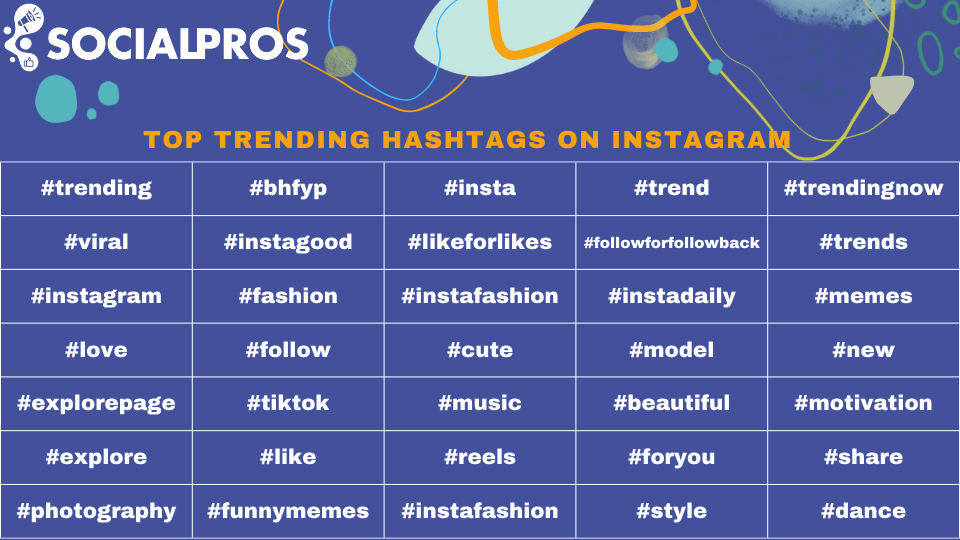 In your posts, you have the option to include up to 30 hashtags. However, it is best to focus on the ones that are most likely to bring attention to your account. Furthermore, a post containing dozens of hashtags can only make your post look cluttered.
Therefore, if you're going to add more than three hashtags, it's better to put them in the comment section.
If you are unsure about whether hashtags are appropriate for your business, AiGrow's hashtag-generating tool can assist you. Read the AiGrow review to learn everything there is to know about this outstanding growth agency.
#3 Host an Instagram Live Shopping
An Instagram Live session helps boost customer trust as they will be able to interact with real people behind your Shop. You can host a virtual product launch or Q&A sessions.
Be sure to inform them in advance so they can help spread the word about the upcoming live stream – leading to more potential viewers tuning in and discovering your brand.
You can run a live shopping broadcast. Instagram Live Shopping is a common feature of eCommerce for businesses in the United States. Checkout is now available on Instagram during live broadcasts for users.
Instagram's Live Shopping feature enables live interactions between brands and consumers. Additionally, it enables them to arrange product demonstrations and stimulate live audience purchases.
#4 Offer Promotions and Giveaways
These marketing strategies help generate buzz for your new products or upcoming special offers. Create a post or story that advertises your giveaway, sale, or contest. Then, invite your followers to repost it with a specific hashtag to enter.
Alternatively, use Instagram Live to host your giveaways and interact with your followers in real time.
To run a successful giveaway, you must first understand the giveaway ideas and guidelines. To select the winner, you must also use a reliable giveaway picker tool.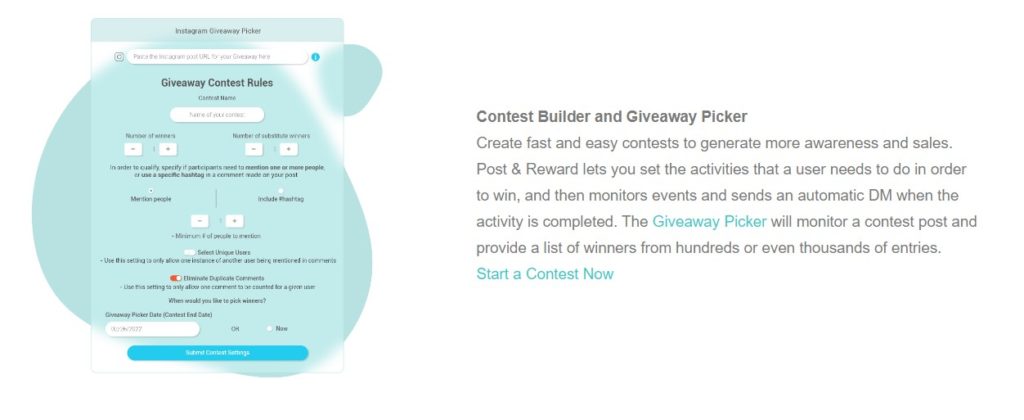 AiSchedul is the best scheduling tool available that provides users with an efficient giveaway picker. It also allows you to schedule IG posts and share them automatically at any time and from any location.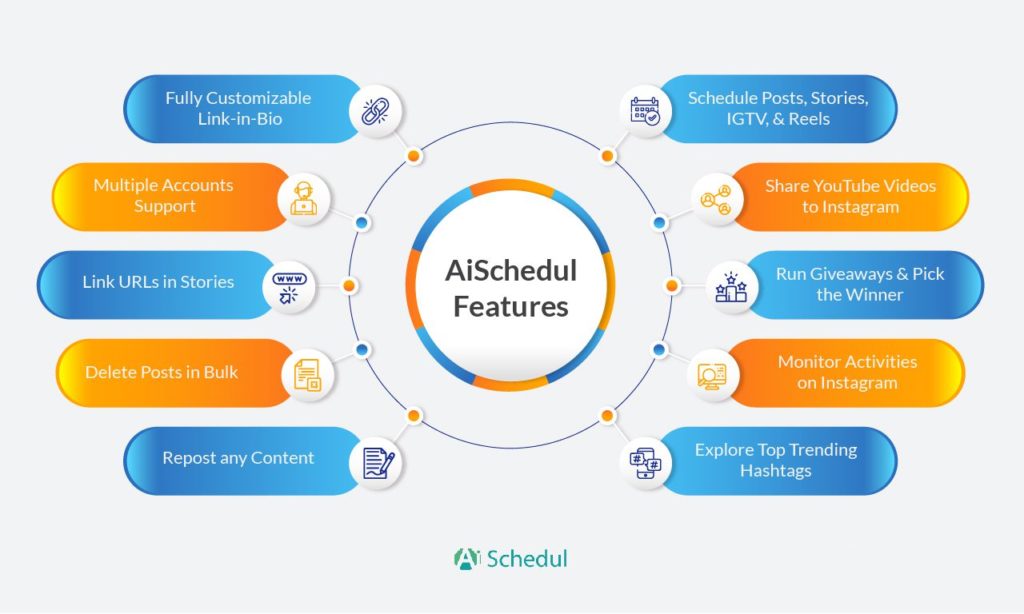 #5 Work With Instagram Influencers
Influencer marketing refers to a paid endorsement with an Instagram account with a large following. As influencers will promote your brand in a conversational tone, determine how you want them to convey your message.
When identifying influencers, use engagement rate calculators like Phlanx or inBeat to see how engaged an influencer's audience is.
You can also use top influencer marketplaces, such as Ainfluencer, to locate influencers. This influencer marketing platform allows brands to locate influencers, and if you're an influencer seeking brands to work with on Instagram, it can assist you in finding the most relevant brands.

Ainfluencer offers you a user-friendly dashboard and a wide range of capabilities. Using this influencer marketplace, you may look at influencer engagement rates and determine whether or not your contribution will be successful.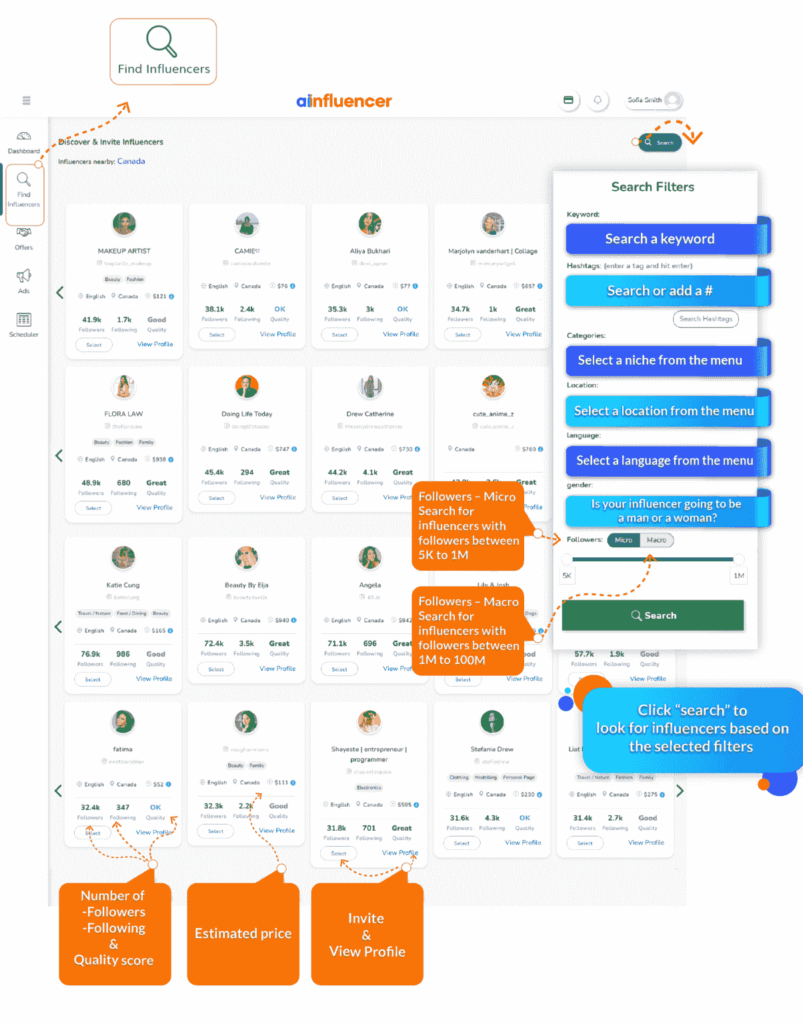 #6 Create Entertaining Videos
Another excellent way to promote your Instagram Shop is through entertaining yet informational video content. Create engaging Reels and Stories that customers will want to tap on and watch until the end.
Play with a wide range of filters, audio files, and augmented reality (AR) effects to make your videos even more interactive, leading to more views and engagement.
When promoting your products through Stories, add elements like stickers, emojis, GIFs, filters, or polls. For long-form video content, create your videos with beginner-friendly video-editing apps like Filmora, InShot, or Magisto, then publish them to your Feed.
Experiment with your creativity to produce videos that grab people's attention to learn more about your brand.
#7 Publish Informative Posts
Users are more likely to stick around if your account consistently produces interesting and helpful Instagram posts. Create your posts and stories based on your best-performing blog entries by highlighting the most important points, then use a relevant image.
Alternatively, you can share an infographic that's related to your brand – just don't forget to tag its source.
#8 Share User-Generated Content
Sharing or reposting photos and videos from your customers will make them feel appreciated. In addition, you can show appreciation to your customers by replying to comments, direct messages, or emails. To improve your brand further, be sure to ask for feedback and suggestions.
#9 Use Paid Advertising
If you want to use paid advertising, Instagram promotion and IG ads can be great choices. Your posts will appear on users' feeds, Stories, or Explore pages. A regular post is distinguished from an ad because the latter contains a 'sponsored' label, links, and CTA buttons.
You may set up Instagram shopping more effectively by using these suggestions. Let's look at some alternatives to Instagram shopping now.
What You Can Do If You Are Ineligible for Instagram Shopping
As you may be aware, e-commerce capabilities such as Instagram Checkout are not for everyone. Furthermore, many users may be upset with Instagram's transaction fees. Businesses may potentially lose vital user data, such as emails.
So, what should you do if you are not eligible for Instagram Shopping? Fortunately, there are alternative methods for increasing traffic to your online store without using the IG shop feature.
Here's how to make the most of the position while still growing your Instagram business.
Grow Your Instagram Organically And Attract Customers
If you use Instagram for business, you do not have to use the Instagram shopping tool to run a store and attract customers. You may create a page, post eye-catching content, attract targeted followers, and market your products.
You can connect your website to Instagram and encourage your followers to visit your website and purchase your stuff. You may also use DM marketing to promote your products and receive orders from your direct messages.
But what if you don't have time to accomplish all of these things, such as increasing your followers, sharing your posts, and engaging in DM marketing? AiGrow is here to support you!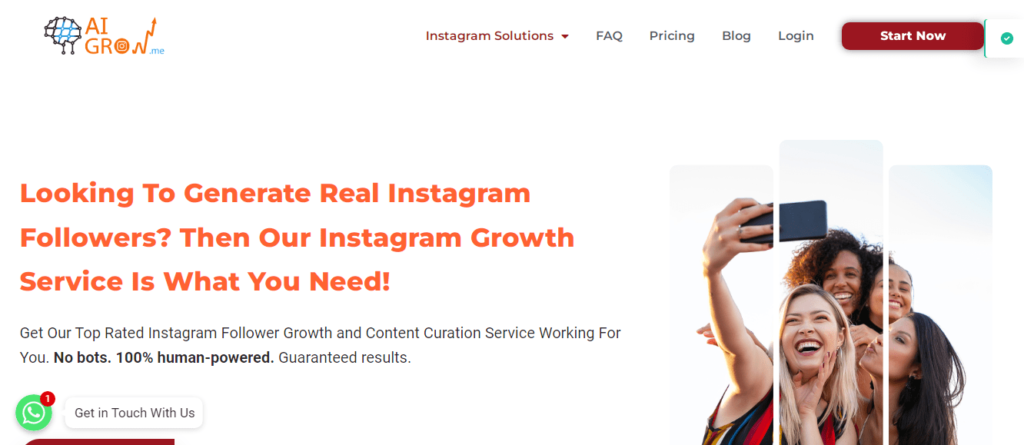 As we previously discussed, it takes a lot of your valuable time to run your business page on Instagram and draw potential customers.
If you don't have the time to build an organic following, schedule posts, or share them at the best times on the platform, etc., AiGrow can assign you a dedicated account manager to handle your Instagram account.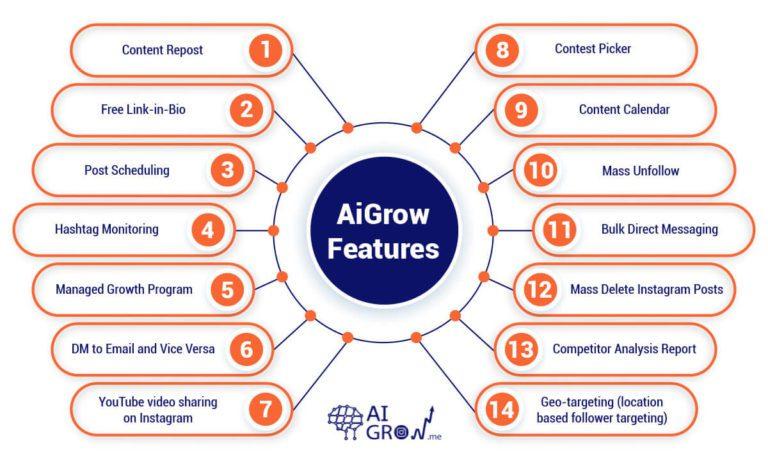 As seen in the aforementioned image, AiGrow offers you everything you need to develop your Instagram account organically. Their staff includes Instagram experts that are available to assist you round-the-clock.
If you're still not persuaded, check out the video below to hear what real AiGrow customers have to say about this fantastic service.
Add Clickable Link In Your Instagram Bio
By incorporating a link in their bio, businesses can be identified simply and generate revenue from the Instagram posts they publish. To add clickable links to your Instagram bio, certain firms offer a link-in bio tool.
We can ensure the effectiveness of two services. My.URLs.bio is one of the best services that allows users to include URLs in every Instagram post. This helpful tool can convert your feed into a clickable, customized landing page.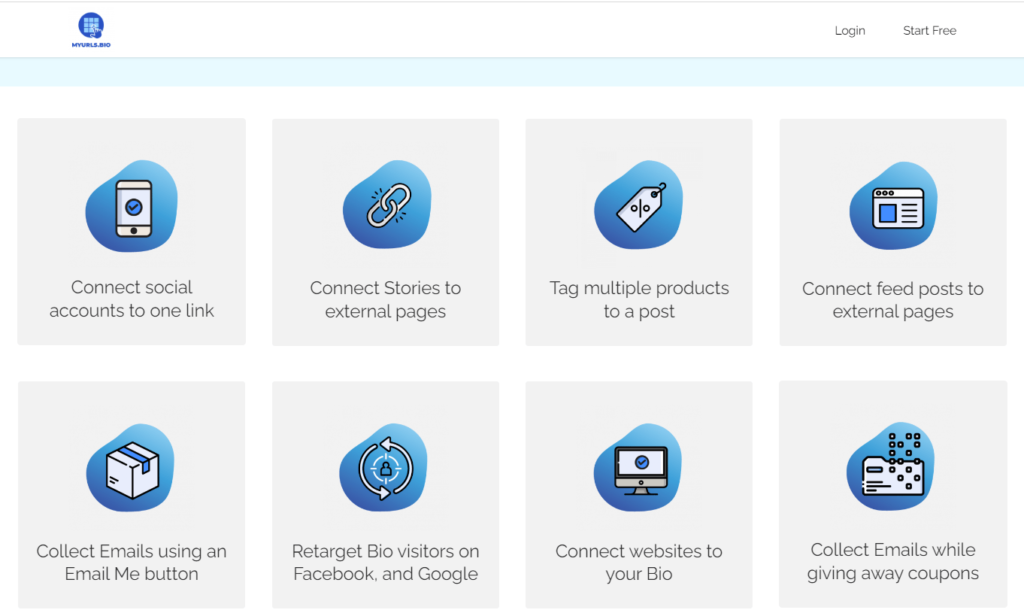 You can add any link to your Instagram bio by using My.URLs.Bio.
Additionally, you can create a captivating landing page that your customers will like.
BrandID is another service that you can use. People can explore your related posts and shop your feed if they click the link in your bio.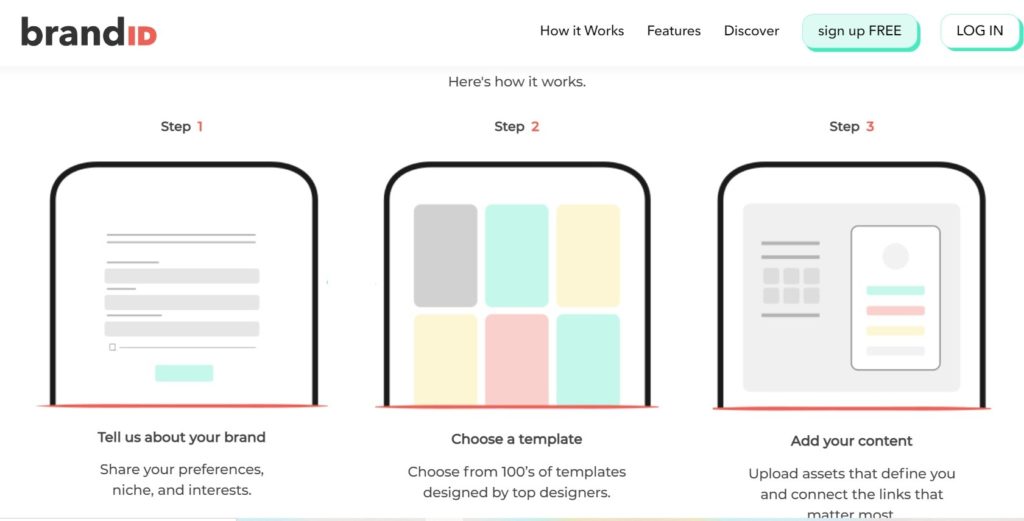 BrandID allows potential customers to browse your product inventory and make an immediate purchase. To design a landing page that stands out, choose a template based on the characteristics of your business and include your links using BrandID!
Of course, creating an Instagram Shopping account is only the beginning. It is now time to market and sell your products. Make a commitment to producing high-quality material that promotes your items.
Write concise and compelling CTAs that encourage users to shop on your page or site on Instagram, and remember to answer any queries that may arise.
FAQs on Instagram Shopping
We attempted to address every aspect of how to set up Instagram shopping and sell goods. Although there may still be unanswered questions, we have tried to answer some below.
Q1. How Much Is The Selling Fee For Instagram Shopping Posts?
When you enable shoppable posts, there is no cost to apply. However, there may be charges associated with establishing a store on an e-commerce platform.
The selling cost is 5% per shipment or a flat fee of $0.40 for shipments of $8.00 or less, according to the Instagram Business Help Center.
Q2. Is Everyone Eligible For Instagram Shopping?
Instagram Shopping is not available to all business accounts. Instagram has recently released a complete list of countries and territories where the feature is available.
Two years after its first introduction, Instagram Checkout has expanded to various other locations, yet many people remain unable to use it.
Q3: How To Add Shopping Links or Tags To Instagram Posts?
It's time to start tagging things that you've set up on Instagram Shopping.
How to include product tags in your posts:
Tap the post.
Choose a photo or video and customize it with a caption, effects, and filters.
Tap Next, then tag products.
Tap the products you want to tag in the photo or video.
Search for the products you wish to tag, then choose them from the results.
Q4. How To Pay For Instagram Shopping Products?
Visa, Mastercard, American Express, Discover, and PayPal will be accepted.
Conclusion On Set Up Instagram Shopping
Instagram Shop provides a quick way to start making money online or further expand an existing business. By knowing how to set up Instagram shopping combined with a few best practices to promote your Shop, you can bring in profits from this popular social media platform.
Here's a recap of the seven steps to set up your Instagram shop:
Check all the requirements
Switch to a Business or a Creator account
Connect your Facebook Page to the Instagram Shop
Upload your product catalog
Submit your shop for review
Add details to your Instagram Posts
Promote your Instagram Shop
Grab this opportunity to create your own successful Instagram shop. Good luck!
To make your task easier, use third-party tools like AiGrow to grow your following organically and gain access to a targeted audience.