Are you looking for a game-changing solution to boost your social media presence? If so, you may have heard of Social Boosting—a platform that promises to enhance your online presence. But before investing in it, it's wise to wonder: is SocialBoosting legit or reliable to use, or is it a scam that is intended to deceive you with the promise of success?
In this comprehensive social Boosting review, we've got you covered. Get ready to uncover the truth about this Instagram growth service as we delve into its pros and cons, pricing, and more. Whether you're a small business owner or an ambitious entrepreneur, we'll provide you with all the information you need to make an informed decision. So, buckle up and join us on this enlightening journey to determine if Social Boosting is worth your time and money.
Do You Want to Grow Your Instagram Account 100% Organically & Safely?
What Is Social Boosting
SocialBoosting is a platform that provides paid media services to help individuals and businesses grow their social media accounts effortlessly.
It supports popular platforms like Instagram, TikTok, Spotify, YouTube, and SoundCloud. With nine different packages available for each service, users can increase their followers, likes, and views on Instagram or TikTok.
Additionally, Social Boosting offers Spotify packages for plays, followers, and monthly listeners. There are also YouTube packages for buying subscribers, likes, and views.
Furthermore, aspiring musicians can gain exposure, recognition, and a dedicated fan base through its SoundCloud packages. Therefore, SocialBoosting promises to help users enhance their social media presence through the paid marketing strategies offered via SocialBoosting.
Social Boosting Vs. Social Boost; Do They Differ?
Yes. Social Boosting and Social Boost differ from one another in social media marketing, despite their similar names.
Social Boosting, with its website at https://www.socialboosting.com/, offers services aimed at boosting social media engagement and following on platforms such as Instagram, TikTok, YouTube, and Spotify.
On the other hand, Social Boost, found at https://social-boost.co/, is another platform focused mainly on Instagram marketing. Therefore, these two services are different, and you need to be careful when choosing between them.
Social Boosting Services
Social Boosting is a platform designed to enhance your social media presence and engagement. The following sections will give you more information about the services it provides.
#1 Social Boosting Instagram
Social Boosting Instagram marketing is a paid media service that offers a range of packages to help individuals and businesses get more Instagram followers, likes, and views. With nine different packages available, users can select the desired package, provide their information, and proceed to checkout.
#2 Social Boosting TikTok
Socialboosting offers an enticing array of nine packages for TikTok followers, likes, and views. Starting from just $5.00, you can get 100 followers and witness your TikTok presence flourish. For likes and views, packages begin at $4.50 for 100 likes and $4.00 for 1,000 views.
Their premium packages provide up to 50,000 followers, 5,000 likes, or a whopping 400,000 views for unbeatable prices.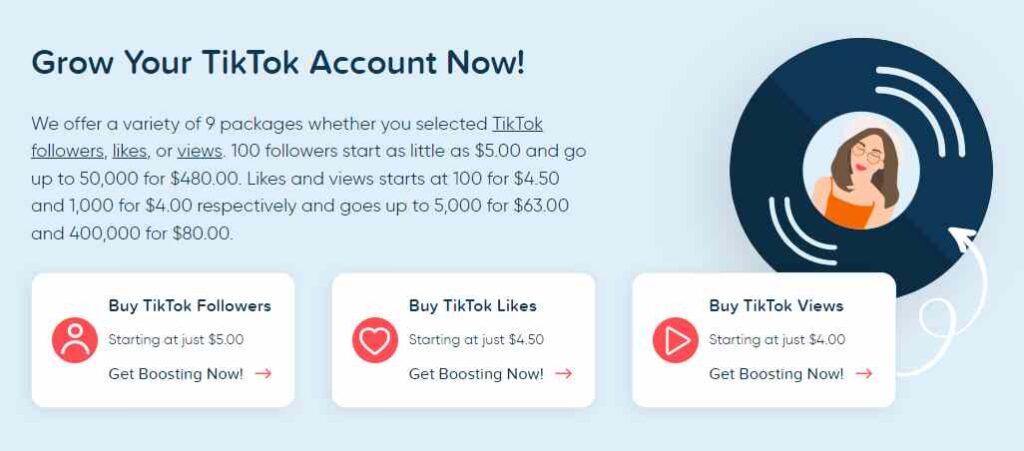 TikTok services from SocialBoosting offer the following benefits:
High quality and authenticity: SocialBoosting claims that every follow, like, or view you receive through their packages comes from real and active TikTok users, ensuring credibility.
Algorithm compliance: They state that using authentic TikTok community members in their service helps avoid suspicion from the TikTok algorithm, potentially mitigating any violations of TikTok's terms of service.
Drip-feed feature: Their service allegedly allows you to receive TikTok likes, views, or followers in multiple runs, creating a more organic growth pattern for your account.
Re-fill feature: SocialBoosting promises that any unfollowers from their TikTok package will be replaced with other active and authentic followers at no extra cost.
Money-back guarantee: They claim to offer a money-back guarantee if you are dissatisfied with their service.
24/7 customer support: SocialBoosting assures that their customer care staff is readily available at all times to provide friendly and supportive assistance.
These claims have not been verified for effectiveness or accuracy, and further research is recommended before making a decision. For more information on its services, keep reading.
Boost Your Knowledge on TikTok: TikTok Trends You Must Know to Go Viral [+30 Trends]
#3 YouTube Services
Whether you're an experienced content creator or just starting, explore their YouTube Subscribers, Likes, and Views packages, claiming to cater to your specific needs. Prices range from as low as $3.50 to $380.00, ensuring affordability for creators at any stage.
#4 Spotify Services
Socialboosting also offers exceptional SoundCloud services to unlock your music potential.
Boost Your Knowledge on Instagram: Instagram For Musicians: How to Make Money with Music
#5 Soundcloud Paid Media Strategy
Social boosting promises to benefit SoundCloud users by providing paid media strategies that unlock their potential as artists. With its Soundcloud packages, musicians can take their careers to the next level and reach the right audience.
Related Resource: How to Add Music to Instagram Posts, Stories & Reels
How Does Social Boosting Work
SocialBoosting is a platform that offers a range of services to enhance social media engagement. Upon visiting their website, you'll notice a selection of social network buttons that grant access to their services. The platform provides options to purchase followers, likes, and views, allowing users to tailor their desired quantity.
It's crucial to note that SocialBoosting offers these services by means of a unique approach, but the exact methods they employ are not explicitly disclosed, nor are they known to the general public.
How to Use the Service?
To leverage SocialBoosting benefits and enhance social media engagement, follow these simple steps:
Explore Social Boosting packages:

Browse through the available packages on the website.
Take a look at the various options and services they offer.

Select a suitable package:

Choose the package that aligns with your specific needs and goals.
Consider factors such as followers, likes, or views, depending on your desired engagement.

Provide your account information:

Fill in the required details, including your username and email address.
Ensure the accuracy of the information provided for a seamless process.

Proceed to checkout:

Follow the checkout process outlined on the website.
Review your order summary and confirm your purchase.
Read More from SocialPros: Path Social Review: Is Path Social legit?
Social Boosting Reviews
Social Boosting, although somewhat popular, remains a mystery for many curious consumers due to its limited presence outside of its own website. This lack of information raises concerns and questions about its reliability and transparency. Additionally, the company has received negative reviews on Trustpilot, with a low score of 2.7 out of 5.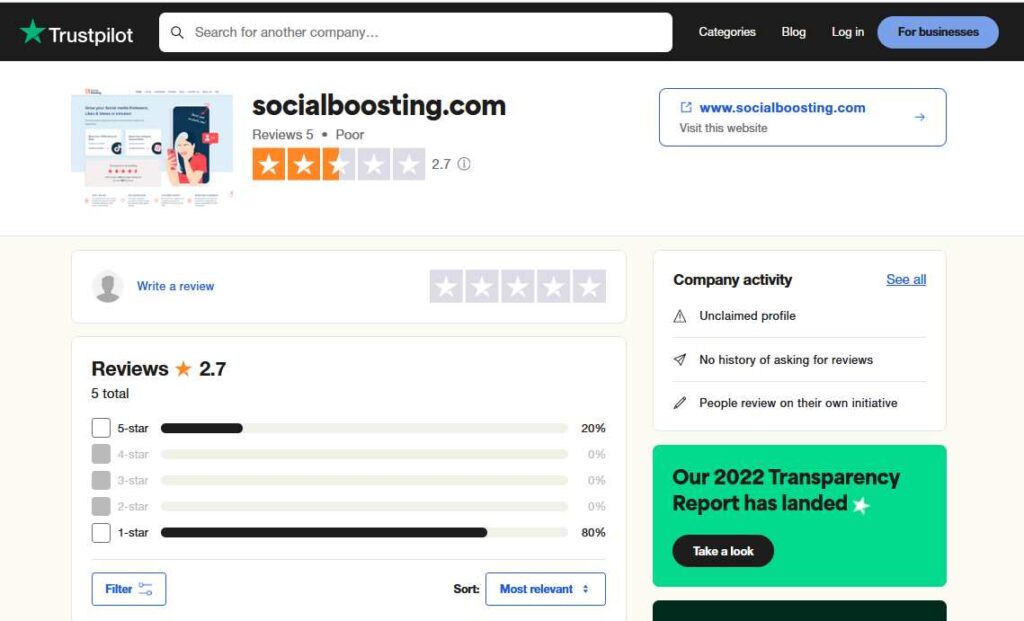 One Social Boosting review highlights a fraudulent experience with the company, describing deceptive tactics and false promises. This raises doubts about Social Boosting's trustworthiness and suggests a lack of ethical business practices.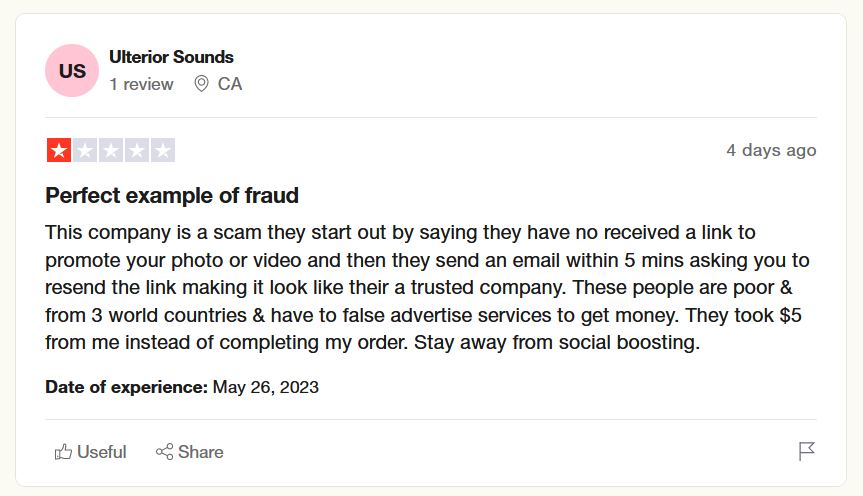 Another dissatisfied customer expressed disappointment with the quality of the accounts, noting that they were predominantly from non-English speaking countries and lacked engagement and conversions. This further undermines the company's claim of providing high-quality followers. Be aware that this service increases the likelihood of receiving inactive or fake followers. As stubborn shadows that refuse to fade away, these followers will cling to you.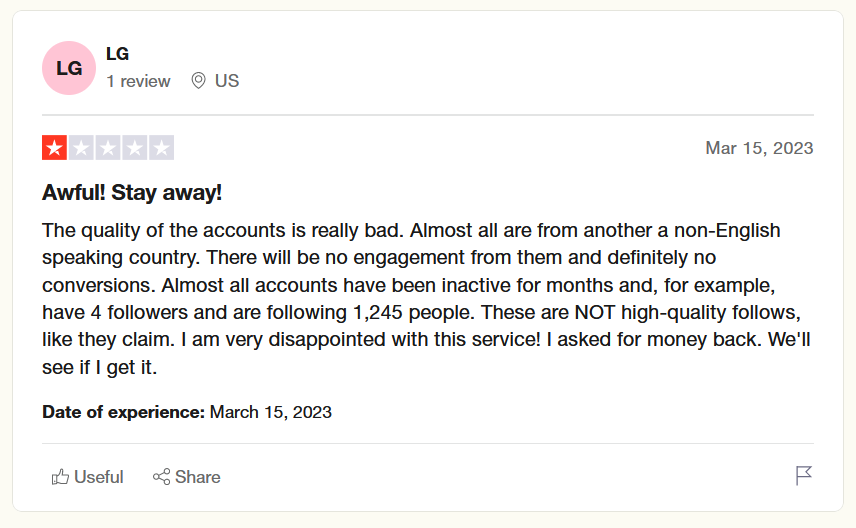 Furthermore, customers accuse Social Boosting of scamming. According to their experiences, the company allowed them to retain purchased followers for a limited period of time before revoking them and offering coupons for refills. This manipulative approach raises serious doubts about the integrity and credibility of Social Boosting.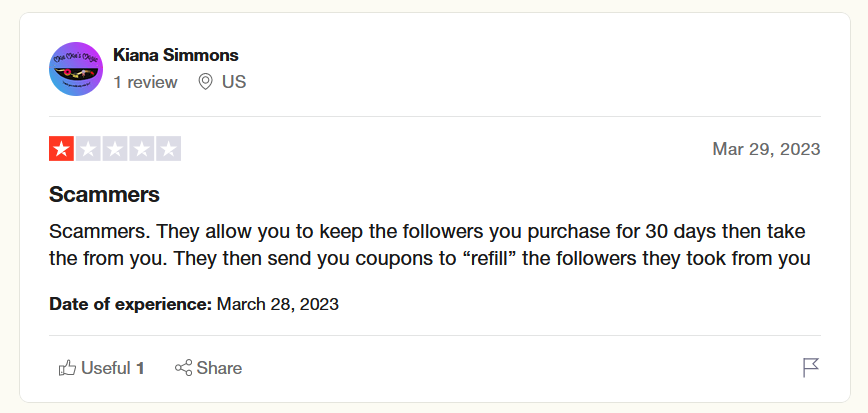 These negative reviews collectively paint a worrisome picture of Social Boosting, indicating a lack of transparency, poor quality of followers, and questionable business practices. Such feedback warns potential customers, urging them to exercise caution and reconsider engaging with the company's services.
Furthermore, this service does not respond to negative reviews, demonstrating their lack of concern for their dissatisfied customers. So, it is a big lie that they claim to provide round-the-clock customer service.
Consumers must thoroughly evaluate service providers' credibility and reputation, especially in social media marketing. Based on the experiences shared by customers, it becomes clear that Social Boosting falls short of meeting the expectations and requirements of users seeking reliable and trustworthy solutions for their social media growth.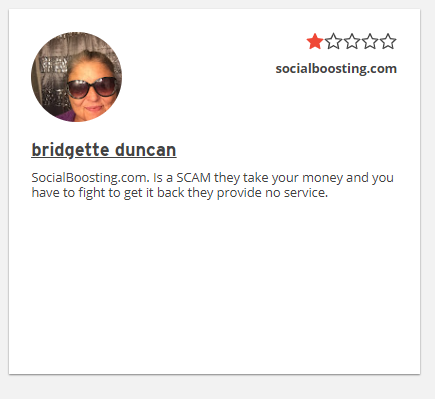 Do you want a steady flow of organic and high-quality followers?
Social Boosting Pros & Cons
Now, let's explore the advantages and disadvantages of using Social Boosting services for your social media growth:
Pros
It has a secure HTTPS website
They offer visible pricing for their packages.
Cons
The biggest drawback of SocialBoosting is its lack of transparency on how it works.
After a while, your will lose your paid followers.
It often provides low-quality followers with low engagement. As a result, your posts may not appear on the Explore page or Newsfeeds.
Fake engagements purchased from companies such as SocialBoosting can reduce the number of genuine engagements you receive, lowering your account value.
Instagram strongly discourages the use of Instagram bots to gain more followers. As a result, using Social Boost is likely to result in your Instagram account being banned or suspended because of violating Instagram's rules and terms of use.
Using SocialBoosting can lead to account bans and Instagram shadowbans due to exceeding daily limits and engaging in suspicious activity.
Its "About" section raises doubts about the company's credibility and leaves customers uncertain about the team behind it.
Online reviews of the service are mostly negative.
AiGrow; A Better Alternative for Instagram Marketing
AiGrow is a cutting-edge platform that provides users with a comprehensive set of tools and expert guidance to effectively grow their Instagram followers. With a strong emphasis on organic marketing, AiGrow offers a personalized approach tailored to businesses of all types.
AiGrow's standout feature is its team of dedicated experts who serve as personal Instagram account managers. These professionals implement proven manual strategies and methods to execute successful marketing campaigns and drive organic growth.
They possess in-depth knowledge of Instagram's algorithms and daily limits, ensuring your account is secure. AiGrow's experienced professionals actively manage your account, tailoring growth strategies to align with your specific goals.
This distinguishes AiGrow from platforms heavily reliant on bots or automation software. They stay abreast of the latest trends and algorithm updates, providing invaluable insights and guidance for your Instagram success.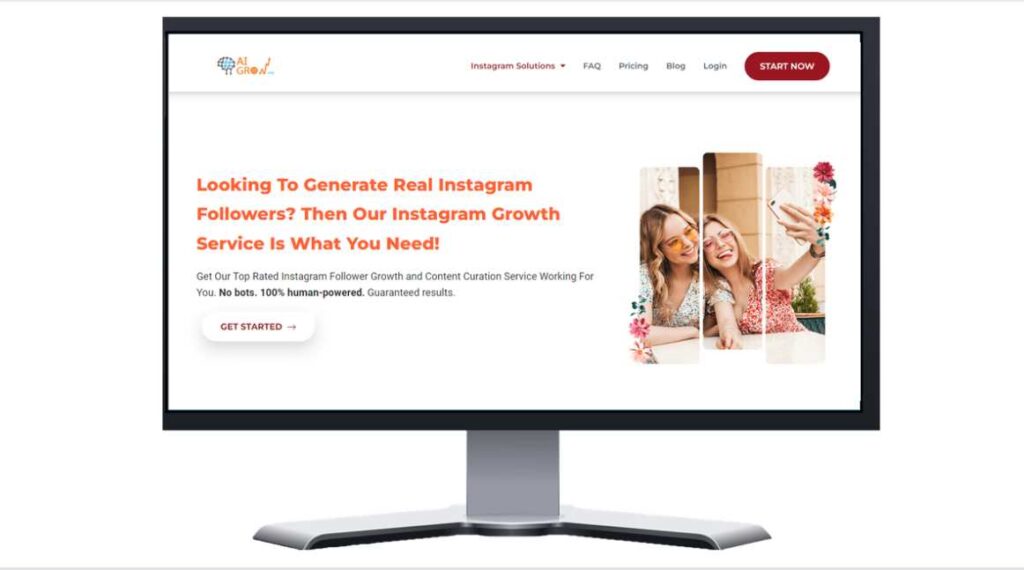 AiGrow offers a range of features that greatly enhance your Instagram presence. Their hashtag generator tool optimizes your content and expands your reach to a broader audience.
The scheduler service allows you to publish your IG posts at the best time, ensuring consistent engagement. Additionally, AiGrow provides valuable features like a link in the bio, mass post deletion, and safe unfollowing, all aimed at maximizing your account's potential.
AiGrow places utmost importance on safety and reliability. They prioritize account security and employ robust measures to create a robust environment for your brand. Their commitment to organic marketing, an astute understanding of Instagram's algorithms, and dedication to safety make them an exceptional choice for businesses seeking to thrive on Instagram.
Grow your Instagram account and save time with AiGrow
AiGrow Features
With AiGrow, you can grow your Instagram account manually with the help of a team of professional Instagram experts. No bots or fake followers are involved, ensuring genuine and guaranteed followers.
Through extensive research into optimal hashtags, locations, and competitor accounts, they help you reach your target audience.
With PostMate, AiGrow provides a comprehensive content curation service. Their team offers custom content creation, design plans, and scheduling, delivering fresh and relevant content to your Instagram page.
AiGrow's influencer marketing feature allows you to create buzz and generate sales by leveraging its extensive network of nearly 200,000 Instagram influencers. They handle everything from strategy development to influencer management and payment processing.
The Instagram Essentials toolkit automates essential tasks such as mass deletion of Instagram posts, content scheduling, comment replies, and manual direct message outreach. It also includes social mention monitoring and hashtag analysis. Additionally, users gain access to a powerful bio-link tool for enhanced marketing.
AiGrow offers various packages and pricing options to meet different needs. This ensures that everything you need for Instagram growth and engagement is available in one place.
With AiGrow's array of features, you can streamline your Instagram operation, reach your target audience effectively, and boost your revenues and sales for a guarantee. Their emphasis on manual management, organic growth, and comprehensive marketing tools makes them a persuasive choice for businesses and influencers looking to maximize their Instagram presence.
AiGrow Vs. Social Boosting; Final Verdict
| | | |
| --- | --- | --- |
| Features | Aigrow | SocialBoosting |
| Manual Growth | ✅ | ❌ |
| Buying followers | ❌ | ✅ |
| Buying Views, Likes, Comments | ❌ | ✅ |
| Organic Growth | ✅ | ❌ |
| High-Quality and Targeted Followers | ✅ | ❌ |
| Content Creation Plans | ✅ | ❌ |
| Content Scheduler | ✅ | ❌ |
| Manual DM Marketing | ✅ | ❌ |
| Dedicated account manager | ✅ | ❌ |
| Analytical Reporting | ✅ | ❌ |
| Link-in-Bio Tool | ✅ | ❌ |
| Hashtag Generator Tool | ✅ | ❌ |
| Bulk Post Deletion plans | ✅ | ❌ |
| Mass Unfollow | ✅ | ❌ |
| 24X7 Customer Support | ✅ | ❌ |
| The Possibility of being banned or suspended on Instagram | ❌ | ✅ |
| Trustpilot Score | 4.2 | 2.7 |
Conclusion
Upon reviewing Social Boosting, it becomes apparent that while it may offer some initial and fast benefits for enhancing your social media presence, it falls short as a comprehensive and sustainable solution for growing your online audience in the long term. The service appears to provide a quick but short-lived social boost, leaving you back where you started once the initial surge subsides.
If you are seeking a more effective and reliable solution to grow your Instagram account without compromising its safety and security, AiGrow emerges as a compelling alternative. With its focus on organic growth, professional account managers, and a wide range of innovative features, AiGrow is an ideal selection for long-term Instagram success.
With AiGrow, you have a powerful tool to streamline your Instagram growth. You can generate engaged and targeted followers, and optimize your content strategy for more revenues and sales.
Therefore, take the next step toward enhancing your Instagram presence with AiGrow, and get your mind off Instagram growth worries.
FAQs
1. Is Social Boosting Legit?
Based on the numerous negative reviews and customer experiences, it is evident that Social Boosting is not a legitimate service. The overwhelming evidence suggests that the engagement they provide is not from real people, resulting in a lack of genuine interaction and value for your social media accounts.
 It is highly recommended to stay away from Social Boosting and explore more reliable and authentic methods to grow your online presence. Protect your reputation and invest in reputable services that prioritize genuine engagement and long-term success.
Boost my Instagram engagement now
2. Is Social Boosting Safe to Use?
When it comes to TikTok or any social media platform, Social Boosting falls short of being a trustworthy and reliable company. Despite their claims, their automatic features fail to provide the quality your TikTok profile deserves. 
It's essential to avoid such companies and opt for ones that genuinely value your existing reputation, allowing you to preserve it effectively. Choose a paid media marketing provider that prioritizes your success.
Also, according to Scamadviser, socialboosting.com has a low trust rating. Therefore, this site may not be safe to use.

3. Is there a social boosting discount code available?
Unfortunately, we couldn't find any discount codes for their services, either on their website or on other platforms.
4. Organic Vs. Paid Marketing on Instagram; Which One Is Better?
In Instagram marketing, the debate between organic and paid methods is ongoing. Organic marketing on Instagram refers to strategies that focus on genuine engagement and building loyal followers. Organic Instagram growth is done through interacting with other users, using relevant and top hashtags, and sharing high-quality Instagram posts. Paid marketing, on the other hand, involves investing in advertisements to reach a wider audience and gain visibility.
Organic marketing offers several advantages. Firstly, it establishes authentic connections with users, fostering meaningful interactions and building a community around your brand. It allows for the growth of a genuine and engaged follower base who are more likely to interact with and support your content. Organic marketing also allows for long-term sustainability, as relationships formed with followers are built on trust and genuine interest.
Paid marketing, on the other hand, provides immediate exposure and the potential to reach a larger audience quickly. It can be particularly effective at increasing short-term brand awareness, driving website traffic, and promoting specific campaigns or products. 
Ultimately, the choice between organic and paid marketing depends on your specific goals and resources. While organic marketing requires time and effort to cultivate genuine connections, it can result in loyal followers and sustainable growth. On the other hand, paid marketing offers quick visibility and reach, benefiting specific promotional needs. A well-rounded Instagram marketing strategy often combines both organic strategies and paid promotion to maximize results and effectively engage with the target audience.