Thinking about making some money on Instagram? So you've definitely thought about how to get sponsored on Instagram.
Although there are many methods to monetize your Instagram account, sponsored Instagram posts are a simple yet enjoyable way to share your favorite posts while making money.
Indeed, making money as an influencer is something that everyone craves these days. The good news is that you can get paid on Instagram in this manner if you just have a certain number of followers—usually more than 1000.
But do you know how to get a sponsor or find influencers on Instagram? There are some steps that you can follow. Additionally, the top influencer marketing platforms and marketplaces are designed to make your job easier.
In this piece, we will show you how to get sponsorship on Instagram using some advice. We will also introduce you to the best influencer marketplace on the market, called Ainfluencer.
So, If you want to know how to get sponsored on Instagram, buckle up, and read this article!
But to give you a quick answer, you can find thousands of brands ready to collaborate on Ainfluencer which is a free influencer marketplace. So, sign up on Ainfluencer and start posting sponsored content.
What Is A Sponsored Post On Instagram
Sponsored Instagram posts are a type of indirect advertisement on this channel. It differs from Instagram promotion or IG ads in that you must pay to have them promoted on the platform. Generally, brands ask influencers to publish a specific post or story to introduce their products or services using this method.
You may have seen the term 'Paid partnership with X' on top of some Instagram posts. This is one of the many types you can get sponsored on Instagram.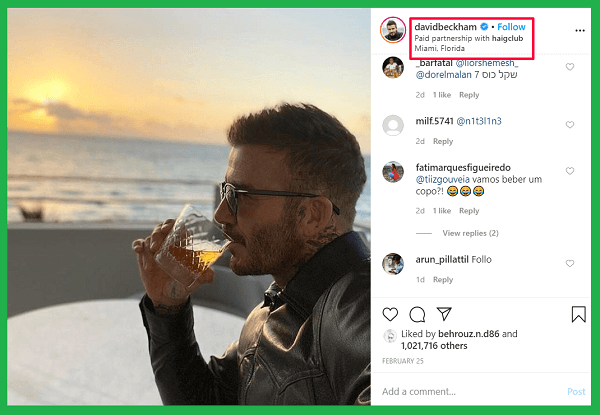 Instagram sponsorship for small accounts has recently become popular. Brands and marketers have discovered the effectiveness of ordinary people and micro-influencers on Instagram promoting a product. Read on to find out why.
Why Do Major Brands Invest In Micro-Influencers
You may wonder why these celeb brands bother finding micro-influencers with such low followers. Well, they have some good reasons and have found the effectiveness of these figures.
First of all, studies show that micro-influencers have a higher engagement rate compared to macro-influencers and even mega-influencers. It is because people with lower followers are like your friends and people believe their friend's opinion more than a renowned Instagrammer.
Moreover, major brands want to show their audience that they care about their customers. So they try to show this by constantly sharing this type of Instagram user-generated content.
However, how to get a sponsor on Instagram and find influencers might be a question that brands, businesses, or people have in order to indirectly market their services or goods. Finding brand ambassadors or influencers who can run campaigns for them is the best course of action.
Again you may ask, how do these micro-influencers get sponsored by major brands? They achieve this by either tagging the major brands on their feed posts or using the brands' specific hashtags or even participating in Instagram challenges run by these brands.
There are also other ways that influencers make money on Instagram but here we focus on sponsored Instagram posts. Before knowing how to get sponsored on Instagram, first, let's briefly discuss the significance of investing in Instagram-sponsored posts.
Why Do Brands Invest In Sponsored Posts On Instagram
It is not a new phenomenon for brands to look for ambassadors or micro-influencers on Instagram in order to build a better brand identity and increase public trust. Some reasons make them invest in sponsored posts on Instagram. Here are a few reasons why:
1- Instagram Is A Great Platform
As Instagram has the highest engagement rate among social media channels, it is the perfect platform to promote a business. A lot of users use Instagram for their business. Additionally, more than 200 million people visit at least one business account per day.
Also, Instagram has many tools that can come in handy for promoting brands. These facts give many brands good reasons to invest in this new method of advertising on Instagram. They do this to gain more IG followers, boost sales, or even introduce a new product or service.
2- It's A New Channel Of Marketing
Some companies don't like to advertise directly, so they prefer Instagram sponsors who do not use the 'paid partnership' term or any hashtags on Instagram that contain the words: ad, ads, or advertisement.
For example, you may be a makeup artist or a beauty influencer. A cosmetic brand will send you a free pack of makeup kits and ask you to become a sponsor by introducing the kit most naturally.
You can either make a tutorial post using that kit and mention the brand or simply share a story and say how much you enjoyed using this kit. This indirect Instagram sponsorship method is highly effective as the followers will not even notice it is an ad.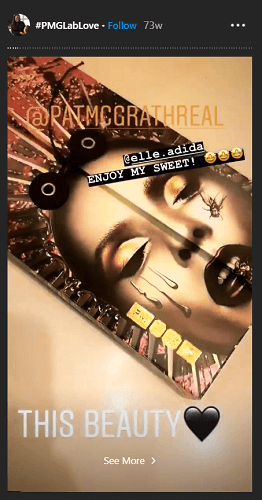 Also, consider that most influencers agree to promote brands that are aligned with their activity on Instagram. For example, you expect a cook to promote kitchen utensil sets, but it will surprise you if they promote a brand new lipstick of MAC.
Note: You can use an influencer marketplace like Ainfluence to identify the greatest and most relevant influencers or brands based on your niche. Read the Ainfluencer review to know everything about this incredible influencer marketing platform.
3- Brands Can Target Precise Audiences
With sponsored Instagram posts, usually done using influencers, brands can access a targeted audience. For example, if an influencer works like an oversized fashion model on Instagram, she is an excellent candidate for the new clothing brand Forever21plus!
These are only three simple reasons why a business or marketer could think about adopting this kind of Instagram sponsorship. And now let's delve more deeply into how to get a sponsor on Instagram and find influencers.
How To Get Sponsored On Instagram
To receive an offer for sponsorship on Instagram, first, you should be the right candidate. As mentioned above, you can find sponsors regardless of the type of your niche.
Why? Because Instagram has more than two billion active monthly users, you can discover absolutely anything on the platform. So the first step to take in getting sponsors on Instagram is to build your personal brand.
1- Build Your IG Brand
Building your brand on Instagram does not necessarily mean you should sell a product. As a sponsor, it rather means you have your own theme and unique personality.
You must somehow be different from your competitors in the niche. For example, if you are a photographer or a professional travel blogger on Instagram, you can post thematic pictures.
Here is the famous founder of #followmeto, @muradosmann. The image below depicts his style of photography, which is repeated in the majority of his shots.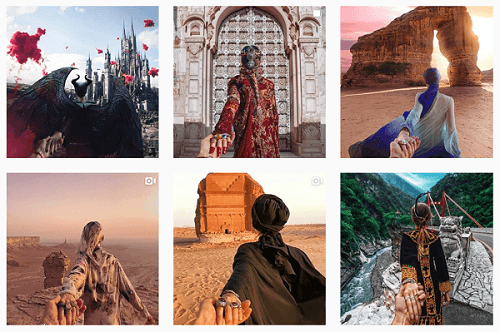 1.1- How To Get Sponsored On Instagram; Create A Beautiful Page
Instagram is all about appearance. Instagram's foundation is made up of photos and videos. One of the social media tactics to boost your online presence and attract readers is to make your feed visually appealing.
So, you should put a large proportion of your energy into enhancing the appearance of your account.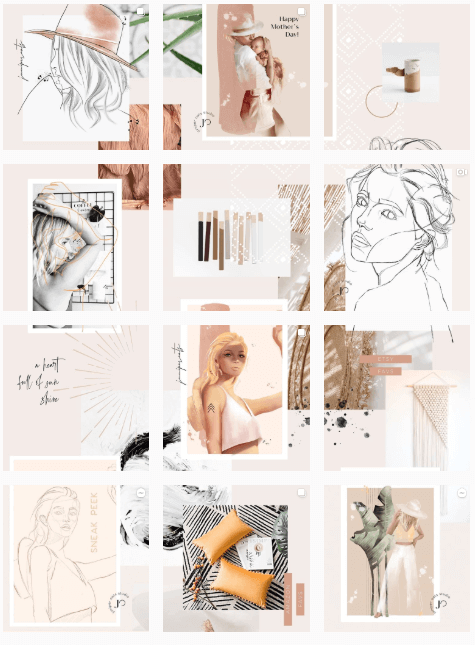 One of the best approaches you can take to make your feed look fabulous is selecting a theme. Based on your interest or the niche, pick a filter or a color pallet, and stick to it. Instagram has a perfect set of inbuilt filters: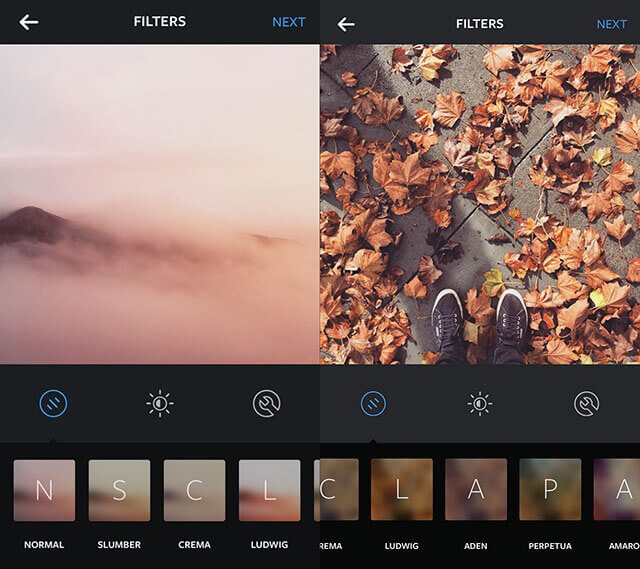 If you are a professional editor, you can use Adobe Photoshop or Lightroom to edit your images. But you don't have to be a pro to create eye-catching posts. You can easily design your posts using templates on websites such as Canva.
Preview is another excellent service that gives your feed a great look.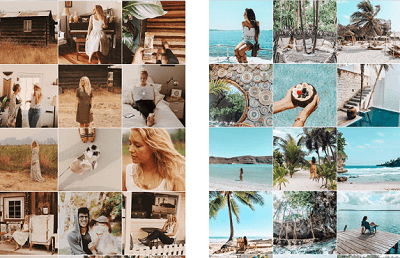 2- Make Your Instagram Bio Attractive For Brands
Including all the information about yourself that brands and companies are seeking to start partnering with you is one of the things that could move you closer to getting sponsored on Instagram. The two most important of them are mentioned below.
2.1- Include All Your Information In Your Bio
Getting your feed looks great is one thing, but another essential part of your profile is having a catchy IG bio. This 150-character limited part of your Instagram must contain the most vital information about you in the most concise way.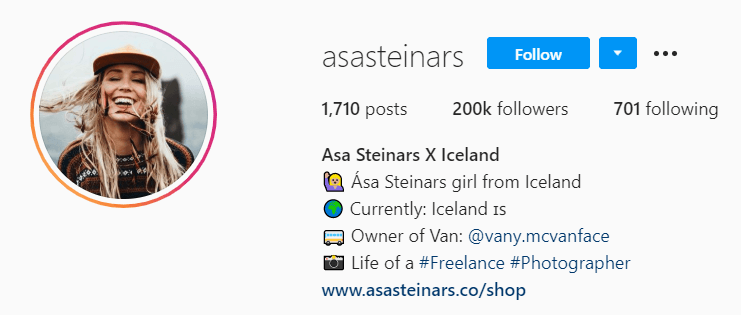 You can write briefly about your experiences and what you do, mention other Instagram profiles that you own, talk about your interests, and add a website address or your other social media links in your bio.
But wait! There is a lot to say, and you only have a 150-character space! As you can see, you cannot mention all of these items in your bio, and you have to choose some of them. Moreover, Instagram won't let you add more than one external link to your bio.
But luckily for you, there are a lot of services that allow you to add a clickable link in your IG bio with the ability to add unlimited external links. The two greatest services for creating excellent links for your bio are My.urls and BrandID.
Using My.urls, anyone who clicks your Instagram bio link will be taken to a page that contains all of the links you want your audience to see.
BrandID also lets you create a clickable link and add as many links as you wish to your IG bio.
2.2 How To Get Sponsored On Instagram; Add Your Email
Adding an Email button to your Instagram bio is a great way to make it easy for brands to contact you. You can include a Contact button and change it to an Email button. You must perform the following if you want the Email button to appear in your Instagram bio.
You have to switch to an Instagram business account.
Then, in the contact details section, provide your company email address, but keep in mind that the contact me button will appear in your bio.
If you want the Email button to appear instead of contact information, you must remove additional information such as the business address and phone numbers.
3- Gain More Followers And Engagement
The next step for you in the journey of finding a sponsor on Instagram is gaining more followers. Although you can get sponsored on Instagram only with 1,000 followers, most brands prefer to sponsor Instagrammers with at least 5,000 followers.
Why? It's obvious: people will see their sponsored posts on a larger scale. More followers means more likes, comments, shares, and, eventually, more exposure on Instagram.
Well, actually, what you need is engagement. Instagram engagement is the most valuable thing that you have on Instagram. It shows how much you genuinely interact with other users.
Instagram experts calculate your percentage of engagement by dividing the total number of likes and comments by the number of followers you have.
So, you absolutely cannot gain any engagement on Instagram with fake users or bought likes. That's why we seriously recommend you not to fall into that trap – although it might seem alluring. You need real and organic IG followers who are willing to follow you because of the content you offer them.
3.1- How To Get Sponsored On Instagram; Gain Local Followers
As someone who just started to make money on Instagram, it's better to focus on gaining local followers. The reason is that local followers have easier access to local brands too.
AiGrow has arrived to save the day! You can use AiGrow's geotagging tool to modify the kind of followers you want to attract. Using AiGrow, you can be certain that all of your new viewers are genuine people who want to follow you.
Also, using AiGrow, you can save a lot of time because your account manager will work 30 hours per month exclusively on your account. You can use that precious time to create new posts or come up with new Instagram strategies.
You can use all the other features, such as Bio-Link, DM to Email, and Scheduler.
4- How To Get Sponsorship On Instagram; Post Constantly
As someone who wants to become an IG influencer and get sponsored by brands, it is necessary to be visible to your followers. You have to understand that being a winner on Instagram requires a lot of energy and patience.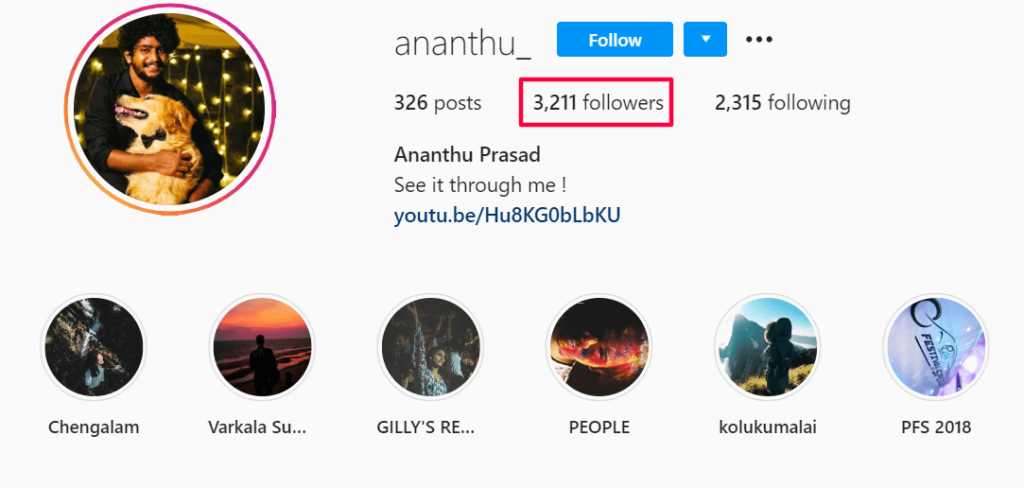 Brands need to see that you are an active Instagrammer and post regularly. You may share photos or videos on your feed once or twice per day, or use Instagram stories to communicate with your followers.
Not only is it essential how often to post, but it is also essential when to publish posts on Instagram. Sometimes, most of your followers live in a country with a considerable time difference from your location.
Well, you cannot wake up at 2 a.m. just to upload a post or story. Unfortunately, it is impossible to schedule posts on Instagram, but using Instagram manager tools such as AiGrow, is a cakewalk!
With AiGrow's scheduler, you can plan feed posts and stories not only for future days but for the next months! So, you just design and plan your content and let AiGrow do the rest.
If designing a post is an issue for you, you can ask AiGrow designers to create some really cool posts for you!
5- Write Great Captions And Show Feedback To Comments
After a visitor – hopefully, a brand manager looking for a potential sponsor on Instagram – sees your bio and feed, they will go through your posts randomly and check your captions.
You must write engaging IG captions because captions reveal your tone, language style, thoughts, and how you communicate with your followers. For brands that are looking for a sponsor on Instagram, the communication skills of the candidate are a priority.
After all, the sponsor must introduce the brand's product and service through her words. You can't just upload photos with a few emojis as captions and expect brands to come to you offering sponsorship.
So, next time you want to publish a post, make sure you put some thought into writing a killer caption. Don't forget to start your caption with a hook!
Responding to your audience's comments and inquiries demonstrates your sense of responsibility. As a result, companies and brands may rely on you to sponsor their products on Instagram.
6- Use Influencer Marketplaces To Reach Out To Brands
Now that you have your feed looking attractive, optimized your bio, and have a steady publishing plan, it's time to reach out to brands. There are several ways that you can try contacting brands.
If you get lucky, brands will reach out to you and offer an Instagram sponsorship, even if you are still a micro-influencer. To do so, you need to discover brands in your niche. As a pro Instagrammer, you should already know some of the best Instagram pages related to your niche.
For example, if you are a fashion model, you can choose local boutiques and jewel stores in your city. But if you have no idea where to start, you can use an influencer marketplace.
As previously said, Ainfluencer is the greatest influencer marketplace for connecting you to companies as an influencer or finding the best influencers for you as a company.
Watch this video below to see how Ainfluencer works.
7- Pitch Paid Sponsorship To Brands
This might seem a little bit odd to you at first, but you have to understand that sending pitch-paid sponsorships to brands is totally OK. Actually, many influencers—even macro-influencers—pitch to well-known brands to have a paid partnership with them.
Moreover, you don't have anything that holds you back from doing it! If you take the previous steps that we shared with you, you already have a beautiful and optimized Instagram account with engaged followers.
So, how to get sponsors on Instagram using pitches? Well, you can first contact these brands via direct message or email. You might even want to try LinkedIn and influencer marketplaces.
Now you have to write a formal text explaining these:
Who you are
Why you are contacting the brand
What niche do you work in and your experiences
Information about your followers, average likes and comments, and your overall engagement rate
Explain how you can help the brand if you get sponsored by them
Your contact information like your Instagram username, email, and phone number
Writing a text like this might take some time, but the more you work on this, the greater your chance to get sponsored on Instagram. Don't copy and paste the text for all the brands. Make sure you modify them for each brand.
7.1- Pitch Template
Here is an email template you can use to pitch brands that might give you some ideas.
Hi [name],
My name is [name], and I run the Instagram account [@username]. My account focuses on [niche], based on my [your experience]. The people who follow me tend to be [young/student/gym freak], which seems like a good match for the audience your brand targets with marketing. I currently have [x] followers, an [x%] engagement rate on my posts, and [mention any related awards/achievements if you have any].

I think there's an opportunity for us to benefit from each other, and I'd like to propose a partnership. Here are my initial thoughts on how that might look:
[# of posts, payment terms, timeline, etc.]
Would this be something of interest to [brand]?

Thanks for your consideration!
[your name]
You can also give them some creative ideas about their page and how they can promote their brand. Small businesses live to hear fresh and interesting ideas.
Ainfluencer enables you to identify the best brands, negotiate with them, and begin working with them.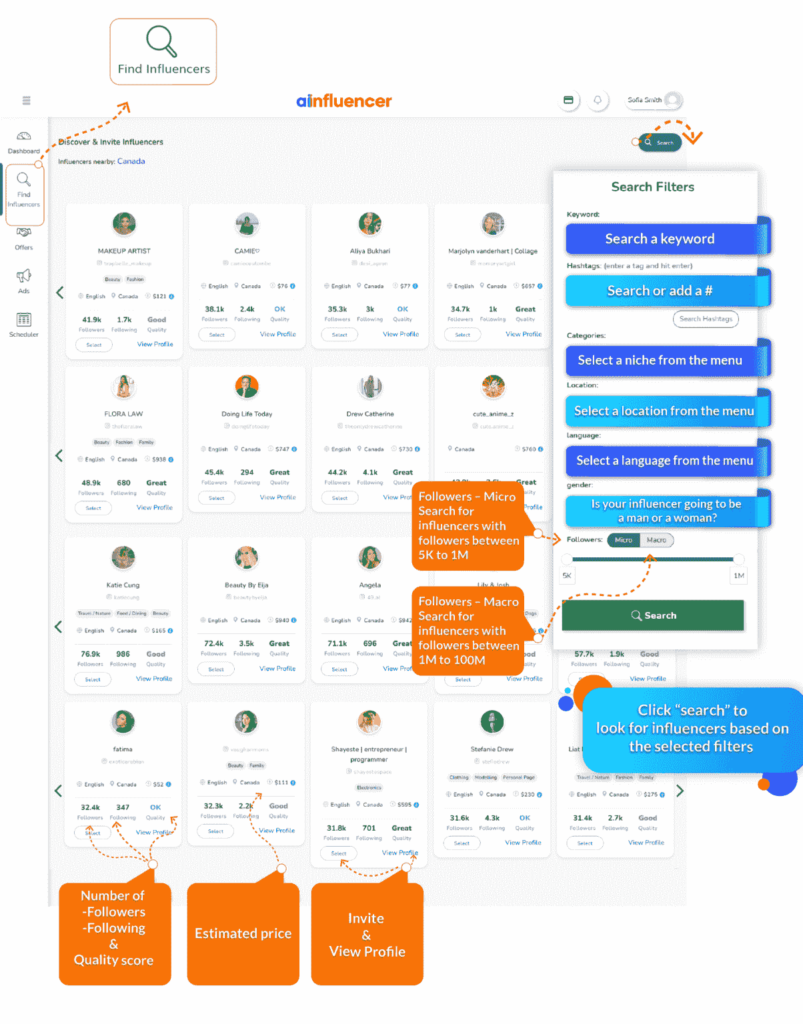 So, sign up fo ainfluencer and benefit from its incredible features, right now.
8- Know Your Worth
When contacting a brand, it is essential to know your worth and how much you want to charge them. If you don't negotiate over money or show them that you have no idea about your worth, you are an amateur and have zero experience.
Well, that's not good! But how can you determine your worth as a sponsor? Normally, for every 1,000 followers, influencers charge $10. However, micro-influencers charge between $200 and $400 for each post, and more if it's a package of feed posts and stories.
Even as a new influencer, you need to understand that the process of knowing a brand, designing and preparing a post, editing it, and scheduling your posts might take you a tremendous amount of time. And we all know that time is gold!
So, do not underestimate yourself just because you're an amateur. Another great way for you, as a new influencer, to try is to receive products or services instead of cash.
For example, you can sponsor a beauty salon and get your nails done for free and, in return, publish stories and posts during the process. It's both fun and also great for your portfolio!
9- Attract Brands' Attention
While you send pitches to your selected brands, you can attract other brands' attention, even worldwide brands. And yes, it is possible to get sponsorship from a major brand on Instagram with only 2,500 followers! Surely you know the leading brands in your niche.
For a fashion influencer, it's a dream to get sponsored by Gucci, Dior, or Chanel. But you are also aware that you have to compete with Natalie Portman!
But believe it or not, many major brands, such as Coca-Cola, Google, GoPro, Puma, Forever 21, Lego, Samsung, and Nike, heavily invest in micro-influencer marketing.
9.1- Interact With Brands
After you've selected brands to focus on, it's time to show yourself! You need to interact with these brands as much as you can. You must like their posts, leave engaging comments on each post, and even send IG DMs to them if you have any questions.
If you choose small brands, they can spot an enthusiastic fan among their followers. Positive interaction with brands can lead your relationship to a possible sponsorship on Instagram.
However, you cannot just sit and hope that they will notice you one day. That's why it's vital to take the next step.
9.2- Tag Brands On Your Post
This is one of the most common ways of getting sponsored by major brands, even fashion brands. For example, @lifeoflanie a micro-influencer, gets sponsored by @forever21 only by mentioning the fashion account in her post.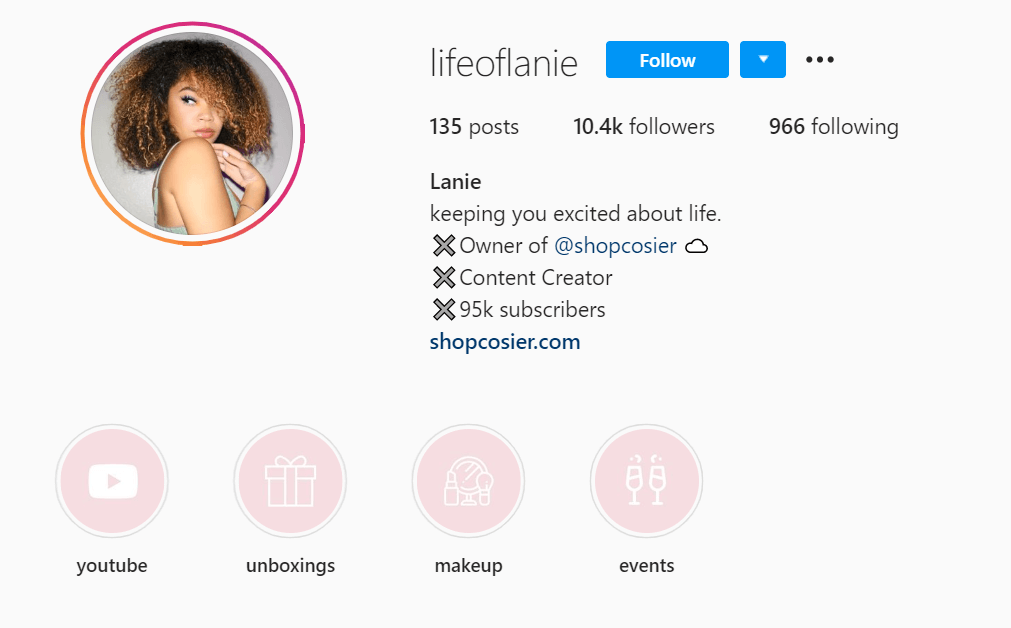 Forever21 also work with a lot of other users on Instagram and pay them for every post they share.
9.3- Take Part In Challenges
Many worldwide brands, such as GoPro and Nike, run challenges regularly and share the best content on their Instagram page. For example, @nike has started a challenge called #livingroomcup, which the legendary Cristiano Ronaldo introduced.
In this challenge, you should have done core crushers in 45 seconds and try to beat Cristiano's record. Cristiano would have asked you to use the hashtag #livingroomcup so that he could see you.
And look, @coachbooshy, with 10.1k followers, gets a sponsored post offer by Nike!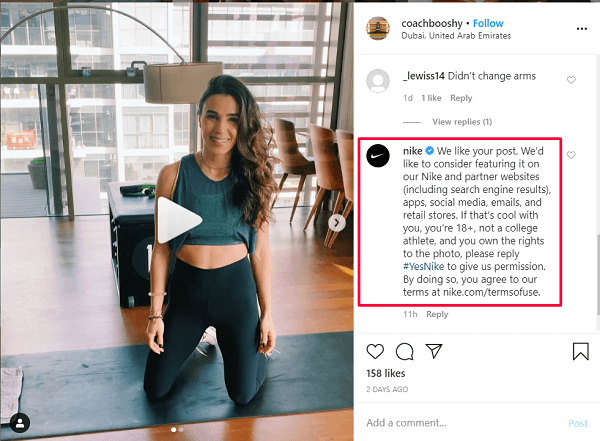 And that's how to get sponsored on Instagram. You can also try it!
10- Use Hashtags And Location Tags
You can use IG hashtags to find brands. When you find some of them, go through the suggestion pages, and you will find similar pages there. Also, you can go to the explore page and tap on 'Shop' to see some of the related pages to your niche.
Using hashtags is also useful to get noticed by brands, and this is how to get sponsorship on Instagram using hashtags. Generally, people use hashtags to include their posts on a specific topic. So, if you use the hashtag of a brand, it is unlikely that the brand will notice you.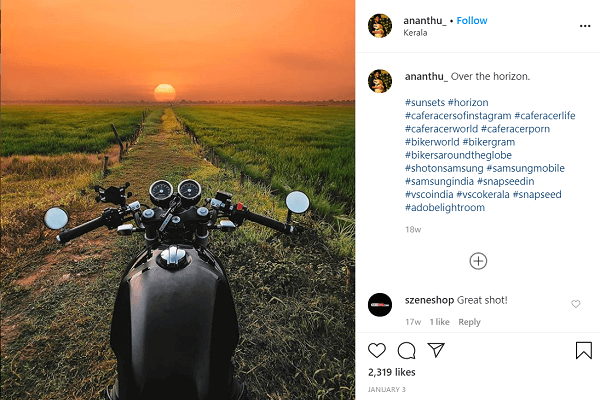 As you're just getting started to find sponsors on Instagram, it's better to focus on the brands that are relatively small (those that have less than 10K followers).
The chances that these small businesses become your sponsors on Instagram are much higher, as they do not have the budget to pay macro-influencers. So, make a list of these brands and narrow your choices down to the most promising ones.
11- Create a Video Portfolio
Although you might try publishing high-quality images with proper sizes or eye-catching videos on your feed, story, or Reels as your portfolio.
However, if you make a film about yourself, your passion, and your capabilities, you can get brands to choose you to sponsor their services or products.
How To Get Sponsored on Instagram Using Third-Party Services
To get sponsored on Instagram you need to follow all the steps we mentioned. As you may have seen this is a time-consuming process. So here we introduce you to some services that may come in handy and facilitate your job.
#1 Use Ainfluencer For Sponsored Instagram Posts
You can sign up for an influencer marketplace, this is another way to get sponsored on Instagram by a brand. These websites and applications match brands and influencers. Working with these tools is simple; you create a profile on their platform and write a really cool bio that will catch the band's eye.
If the brand finds your profile and Instagram page interesting enough, they will send you a sponsorship offer. A great example of this type of website and application is Ainfluencer.

Ainfluencer allows you to quickly connect with brands of all sizes and create a business with them. You may also find sponsors on Instagram and compile a list of Instagrammers that can sponsor you.
As it has a DIY package, you can write a convincing text and mass DM potential sponsors. Ainfluencer's incredible features are shown in the picture below.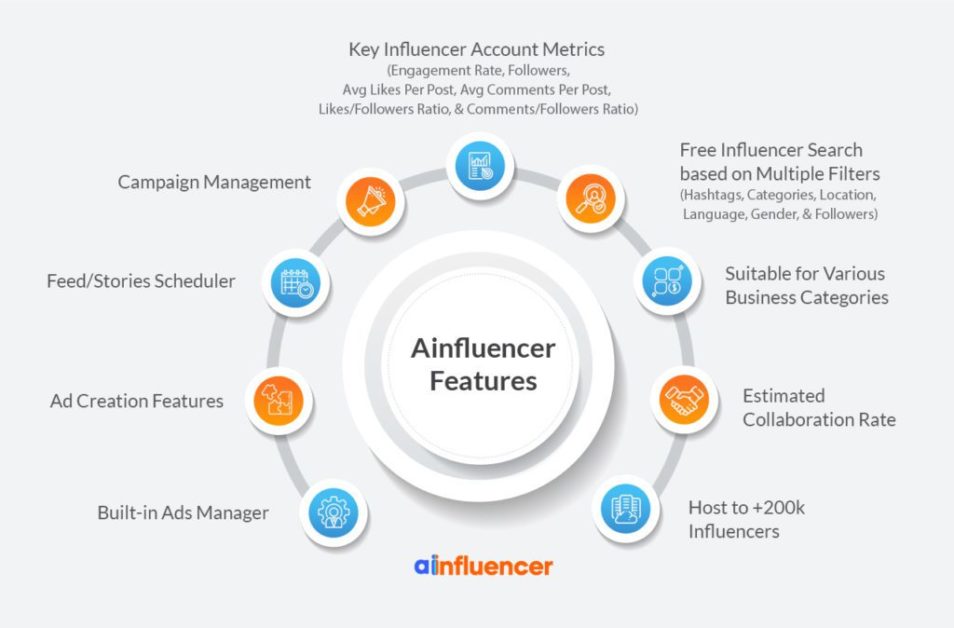 #2 Use AiGrow To Get An Instagram Sponsorship
A close-knit community where you are the leader and your followers trust you is exactly what you need to become a successful influencer. Additionally, having engaged followers is the most valuable asset if you want to make some money on Instagram.
Studies show that an engaged follower on Instagram is worth almost $10 more than an engaged follower on Facebook. But how to get these loyal and engaged followers?
Don't worry; AiGrow is one of the best Instagram growth services that offer a wide range of tools that help you grow your account organically.
Additionally, sponsored Instagram posts should be visually appealing, and you should use the ideal hashtags for them. AiGrow provides you with everything you need, from naturally expanding your followers to designing and sharing high-quality content.
Read the AiGrow review to know everything about AiGrow features and capabilities.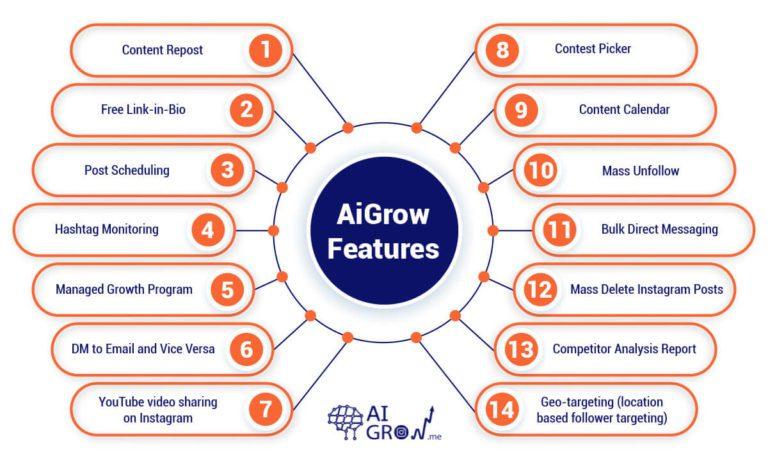 As a virtual assistant (specializing in your niche), AiGrow will take over your account. Additionally, this dedicated assistant will check and use relevant hashtags and geotags to ensure you benefit from your Instagram to its fullest potential.
What To Do After You Get Sponsored On Instagram For The First Time
If you do all the mentioned tips about getting sponsored on Instagram, the chances are very high that you will find a sponsor. Hopefully, after a while, you will find a brand to match, gain more experience in being a sponsor, and become an official micro-influencer. Congratulations!
You might be wondering what steps you need to take now. Well, we recommend expanding the scope and thinking even bigger. Now that you have influencer job experience, you can make a media kit!
Sponsored Instagram Posts; Build A Media Kit
A media kit is like a resume for influencers. It's a 2-3 page document that lists all of your experience in the niche. For example, if you are a fitness model, after introducing yourself, you can talk about all of your modeling experiences and the path you took to become a model.
Then, add a list of your previously sponsored posts or even your fitness post ideas and featured posts. Finally, like giving a pitch that we talked about, tell the brands about the benefits of working with you. You may even include a package; for example, 3 feed posts + 5 stories worth $1000.
How To Get Sponsorship on Instagram; Become An Affiliate
Some brands look for a long relationship with their influencers. They might offer you to participate in their affiliate marketing. It works this way: in addition to regular sponsorship, you put a trackable link of that brand's shop on your Instagram bio.
The rule is simple; for each click from your page that leads potential customers to the website, you get a commission. There are networks such as AWIN, C J Affiliate, and NichVendor that welcome influencers.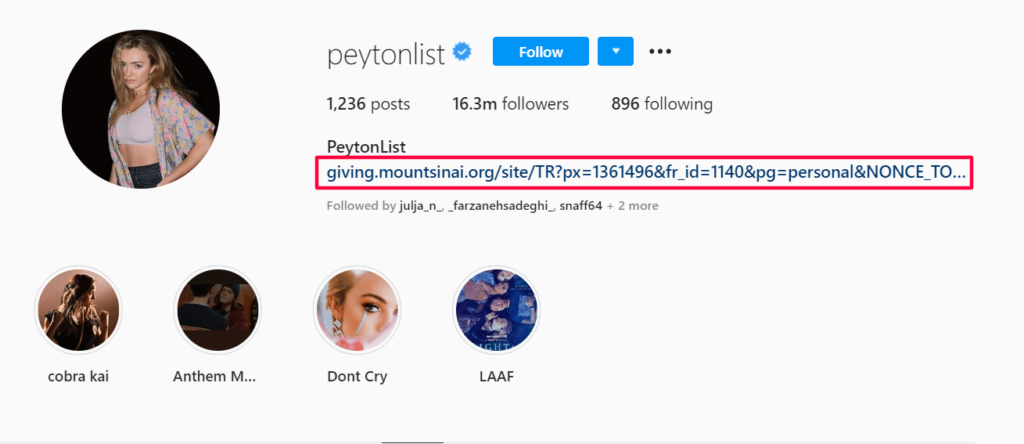 One of the drawbacks of affiliate marketing on Instagram is that you can only put one link on your bio. But if you remember, AiGrow has a unique feature called BIO LINK. You can become an affiliate and add as many promotional links as you want to your bio.
How To Get Sponsored On Instagram With 1000 Followers
What if you have 1000 followers? Does it mean you can not get sponsored on Instagram? Of course, you can. Now you wonder how to get sponsored on Instagram with 1000 followers?
Increase Your Engagement
Sponsors pay attention to 3 factors before they sponsor an Instagrammer.
Niche
The number of followers
The ER
If you have an eye-catching ER, there is a great chance for you to get sponsored on Instagram.
That is why you should increase it to the highest level possible. It takes whole another article to explain how to increase engagement, but to sum it up, you can;
Run Instagram giveaways strategically.
This is how to get paid on Instagram using sponsored posts.
FAQs on How to Get Sponsorship on Instagram
Although we attempted to cover everything you need to know about finding sponsors on Instagram, there may be some questions. Some of them are addressed here.
Q1. What Is The Difference Between Sponsored And Promoted Instagram Posts?
There are two kinds of sponsored posts, and they are easily distinguished. Brand sponsored Instagram posts and influencer sponsored video posts.
An influencer sponsored post is the content provided for a brand by an influencer. It's shared on the influencer's Instagram account, along with relevant tags, hashtags, and promos. The influencer is usually compensated with their own money, gifts, or an affiliate scheme.
Brand-sponsored Instagram posts are generated by individuals who are sponsored by Instagram in order to increase views, likes, followers, and interaction. All you have to do is follow Instagram's sponsor steps, build your target audience, and then pay for a sponsored post. The phrase 'sponsored' will appear under the Instagram name for all sponsored posts.
Q2. How do Instagram Sponsors Work?
To enhance views, likes, followers, and engagement, any Instagram business account can sponsor its own content. Simply follow Instagram's sponsorship instructions, define your target demographic, and pay for a sponsored post.
Final Words On How To Get Sponsored On Instagram
Getting sponsored on Instagram is not easy. It requires a lot of energy and persistence from you. It might be a time-consuming process, especially if you absolutely have no experience with it before.
In this article, we tried to show you how to get a sponsor on Instagram and brought you some sponsored content examples. We assure you that you will find a sponsor soon if you take the steps that we mentioned carefully.
To achieve this aim, don't forget to use Ainfluencer; the best influencer marketplace to find the right influencers or brands easily and quickly.